Davante Adams Shares the Surprising Player He's Aggressively Trying to Model His Game After: 'I Watched Probably 25 Minutes' Worth of Lamar Jackson Highlights'
Davante Adams is largely considered one of the top wide receivers in the entire NFL. Depending on who you ask, one could go as far as claiming he's the conclusive best in the league at the moment.
The Green Bay Packers' superstar wideout is coming off an exceptional 2020 campaign where he racked up 115 catches and 1,374 receiving yards. Adams also led the NFL in receiving touchdowns with 18. The Packers were ultimately unsuccessful in making it to the Super Bowl (thanks to Tom Brady and the Tampa Bay Buccaneers). However, that didn't stop Adams from being honored as a First-Team All-Pro and Pro Bowler.
Davante Adams finds inspiration in a surprising place
Adams is a master route-runner who excels in creating an excess of separation for himself. You'd think he'd take inspiration from fellow elite route-runners like Keenan Allen or Antonio Brown. However, according to the Packers' longtime WR1, he studies a certain quarterback to improve his on-field ability.
"I watched probably 25 minutes' worth of Lamar Jackson highlights before the game. That's not a joke, either. I'm being dead serious," said Adams when talking about trying to improve his YAC (yards after the catch) ability.
While it may be a tad surprising to hear Adams is studying Jackson to improve his game, can you really blame his train of thought here? Jackson is an absolute menace in the open field. He proves time after time that he's near impossible to bring down.
If Adams is focused on improving his YAC ability, starting with a Jackson film study makes sense.
Davante Adams is playing for a major payday
2021 is a big year for Adams and the Packers. Not only is the clock ticking on Green Bay's championship window, but Adams is due for a massive payday at the end of the year.
His current four-year/$58 million deal expires at the end of the season, and the expectation is that he will completely reset the market at the WR position. The largest WR contract in the NFL is DeAndre Hopkins at $27.5 million per year (Over The Cap).
Don't be surprised in the slightest if Adams' looming extension smashes past that mark.
For what it's worth, there's no guarantee that Green Bay will be the team to pay Adams record-breaking money. The two sides failed to agree during the offseason, and it's worth highlighting that the Packers may consider entering a rebuilding stage if 2021 ends in another playoff exit.
The Packers are already dealing with adversity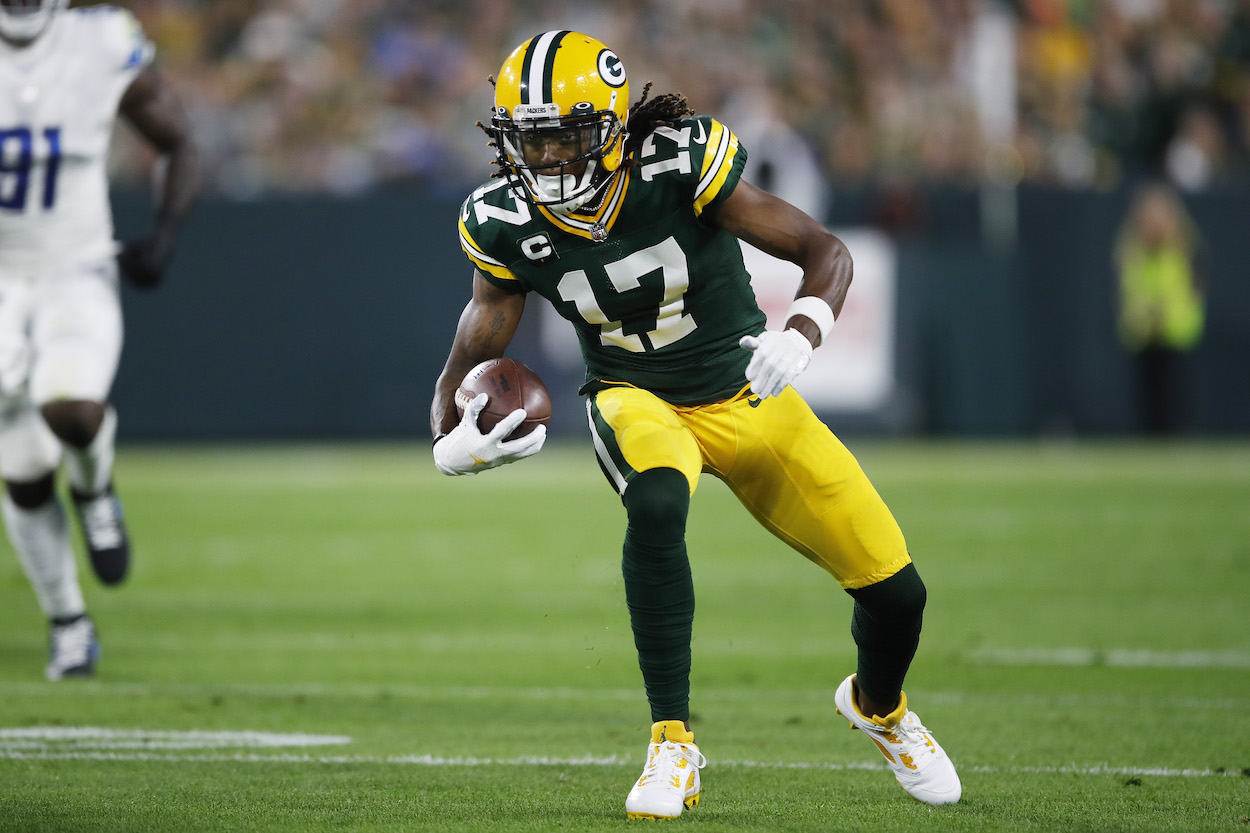 One of the biggest reasons a rebuild could be looming in Green Bay is, of course, due to Aaron Rodgers.
The future Hall of Fame quarterback has been frustrated with the Packers' front office all offseason long — drama that is currently trickling down into the rest of the organization. Green Bay's crushing Week 1 loss at the hands of the New Orleans Saints can largely be attributed to Rodgers not being 100% focused.
In the meantime, Adams is going to keep working to improve, taking inspiration from Lamar Jackson. Not only is he trying to will the Packers to a successful season — he's trying to secure himself a bag.
All stats courtesy of Pro Football Reference.
RELATED: Aaron Rodgers' Foolish Offseason Mistake Deserves Major Criticism Following the Packers' Embarrassing Week 1 Loss