Davante Adams: The Green Bay Packers Have 30 Million Reasons to Move On
Davante Adams wants to become the highest-paid wide receiver in football. If those reports are true, that's something the Green Bay Packers can't indulge.
On the surface, it makes sense that the Packers would want Adams on the roster moving to the future. He's ascended over the past few seasons and is indisputably the top wide receiver in the NFL at the moment. Any team would want him.
The issue for the Packers is that the NFL is a salary-cap league, and they've got 30 million reasons why they won't be able to make this deal work.
Davante Adams reportedly wants $30 million a year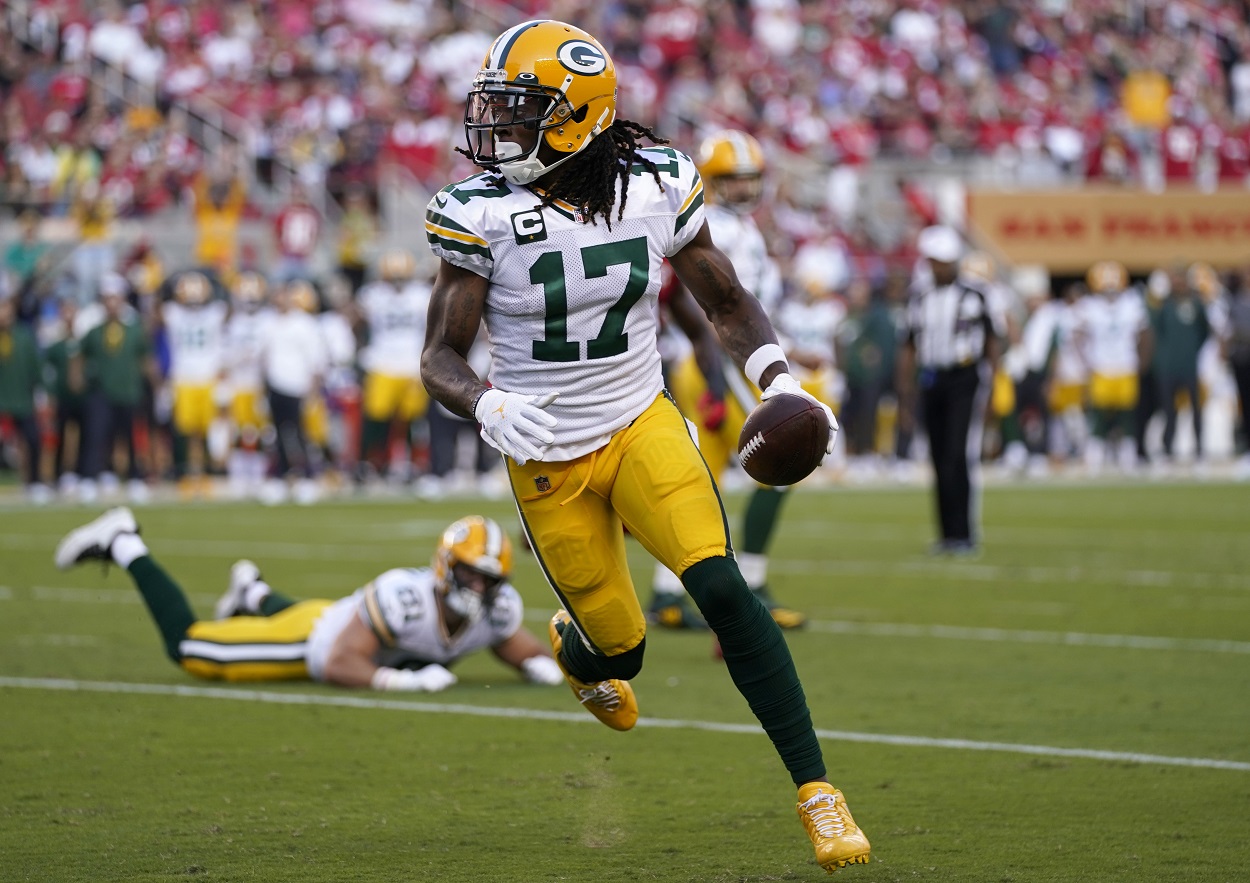 It came out last offseason that Adams wanted to be the highest-paid receiver in the NFL. His negotiation stance made sense at the time, and it still does now. After all, he is the best receiver in the league, so why not get paid like it?
While the number was never really floated, it was clear that he wanted to be paid more than Arizona Cardinals wideout DeAndre Hopkins, whose contract has him making an average salary of $27,250,000 per year.
Green Bay was understandably a bit more worried about getting Aaron Rodgers back into the fray at the time, so contract talks with Adams stopped, and they never picked back up. He's now an unrestricted free agent and can test the market if he and the Packers don't get something done.
New reporting from NFL insider Tony Pauline suggested that no matter who pays Adams his long-term deal, he's going to want $30 million a year.
"Those close to the situation tell me Adams wants to be the highest-paid receiver in the NFL and will be looking for a contract near $30 million per year," Pauline wrote. "The Packers, at this point, look as though they may go no higher than $24 to $25 million a year."
Adams has priced himself out of the Green Bay Packers' market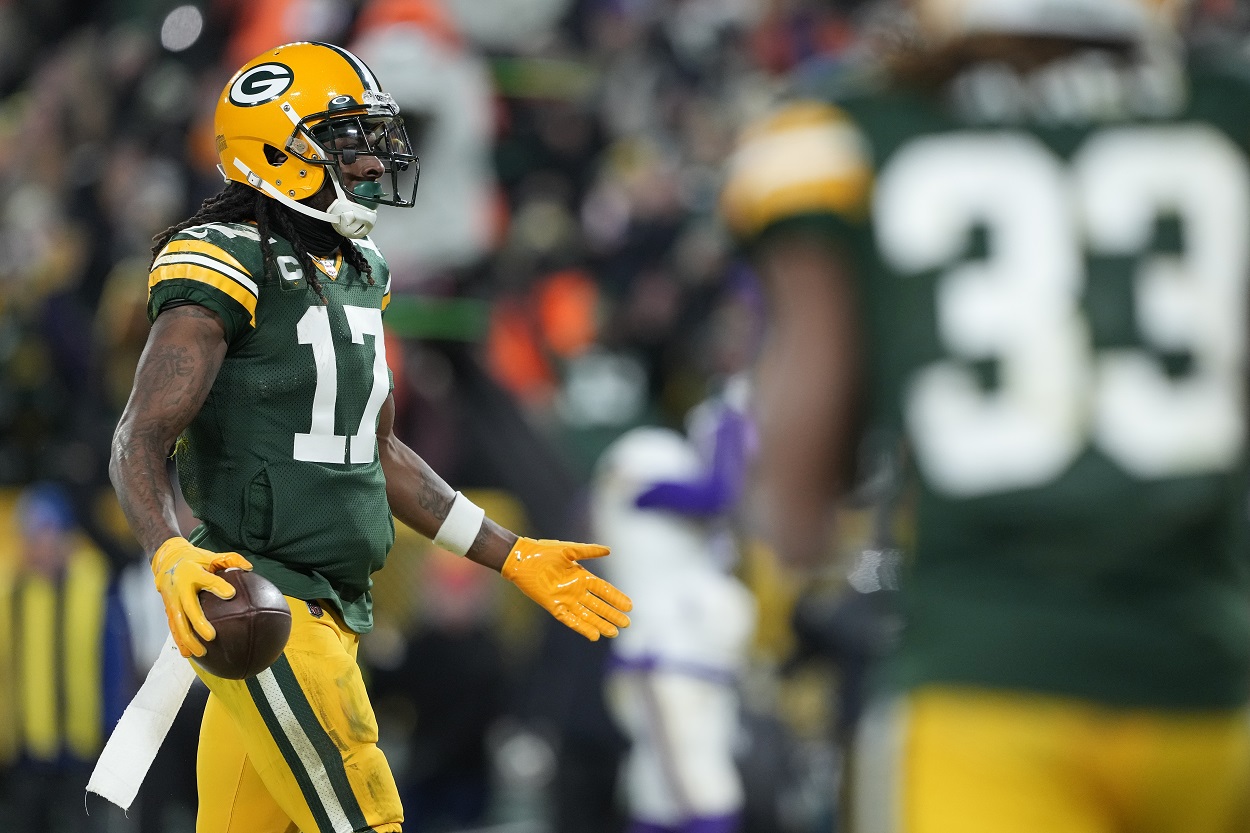 To be fair to Adams, he's absolutely earned the money he's asking for.
He wasn't the statistically best wideout in the NFL this season — that honor went to Triple Crown winner Cooper Kupp — but anybody with an eye for the game would tell you that he is indisputably the top wide receiver in football. From his size (6-foot-1, 215 lbs) and speed to his otherworldly ability to run routes and get separation, there's nobody, other than Kupp, playing remotely close to his level right now.
He caught 123 passes for 1,553 yards and 11 touchdowns in 2021, and even those numbers don't do him justice. Adams was by far Rodgers' favorite target. He was targeted 169 times, which is 100 more targets than Green Bay's second-leading receiver, Allen Lazard (60). Defenses knew the ball was coming his way more often than not, and he was double-teamed almost exclusively as a result.
So, yes, Adams deserves his money. The problem for the Packers is that they don't have much of it to give.
They'll be nearly $50 million over the cap heading into the 2022 league year, and Adams highlights a free-agency class with several key players. That's a list that includes De'Vondre Campbell, Rasul Douglas, Robert Tonyan Jr., Lucas Patrick, Marquez Valdes-Scantling, and Lazard (restricted free agent). As if the 2022 free-agency class didn't have enough key players, the Packers also have to start having conversations about 2023 free agents Elgton Jenkins, Jaire Alexander, Adrian Amos, Za'Darius Smith, and Preston Smith, among others.
The Packers need every cent they can to try to keep their Super Bowl window open, and we haven't even discussed Rodgers' future or the fact that, ideally, general manager Brian Gutekunst can continue to improve the team. As it stands, the roster Green Bay has cannot get over the hump. Cutting key players just to get under the cap doesn't bode well for another trip back to the playoffs.
Giving Adams $30 million a year, deservedly or not, doesn't make financial sense if the Packers want to remain competitive.
What would life without Adams look like for the Packers?
Ironically, the argument for re-signing Adams is also about competitiveness. It doesn't take a football genius to figure out that Green Bay's offense would be hurt from the loss of Adams, but that's also not taking into account the complete picture of what the Packers are trying to do in the Matt LaFleur era.
LaFleur's offense is an offshoot of what we've seen over the past few seasons from Sean McVay with the Los Angeles Rams and Kyle Shanahan with the San Francisco 49ers. At their core, all of these coaches want to run the football first and then use the run as well as motions and misdirections to set up the pass. When it's humming, the offense also opens up a ton of room for tight ends to operate. Just look at what Tyler Higbee has been able to do in LA this season, and, of course, how George Kittle has been used to perfection by Shanahan in San Francisco.
LaFleur's scheme does not require an elite wide receiver.
What he needs is a strong offensive line, good running backs, and a plethora of tight ends, and that's what Gutekunst has built for him so far.
The Packers will, of course, need wide receivers for whoever the quarterback is moving into the future, but having an elite wideout who demands 8-to-12 targets a game, as Adams does, is not neccesary.
Would Adams be great to have? Of course. At $30 million a year, what he brings to the table is just not worth it, though.
Forget the franchise tag. Adams may not even want to play under it, and it would still cost Green Bay roughly $22 million.
Forget a long-term contract. It just doesn't make financial sense.
The Packers' best option is a sign-and-trade for Adams. Thank him for the incredible run, and then send them on his way while receiving valuable assets in return.
Oddly enough, life without Adams just makes more sense for Green Bay.
Stats courtesy of ESPN and Pro Football Reference. Contract information via Spotrac
RELATED: Davante Adams Says There Are Only 2 Ways to Try and Stop Him but Won't Reveal 1 of Them