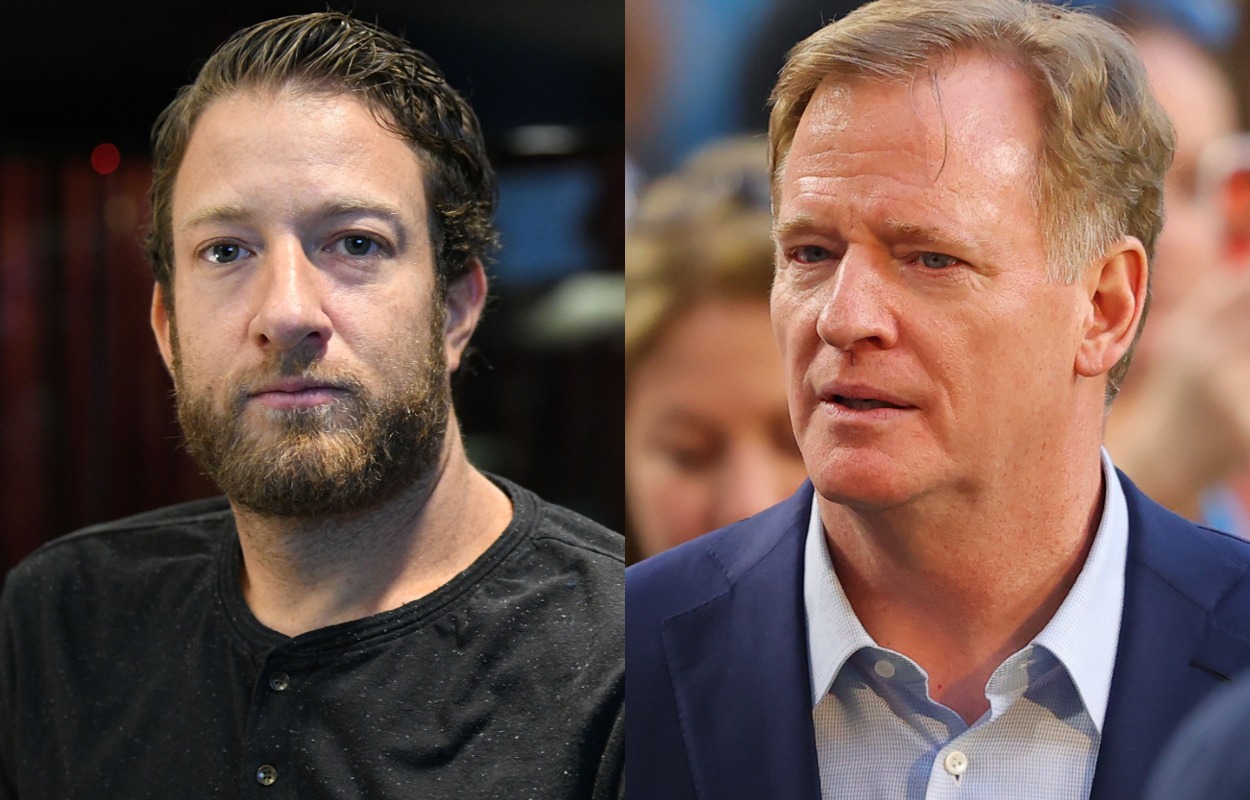 Dave Portnoy Ripped Roger Goodell in Fiery Interview
Don't expect NFL Commissioner Roger Goodell to reverse course and make up with Barstool Sports' Dave Portnoy, especially after the latter's comments to Fox News.
Article Highlights:
Barstool Sports founder Dave Portnoy still has no love lost for NFL Commissioner Roger Goodell
The devoted New England Patriots fan criticized the commissioner's lack of self-awareness during an interview with Fox News' Tucker Carlson
Unfortunately for Portnoy, he shouldn't expect Goodell to try mending the bridge anytime soon
Theoretically speaking, if football fans are able to see longtime New England Patriots quarterback Tom Brady play for the Tampa Bay Buccaneers before retiring, then it's technically not impossible that Barstool Sports founder Dave Portnoy and NFL Commissioner Roger Goodell could eventually reach common ground.
However, after nearly a decade of feuding and watching Goodell seemingly do everything in his power to avoid even shaking his hand, Portnoy doesn't sound too optimistic about the two ever making peace.
Dave Portnoy ripped Roger Goodell in a fiery interview with Fox News' Tucker Carlson
The feud between Goodell and Portnoy stems back to one man: Brady.
Well, things are never that simple, but the short version is that problems arose when Portnoy, a devoted Patriots fan, disagreed with Goodell's handling of the Deflategate scandal in 2015. Portnoy and three other Barstool employees were arrested outside the NFL's New York office that year after protesting Brady's four-game suspension and holding a sit-in.
From that point on, Portnoy became a prominent face on the NFL's no-fly and no-credential list. The league even warned Portnoy and another Barstool Sports employee they'd be arrested for attending Super Bowl 53 in 2019. Midway through the game, security removed Barstool's founder, who had a ticket to the game. He was dragged out of Mercedes-Benz Stadium in Atlanta and arrested.
On Thursday, Feb. 17, Carlson tweeted a clip from a 2021 interview he conducted with Portnoy for Fox Nation's Tucker Carlson Today. During a discussion about Barstool's rise to prominence, Carlson brought up Portnoy's long-standing feud with Goodell. The Michigan graduate didn't hold back in his response.
"He's got to be one of the least self-aware humans of all time."

Dave Portnoy
Portnoy again brought up Deflategate and suggested Goodell "changed the rules" to punish Brady and the Patriots following the 2014 AFC Championship Game. 
"Nobody knew this case more than I did," Portnoy said. "Goodell had no proof. He didn't prove anything." 
Portnoy also openly wondered why no one has ever convinced Goodell to mend the bridge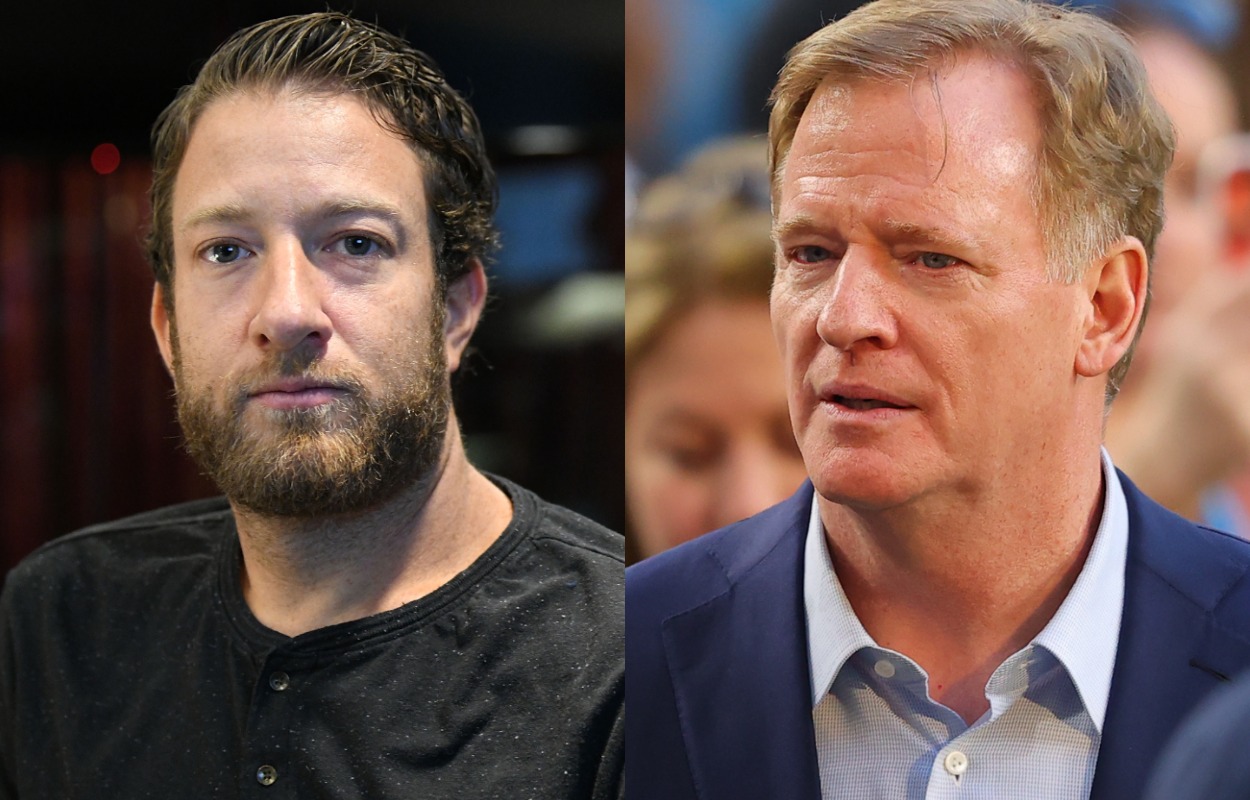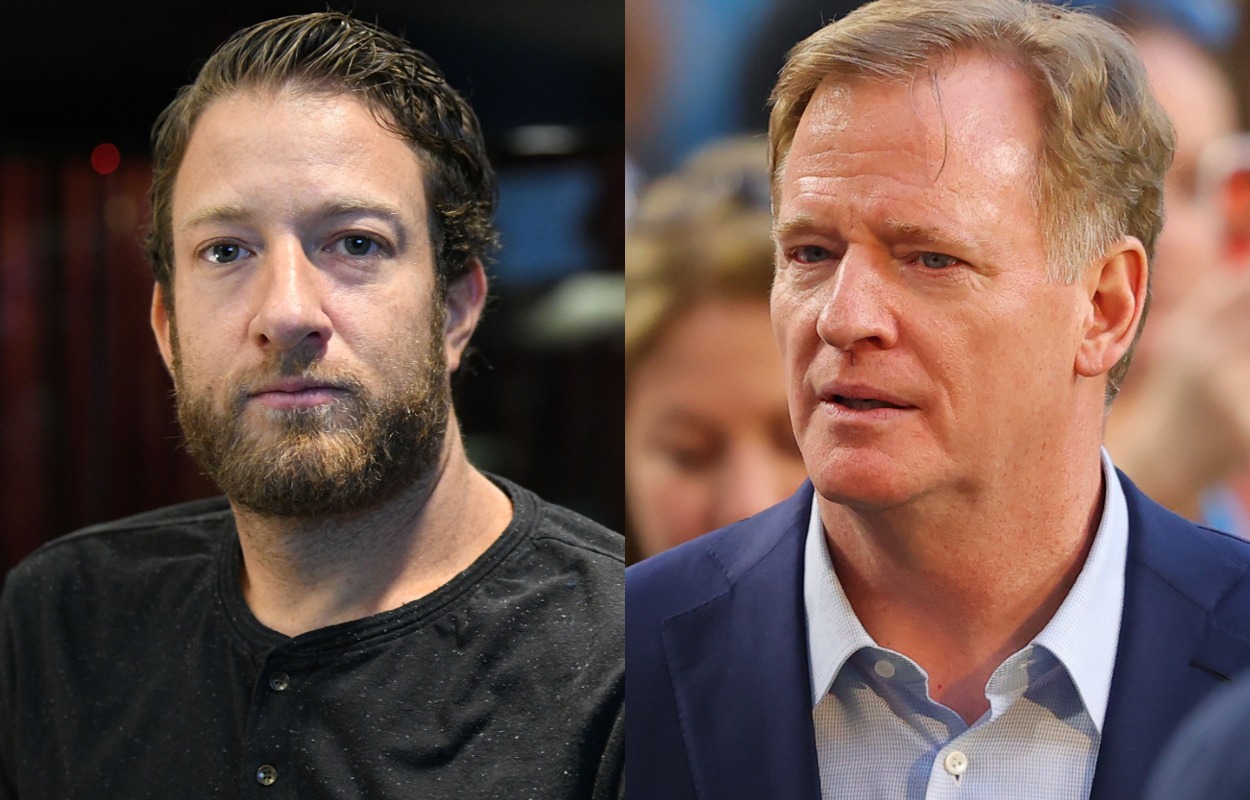 Considering Barstool's place in the sports media and sports gambling landscapes, some neutral observers might wonder why Goodell, one of the most powerful men in professional sports, wouldn't simply pursue a truce.
When he spoke with Carlson, Portnoy addressed Goodell's hesitation to mend the fence or even laugh at the situation. Then-Patriots defensive coordinator Matt Patrica wore a Barstool-produced shirt depicting the commissioner as a clown, complete with a red nose, after winning Super Bowl 51 in 2017. When Portnoy bid $250,000 in 2020 to watch a Monday Night Football game with the commissioner, the league denied him over a failed background check.
"Now, if he, at any point in this five-year saga, acknowledged our existence, poked a little bit of fun at it, it would be done. He'd actually sort of win. Ironically, he has given us this outsider-like renegade vibe that's helped us very much and made us seem like, you know, it's Roger Goodell and the NFL vs. little old Barstool, even as we've gotten bigger. But he's an idiot."

Dave Portnoy
As of publication, it is believed that Portnoy remained on the NFL's no-credential list.
"He doesn't have one guy who's like, 'Just shake his hand; it's done,'" Portnoy said.
Portnoy shouldn't expect to see Goodell's NFL embrace Barstool anytime soon
Objectively speaking, Portnoy isn't wrong that Goodell and the NFL's best move might be making peace with Barstool. The days of Barstool only being a popular website are over. The company has become a power player in the sports landscape, and it might benefit the league to take advantage of that fact.
However, Portnoy shouldn't expect a resolution anytime soon. According to Sports Business Journal, the 63-year-old Goodell is reportedly negotiating another extension with the league. The longtime commissioner's current deal is set to expire in March 2024.
If Goodell does extend his contract and step down in 2026 or 2027, he likely will not settle his issues with Portnoy and Barstool in that time. The company might need to wait until Goodell's successor takes over to have an opportunity at finally legally being allowed to watch the Super Bowl on-site.
Then again, the new boss often tends to be the same as the old boss. It might not be long before Barstool is selling clown shirts depicting Goodell and Troy Vincent, the league's executive vice president of football operations and the league's potential next commissioner.
Like Sportscasting on Facebook. Follow us on Twitter @sportscasting19.