David Eckstein Made $20 Million and Is Married to a Star Wars Fan Favorite
David Eckstein was the type of baseball player who was easy to support. At 5-foot-6 and lacking a power bat in the steroid era, Eckstein survived in the big leagues with clutch hitting and a great personality. Eckstein won two World Series titles and made two All-Star teams.
Eckstein retired after the 2010 season with nearly $20 million in career earnings. Although he remains a St. Louis Cardinals fan favorite, David Eckstein is better known now as the husband of a Star Wars actress.
David Eckstein enjoyed a great MLB career
David Eckstein went extremely under the radar in his 10 MLB seasons. That was expected when Eckstein played shortstop at the same time as the likes of Alex Rodriguez, Derek Jeter, and Nomar Garciaparra. Eckstein hit .280 with 35 home runs, 392 RBIs, 123 stolen bases, and scored 701 runs with five teams.
Although David Eckstein wasn't a Hall of Fame-caliber shortstop, he didn't need to be anything spectacular. Eckstein debuted with the then-Anaheim Angels as a light-hitting shortstop who would surprise other teams with his hustle and knack for big hits.
That reputation followed him to St. Louis and San Diego, among other cities.
Eckstein has a popular legacy in St. Louis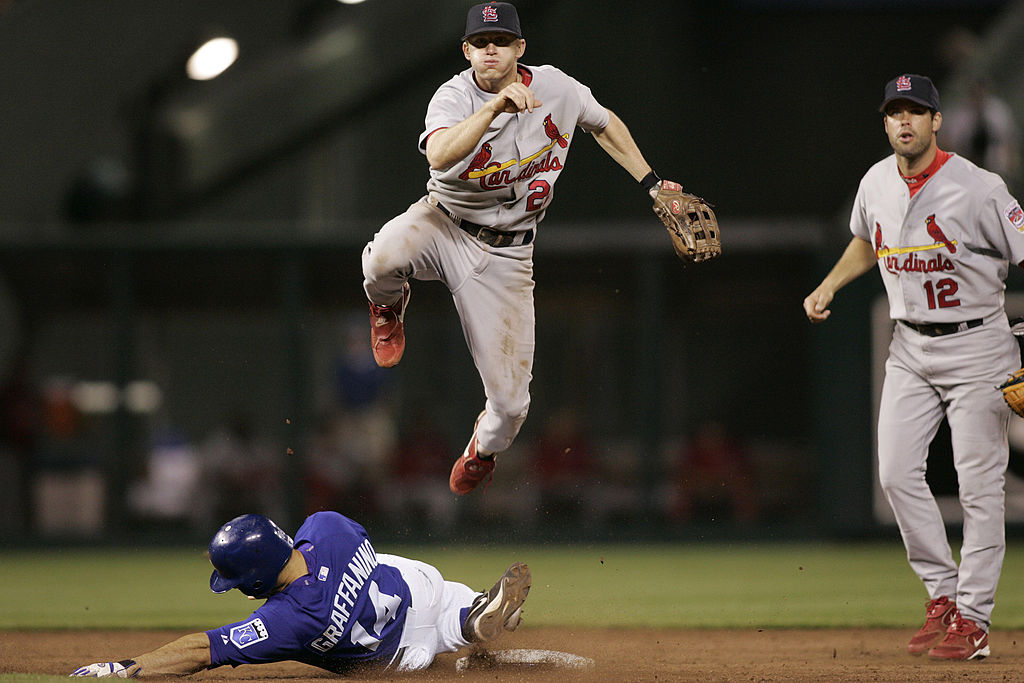 David Eckstein only played three seasons for the St. Louis Cardinals, but that is where he fully established what his legacy would be. Eckstein always shined in the postseason and hit over .300 in two of his five playoff series with the Cardinals.
Eckstein even earned World Series MVP honors when he hit .364 in 2006. The scrappy 83-win Cardinals upset the New York Mets in the NLCS and the Detroit Tigers in the World Series.
The 5-foot-6 shortstop hit .278 with two homers, 18 RBIs, and seven stolen bases in 44 career playoff games. Eckstein never again reached the playoffs after spending the final three years of his career in Toronto, Arizona, and San Diego.
Perhaps his postseason heroics are why Eckstein earned two Hall of Fame votes in 2015. Eckstein also recently served as a special assistant in the Pittsburgh Pirates' baseball operations department. His brother, Rick, is the Pirates' hitting coach.
David Eckstein's wife, Ashley, is more popular than him
David Eckstein retired with $19.65 million to his name, according to Baseball-Reference. The site also estimates Eckstein's career Wins Above Replacement was 20.9. Eckstein totaled 9.4 of that in his first two seasons.
Yet, Eckstein isn't even the most popular or recognizable person in his marriage. That honor goes to his wife, Ashley, an actress best known for her work in Star Wars.
Ashley Eckstein lent her voice to the character Ashoka Tano starting with 2008's Star Wars: The Clone Wars, and has continued that role through 2020.
Ashley Eckstein also appeared in That's So Raven and Ultimate Spider-Man, among other shows directed toward younger fans. Most recently, Eckstein's voice appeared in Star Wars: The Rise of Skywalker.
David Eckstein partnered with his wife, Ashley, to create a fashion business in 2010. Her Universe is a company which produces fashion and accessories for female sci-fi fans.