David Griffin Calls out Everyone who Blames Zion Williamson's Weight for His Injury
Before the NBA season even started, Zion Williamson tore the meniscus in his right knee, taking him out for six to eight weeks. The New Orleans Pelicans aren't sure exactly when the injury happened, but they are positive that Williamson's large size (6-foot-6, 284 pounds) or lack of conditioning aren't the cause of the injury or a reason to worry. Pelicans' executive David Griffin made sure the world knows it.

Zion Williamson at Duke
Williamson had one amazing season playing for Duke. In 33 appearances with the Blue Devils, Williamson averaged 22.6 points and 8.9 rebounds. He shot 68% from the field, including 74.7% inside the 3-point line.

In his short time as a college player, he won multiple awards, including the Naismith College Player of the Year, John R. Wooden Award, and the ESPY as the 2019 College Athlete of the Year. The Atlantic Coast Conference also named him ACC Player of the Year, ACC Athlete of the Year, and ACC Rookie of the Year.

In April of his freshman year, he announced his plans to enter the NBA Draft. As expected, he was the number one pick in the 2019 NBA Draft, going to the New Orleans Pelicans.

His history of injuries
Williamson is an awesome player, but he has a history of injuries dating back to high school. He missed playing time with a deep knee bruise, a foot injury, and a hand injury. While at Duke, Williamson sprained his right knee after his shoe ripped during a game, causing him to miss the last month of the regular season. He returned to play in the ACC Tournament quarterfinals and shot 13 of 13 from the field, which tied an ACC record. Duke won the ACC Tournament over Florida State.

His history of occasional injuries followed Zion Williamson to the NBA. He only played nine minutes of the first game during NBA summer league before bruising his left knee with knee-to-knee contact. At that time, David Griffin called sitting Williamson for games an "abundance of caution." He continued to participate in training and conditioning during the summer.

How the Zion Williamson weight debate started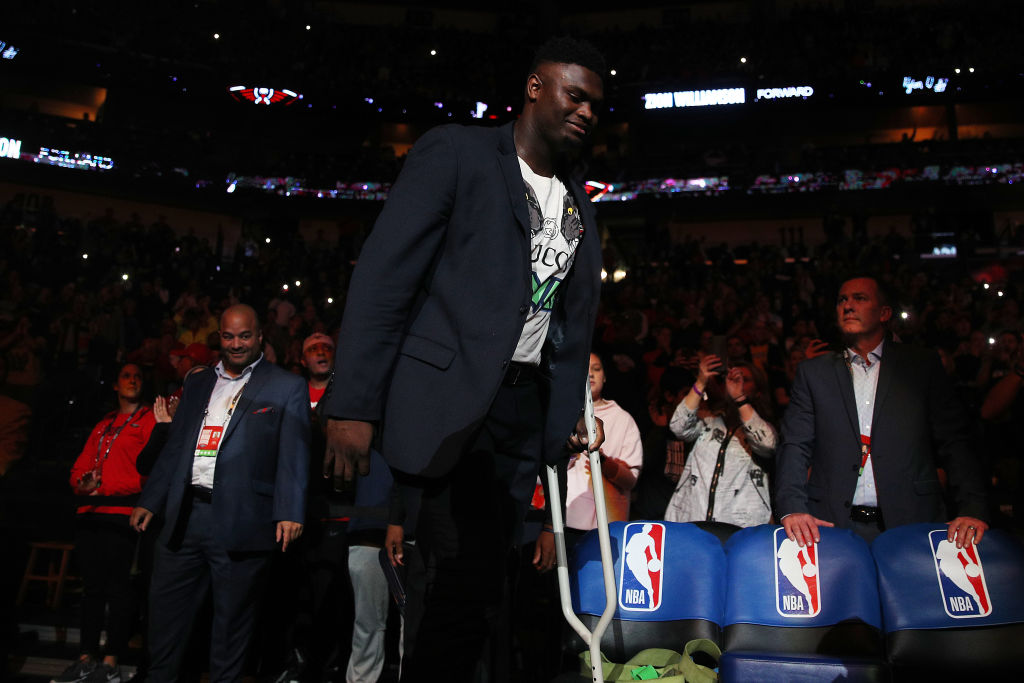 Duke coach Mike Krzyzewski opened the discussion about Williamson's weight and preparedness well before the torn meniscus injury. During an interview with Forbes in July, he said, "I don't think he's in the playing shape or the mental shape to play [in the NBA summer league]." He felt Williamson had been distracted by his fame and awards.

Any issues Krzyzewski saw weren't apparent in the preseason. Williamson was impressive during the first four games. New Orleans won all four, and Williamson averaged 23 points and 6.5 rebounds, shooting 71%.
Torn meniscus

Williamson didn't previously have symptoms or swelling, so it's unknown when he tore his meniscus. He alerted the team around October 15, two days after the Pelicans' preseason game against the San Antonio Spurs. After sitting out practice on October 16, Williamson had an MRI on October 17. The day before the season opener game, Williamson had arthroscopic meniscal debridement knee surgery. He is expected to make a full recovery.

David Griffin provides a strong response
Speaking to reporters in Toronto before the season opener
against the Raptors, Pelicans executive vice president of basketball operations David Griffin said, "The notion that this happened because Zion is in poor condition is asinine … He wasn't in poor condition when he went 12 of 13 last week against Utah. That's not what it is. He's just a very unique body type and certainly from a physics perspective."

Could weight be a factor in the new knee injury? Griffin described Williamson as a "freak of nature" and said he "is in elite condition and stays in elite condition." However, at 284 pounds, Williamson is one of the heaviest NBA players this season. (Tacko Fall is the tallest and heaviest at 7-feet 5-inches and 311 pounds.) Medical teams in recent years have tried to keep tall players thinner to improve their mobility and reduce stress on their feet and knees.

Williamson has excellent speed and leaping abilities, even though he weighs more than most players. His injuries could have been complete accidents and not related to extra stress on his knees. However, while he is unusually talented, the question remains whether his body is built to withstand the strain of a career of playing basketball.

The Pelicans medical team and training staff are working to understand and maintain Williamson's 6-6 body. They are attempting to strengthen specific areas to provide the core strength Williamson needs to have control and stability, all while keeping him lean. At age 19, he can gain muscle mass and weight unusually fast. Williamson's health, whether his injuries are tied to his weight or not, will help determine if he becomes a true NBA superstar.