David Njoku Is Back From the 'Mental Pit' and Ready to Validate the Browns' $6 Million Investment
In the summer of 2020, Cleveland Browns tight end David Njoku made it clear he wanted to hear another song and get out of the Rock and Roll Capital of the World.
Sometimes, you need to remind yourself that you can't always get what you want. Not only is Njoku still wearing a Browns uniform, but he has the opportunity to parlay the 2021 season into a massive contract down the road.
David Njoku says he's back from the 'mental pit'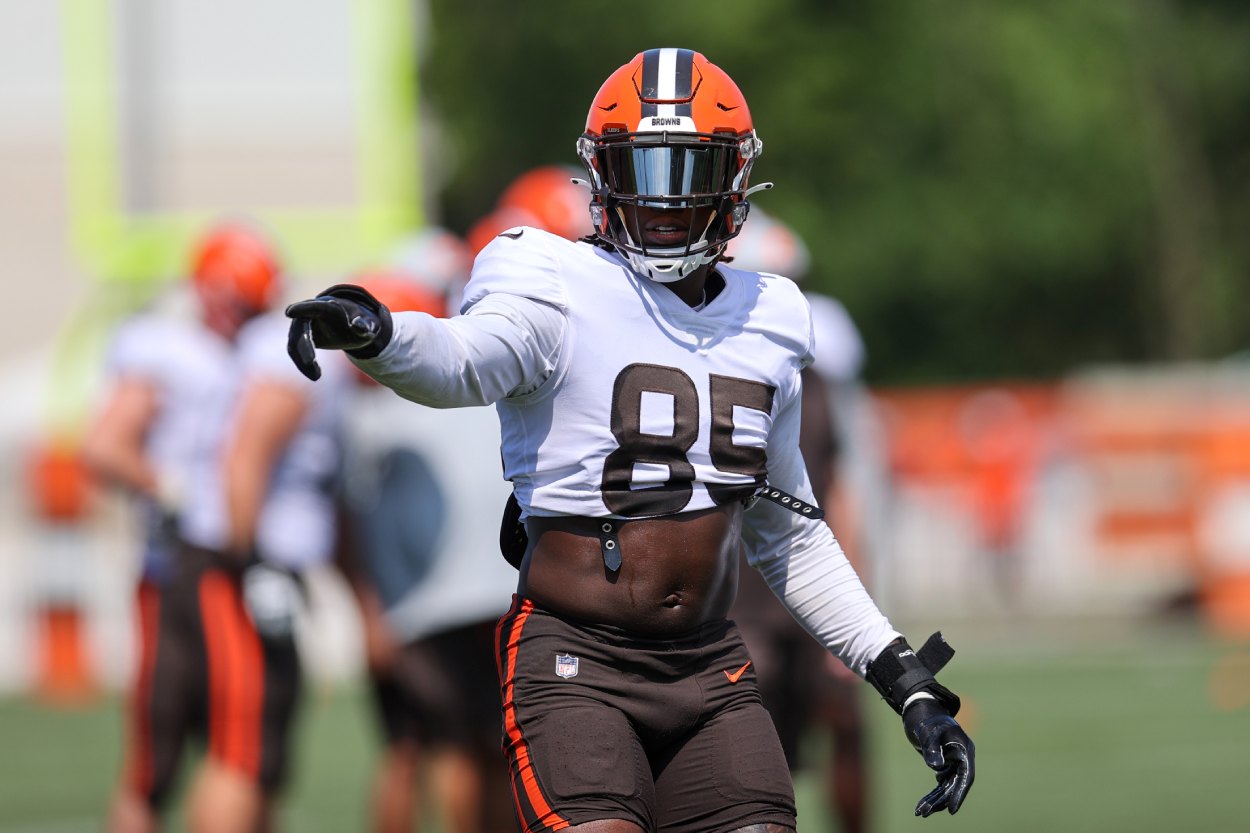 Let's flashback to the summer of 2020 for a second. Earlier that year, the Browns signed ex-Atlanta Falcons tight end Austin Hooper in free agency and drafted Florida Atlantic's Harrison Bryant, a unanimous All-American, in the NFL Draft's fourth round.
That only left so many snaps for Njoku, who requested a trade before training camp began. The Miami product eventually rescinded his demand, however, and stayed with the team all season. However, he only caught 19 passes for 213 yards and two touchdowns in 13 games and five starts. He added another five catches for 66 yards in two playoff games.
Njoku would have every reason to be frustrated by those numbers, and he's not hiding how aggravating the last two seasons have been. A wrist injury limited him to five catches in four games during the 2019 season.
However, Njoku is ready to put the past behind him. According to the Akron Beacon Journal, the 2017 first-round pick recently told reporters he's feeling much better, especially mentally, ahead of his fifth NFL season.
"Things that originate from being mentally [drained] translate over to being physically [drained]. Your body doesn't feel as good as it once did just because you were in that mental pit. I just see every day as an opportunity, and I give everything I've got on the field, in the weight room, in the classroom."

David Njoku
Browns head coach Kevin Stefanski added he sees a "very determined player" in the veteran tight end.
Njoku has an opportunity to make the Browns look extremely smart this season
When you really stop and think about it, the Browns didn't need to hang onto Njoku last year. Hooper signed a four-year deal worth $42 million and arrived expecting to be the starting tight end. Bryant, who won the John Mackey Award at FAU in 2019, could have slid into Njoku's role as a second tight end — and eventually did.
One has to think an NFL team would have strongly considered giving up a mid-round pick for a young tight end. Still, the Browns held onto the Miami product and picked up his fifth-year option. He'll earn $6 million this season before potentially hitting unrestricted free agency in the spring of 2022.
Although Bryant and Hooper are still around, Njoku has every reason to be optimistic. Stefanski's offensive scheme involves plenty of action and touches for the tight ends. Cleveland's top three tight ends last year combined for 89 catches, 1,050 yards, and nine touchdowns.
Njoku impressed throughout the preseason and starred as a receiver when Browns held joint practices with the New York Giants. If he carries his improved play and healthy attitude over to the regular season, nothing is stopping him from eventually usurping Hooper for the starting role.
Remember, Njoku will play the entire 2021 season at 25 years old. Even if he records 40 catches for 500 yards and five touchdowns, that should be enough to get him a multi-year deal in free agency. A team in desperate need of a veteran tight end — the New York Jets, perhaps? — will break the bank and hope the former Hurricanes standout lives up to expectations.
The Browns' tight end unit should scare opponents all season
We're starting to get a reminder of what a healthy and confident Njoku is doing each Sunday. Still, don't forget about Bryant and Hooper and what they bring to the table.
Bryant totaled 24 catches for 238 yards and three touchdowns in 15 games and nine starts last year. If he can improve on his ball security after fumbling twice last season, he very well could emerge as the Browns' full-time starting tight end next year.
Hooper turned 46 catches into 435 yards and four touchdowns last year. The two-time Pro Bowl selection added another nine catches for 62 yards and a touchdown in the two playoff games. He only turns 27 in October and could post improved numbers in his second season with star quarterback Baker Mayfield.
If the Browns get everything they expect out of that trio, this is a team that will be playing football deep into January. Who would have guessed it'd be a group of tight ends that might give the Browns the best opportunity to win a Super Bowl?
Like Sportscasting on Facebook. Follow us on Twitter @sportscasting19.