David Ortiz Says His Close Bond With Alex Rodriguez Predates Their Red Sox-Yankees Days: 'I Don't Like to See People Struggle'
Article Highlights:
Fox Sports analyst David Ortiz opened up on his bond with teammate Alex Rodriguez
Ortiz said their relationship predates their many intense battles in the New York Yankees-Boston Red Sox rivalry
The three-time World Series champion's sports media stock has skyrocketed this postseason
In the primes of their careers, Alex Rodriguez and David Ortiz provided no shortage of home runs and clutch hits in the New York Yankees-Boston Red Sox rivalry.
Well, Ortiz had no shortage of clutch hits. Yankees fans who are still haunted by Rodriguez popping up with the bases loaded might contest that first paragraph.
Over five years after each played their final game, the two friends are colleagues at Fox Sports. In an admission that might surprise fans of both teams, Ortiz recently explained how close he and Rodriguez have been for decades.
David Ortiz opened up on his bond with Fox Sports teammate Alex Rodriguez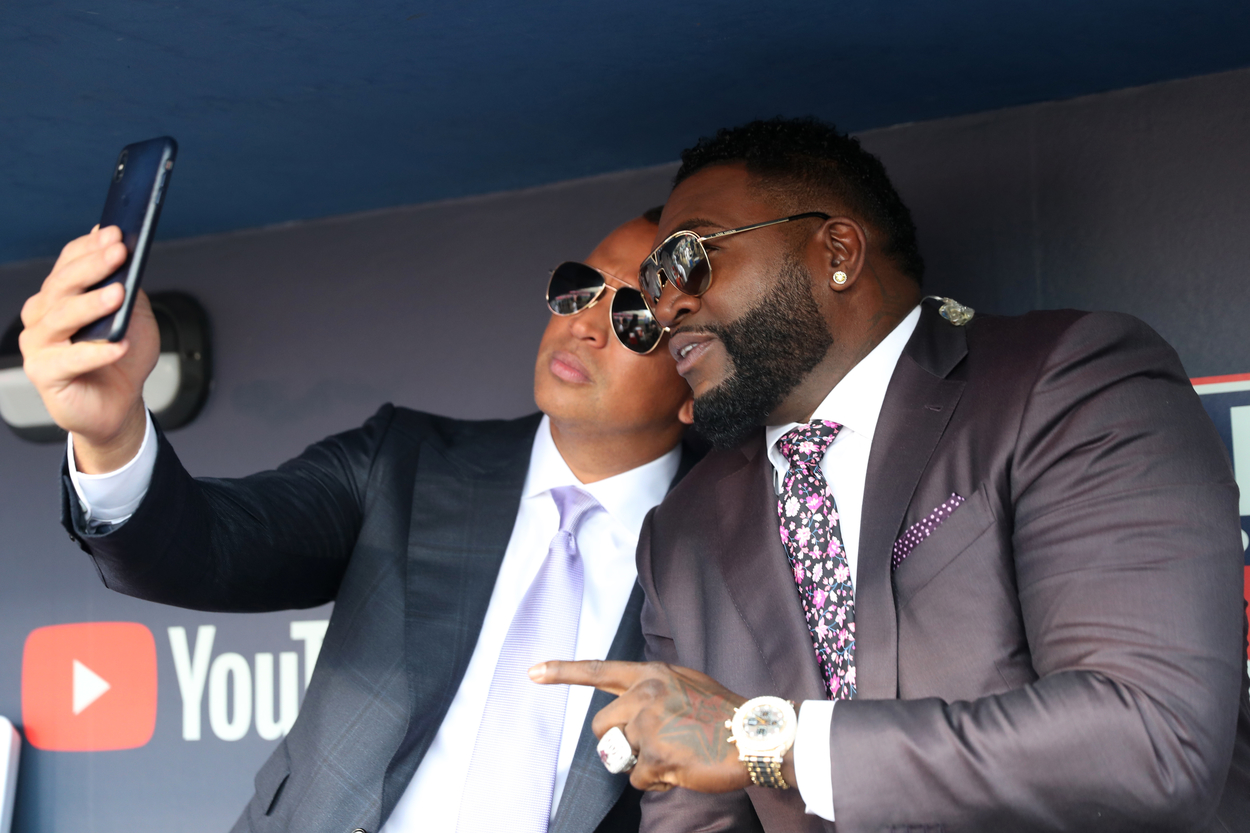 As much as ESPN hypes the team's 19 matchups per year with one another, both the Yankees and Red Sox would likely agree that the rivalry isn't what it was 20 years ago. Each team is more of an annoyance to the other rather than being a hated enemy.
Things weren't always that way. Ortiz joined the Red Sox in 2003 and immediately saw what the rivalry meant to each organization and its fans. Rodriguez experienced the other side when the Yankees acquired him in February 2004.
In a recent interview with the New York Post, Ortiz said he and Rodriguez remained close during their playing days. The 10-time All-Star remembered Rodriguez wanting to team up with the left-handed slugger on the Texas Rangers in 2003.
Although their respective teams understandably wanted to rout the other each time they faced off, Ortiz said he never took any joy in Rodriguez having a rough day at the plate.
"I don't like to see people struggle. I don't care who you're playing for or what you do; I'm not used to seeing people struggle."

David Ortiz
Whether Rodriguez was in the midst of winning two American League MVP Awards or hearing the boo-birds at Yankee Stadium, he knew he could count on Ortiz trying to cheer him up.
"I remember one time we're playing this game in New York, and I was in the on-deck [circle], and he's at third base, and I could see on his face that the pressure was taking over, you know?" Ortiz recalled. "I was like, 'Dude, breathe, breathe! You're not breathing right, breathe!' That was me, that was me being me."
Yes, Yankees fans, you're now allowed to feel a slight tinge of regret for whatever you yelled at Ortiz during a meaningless September game.
Ortiz and Rodriguez have displayed excellent chemistry on Fox Sports' modern pregame show
Although Fox NFL Sunday has thrived as a pregame show since its inception in 1993, the network never had the same success or identity on the baseball side. At one point in the early 2010s, Fox even collaborated with MLB Network on what essentially was a joint pregame show.
Things changed later in the decade. After contributing to the network's playoff coverage in 2015 and 2016, Rodriguez joined Fox Sports as a full-time analyst in 2017. Ortiz followed the three-time AL MVP in agreeing to terms with Fox later that year.
Say whatever you want about their respective careers, but it's hard to argue against Rodriguez and Ortiz's chemistry. The two have a genuine friendship that has translated well to the studio, whether they're trading barbs about their former teams or cracking jokes during an interview.
Ortiz even defended Rodriguez when the duo, along with host Kevin Burkhardt and Chicago White Sox legend Frank Thomas, set up at Fenway Park during this year's American League Championship Series. Red Sox fans pelted Rodriguez with insults and graphic language during the live broadcast.
Rodriguez, donning a Yankees helmet, at least stood up and embraced the boos.
Ortiz has positioned himself as sports media's next legitimate breakout star
Even with the looming threat of the sport's first work stoppage since the 1994-95 lockout ended, Fox has plenty to be excited about regarding its baseball coverage. Fox Sports, both the main network and FS1, have All-Star Game and postseason rights — including the World Series — through the end of the 2028 season. The network will also carry the 2022 Field of Dreams Game and any other similar events.
This bodes well for Ortiz, who has received constant praise on social media this fall for his work on the network's studio coverage. He's brought a charming, insightful, and funny personality to the pre-and postgame show. Every network is always looking for an analyst with those traits.
It will be interesting to see what the next step is for Ortiz. He clearly works best in a studio, especially where he can bounce off Rodriguez, so moving him to a game analyst role likely isn't the right move. Perhaps FS1 will eventually try an alternate broadcast involving the two similar to what ESPN2 has Eli and Peyton Manning do during Monday Night Football games.
For their sake, let's hope baseball's equivalent of Marshawn Lynch doesn't force them to issue an awkward apology after an f-bomb.
Like Sportscasting on Facebook. Follow us on Twitter @sportscasting19.
RELATED: Alex Rodriguez's Outspoken and Mistake-Riddled Commentary Earned Him a Harsh Brushback from Yankees Coach Phil Nevin: 'He's Never Been in That Position'