David Reutimann Cheated Death in 1 of NASCAR's Hardest-Ever Crashes
NASCAR is soon to reach a great milestone in its history. This month will mark twenty years since its last driver fatality in one of its major series, an indication of just how far the sport has come with driver safety. That's not to say there haven't been any close calls during this time, however. One of those came during a race at California Speedway in 2007, when rookie David Reutimann
David Reutimann navigates life at the top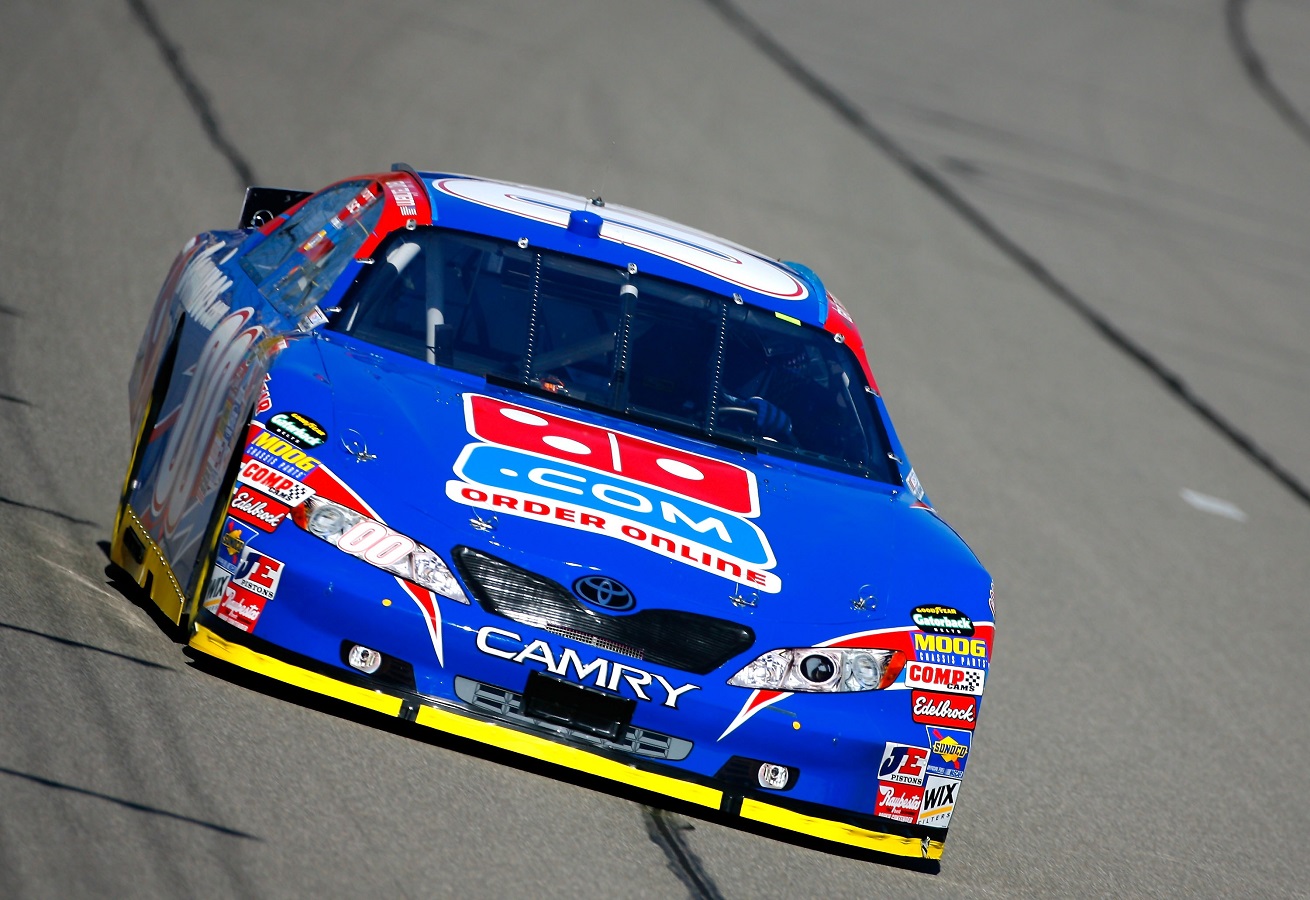 2007 was Reutimann's rookie season in the NASCAR Nextel Cup Series, as it was known at the time. The team he drove for, Michael Waltrip Racing, were making their first attempt to run the full schedule in the series. Since this was well before the charter system that NASCAR has today, he would have to qualify his way into every race.
The 2007 season got off to a rocky start for both Reutimann and his team. During a post-qualifying inspection on the week of the Daytona 500, NASCAR officials found an illegal fuel additive on Waltrip's own no. 55 car. As a result, Waltrip's team was docked 100 points and fined $100,000. In response, MWR fired two crew members deemed to be responsible for the infraction. This didn't impact Reutimann's team directly, but it couldn't have had a positive impact on morale.
The Daytona 500 didn't go much better for Reutimann. He finished a dismal 40th after a multi-car accident on lap 175.
Reutimann's season goes from bad to worse
Things seemed to be going better for the no. 00 car at the next race at Auto Club Speedway in Fontana, California. Late in the race, Reutimann was closer to the middle of the pack. But with eight laps to go, his car was tapped by Greg Biffle, sending him nearly head-on into the outside wall.
For fans watching at home, the aftermath of the crash was especially disturbing. Shortly after the impact, the FOX broadcast switched to an in-car camera. At that moment, Reutimann's head slumped over the steering wheel. At this time, NASCAR was only six years removed from the death of Dale Earnhardt at the 2001 Daytona 500. Seeing Reutimann go limp in such a way may have brought back bad memories of that day.
Fortunately, Reutimann was very much alive, though shaken. It helped that Auto Club Speedway was fully equipped with SAFER barriers, which absorb the force of hard impacts such as this one.
The accident had knocked the wind out of him, rendering him unable to speak. He regained his bearings in time to step out of his car, which had become consumed by fire. He also suffered a bruised foot, after it had been mangled by the pedals upon impact.
According to ESPN, NASCAR officials recorded Reutimann's wreck as one of the hardest in the sport's history, although they did not give an exact figure.
Things improve slightly for Reutimann
The 2007 season didn't get much better for David Reutimann. In fact, he failed to qualify for 10 of the 36 races that season. His results improved slightly over the next two years, culminating in his victory in the rain-shortened 2009 Coca-Cola 600 at Charlotte. The next year, he claimed his second victory, holding off Carl Edwards to win at Chicagoland Speedway.
Reutimann ran his final Cup Series race in 2014. He finished with two victories and 26 top-ten finishes. He is one of only 34 drivers as of 2021 to collect a win in all three of NASCAR's top three national series.
Today, according to NBC Sports, he has completely distanced himself from anything related to NASCAR and has barely even watched any of the sport on TV since retirement. He owns and operates Beak Built Chassis in Mooresville, N.C., which builds dirt track racing cars for clients.
"It's not like I have a problem with the sport," said Reutimann. "The sport was very good to me, but it's just a situation where in order to not go crazy, I have to focus on other things."