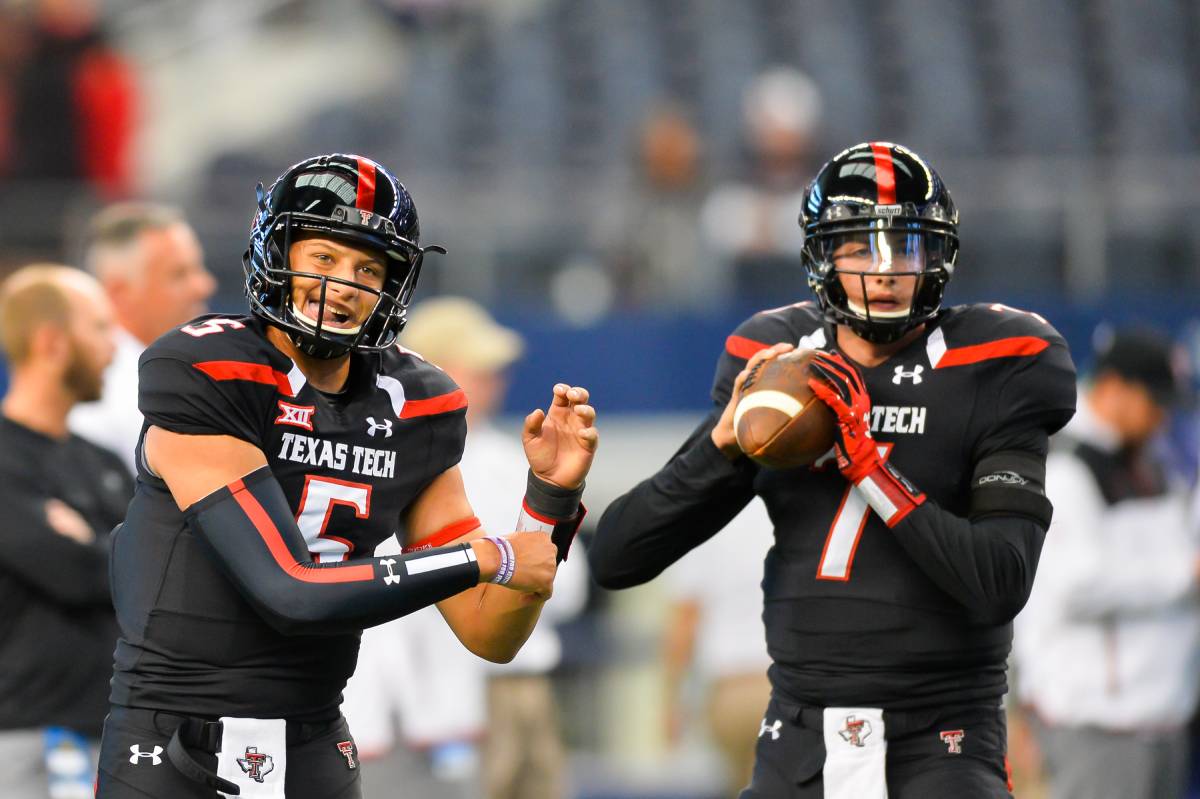 Davis Webb Started Ahead of Patrick Mahomes, and Now He's a Career Backup
Davis Webb started ahead of Patrick Mahomes at Texas Tech in the 2010s. Webb and Mahomes have certainly had differing NFL careers so far.
Davis Webb and Patrick Mahomes perfectly exemplify what makes sports so fascinating.
A few years ago, Webb looked like the future for Texas Tech at quarterback while Mahomes — the son of a former MLB pitcher — rode the bench.
It's funny how things work out. Mahomes is a star quarterback for the Kansas City Chiefs and appears headed for the Pro Football Hall of Fame after two seasons as a starter.
Webb, on the other hand? Let's look at what he's up to in 2020.
Davis Webb played for Texas Tech and California
Standing 6 feet 5 inches and weighing 229 pounds, Davis Webb had the perfect quarterback body.
Webb began his college career at Texas Tech and competed with Baker Mayfield for the starting role as a true freshman in 2013. Webb completed 62.6% of his passes for 2,718 yards, 20 touchdowns, and nine interceptions.
When Mayfield transferred to Oklahoma after the season, Webb took the starting reins for good in 2014. At least, Webb started when he was healthy. Webb completed 61.2% of his passes for 2,539 yards, 24 touchdowns, and 13 touchdowns in only eight games.
Injuries to Webb's ankle and shoulder forced him to the bench by midseason and Patrick Mahomes, a talented gunslinger, took over. Webb spent the 2015 season as Mahomes' backup and transferred to the University of California, Berkeley, as a graduate student for the 2016 season.
The transfer paid off, as Webb broke out for 4,295 yards and 37 touchdowns under Sonny Dykes.
Patrick Mahomes followed Webb at Texas Tech
When Patrick Mahomes took over midway through the 2014 season, he quickly showed why he arrived at Texas Tech with such high expectations.
Although Mahomes only completed 56.8% of his passes, he threw 16 touchdowns to four interceptions in seven games. Over the next two seasons, Mahomes completed 64.6% of his passes for 9,705 yards, 77 touchdowns, and only 25 interceptions.
Mahomes also ran for 22 touchdowns in that span.
Webb and Mahomes have certainly had differing NFL careers
Davis Webb could have turned out like Deshaun Watson or Lamar Jackson — and he'd still be inferior to Patrick Mahomes right now.
There isn't much argument about Mahomes being anything but the best quarterback in the NFL right now. The 10th overall pick in 2017, Mahomes lit the world up for 5,097 yards, 50 touchdowns, and only 12 interceptions in 2018, his first year as a starter.
Last year, despite battling a knee injury, Mahomes threw for 4,031 yards, 26 touchdowns, and five interceptions.
Mahomes stepped his game up in the 2019 postseason, completing 64.2% of his passes for 901 yards, 10 touchdowns, and two interceptions.
Kansas City defeated San Francisco in the Super Bowl.
Mahomes holds various NFL records so far. Among them is becoming the youngest quarterback to throw six touchdowns in a game and becoming the fastest to 7,500 career passing yards.
As for Webb, the New York Giants drafted him with the 87th overall selection in 2017's draft. Webb spent only a year with the Giants, though, before a new staff cut him in September 2018.
Webb spent the 2018 season with the New York Jets. He is currently with the Buffalo Bills and backing up Josh Allen.
Like Sportscasting on Facebook. Follow us on Twitter @sportscasting19.