Daytona 500 Notebook: Bubba Wallace is 'Pissed;' Kyle Larson Still Superspeedway Bummed; Chase Briscoe and Daniel Hemric Penalized
Bubba Wallace thought, for a moment, he had a chance to win the 64th Daytona 500. He finished upset.
Defending NASCAR Cup Series champion Kyle Larson again couldn't shake his struggles at Daytona International Speedway.
Chase Briscoe and Daniel Hemric rallied from pre-race penalties to challenge eventual rookie winner Austin Cindric.
Briscoe fell just short.
Bubba Wallace nabs second runner-up Daytona 500 finish: 'This one sucks' 
Bubba Wallace envisioned his path to the checkered flag.
On the last half-mile, he put his plan into motion. Forcing Ryan Blaney's machine to the high side, Cindric pivoted quickly to block Blaney.
Wallace shot to the finish with nothing to block him, but the rookie recovered and drag-raced to victory. Cindric edged Wallace by about a half-car length.
Wallace has two Daytona 500 runner-up finishes.
He was not overjoyed. At least not entirely.
"I'm going to be pissed off about this one for a while," Wallace said after the race, reported by motorsport.com. "… This one sucks when you're that close, but all-in-all, happy for our team, happy for our partners, and on to California."
As the Cup tour heads to Auto Club Speedway in Fontana, California, on Feb. 27, Wallace is beginning to earn a reputation as a superspeedway contender. He earned his first career win last fall at Talladega, and four of his six top-six finishes have come at tracks longer than two miles.
"What could have been, right?" Wallace said. "… I'm just dejected, but the thing that keeps me up is just the hard work that we put into our speedway stuff. …"
Kyle Larson still struggling to avoid a 'mess' at superspeedways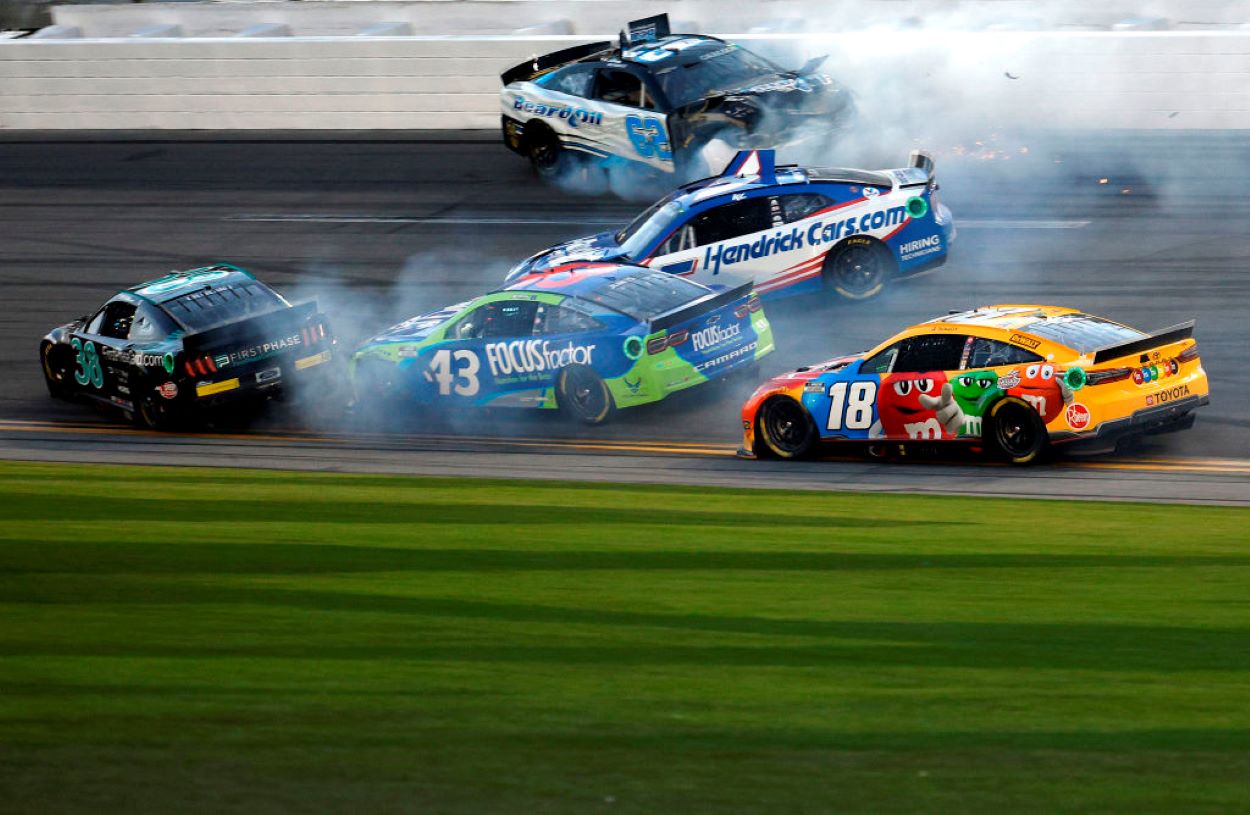 Kyle Larson still has not figured out how to succeed on superspeedways.
The 2021 NASCAR Cup Series champion started on the pole but was not in the lead for long. Less than two miles into "The Great American Race," Larson started his descent.
The winner of 10 points races last season, Larson has proven adept at short and intermediate tracks, road courses, and, especially, on dirt. Larson has yet to record a top-five finish for tracks longer than two miles.
The skid continued on Feb. 20. Larson crashed out on Lap 190, finishing 32nd.
During a prerace interview with FS1, Larson described what generally happens and what he expected to happen at Daytona. He proved himself correct. Since his first outings, he's usually skidded to the end.
"I don't know; I always seem to find the wreck," Larson said. "For whatever reason, it's been my doing, making wrong decisions to put myself right in the middle of the mess."
Chase Briscoe and Daniel Hemric face pre-race penalties, rally
Drivers Chase Briscoe and Daniel Hemric didn't get the start they wanted, but they finished running. Both drivers faced pre-green flag penalties and were sent to the back of the 40-car starting field.  
Driving for Stewart-Haas Racing, Briscoe qualified ninth, but Stwart-Haas Racings' Next Gen car failed two inspections and had a crew member ejected. 
Driving for Kaulig Racing, Hemric's No. 16 Chevrolet faced multiple penalties. The car failed inspection three times. After crew chief JD Frey was ejected, Hemrick also served a green flag pass-through penalty. It wasn't much of a fall, though. He was slated to begin 33rd.  
A breakout candidate in 2022, Briscoe fought back to place third and Hemric 12th.
Like Sportscasting on Facebook. Follow us on Twitter @sportscasting19.
RELATED: William Byron, Tyler Reddick, Daniel Suarez: Daytona 500's Top 3 Breakout Candidates