Daytona 500 Notebook: Jacques Villeneuve Needs New Engine; Race Teams' Tires Confiscated; Austin Hill Executes Xfinity Last-Lap Pass
Should Jacques Villeneuve somehow rally from a late engine change and a P40 starting position, the Motorsports icon would become just the second driver to capture a Formula 1 world championship, an Indianapolis 500 title, and NASCAR's Harley J. Earl Trophy.
Villeneuve would follow Mario Andretti in accomplishing the feat. He understands the odds he faces, but it's not dampening his spirit entering the Daytona 500 on Feb. 20.
While Villeneuve's team suffered from engine problems, RFK Racing and Team Penske found themselves without tires, and Austin Hill avoided a big last-lap crash to secure a win in his full-time Xfinity Series debut.
F1 and Indy 500 champ Jacques Villeneuve needs a new engine to run in the Daytona 500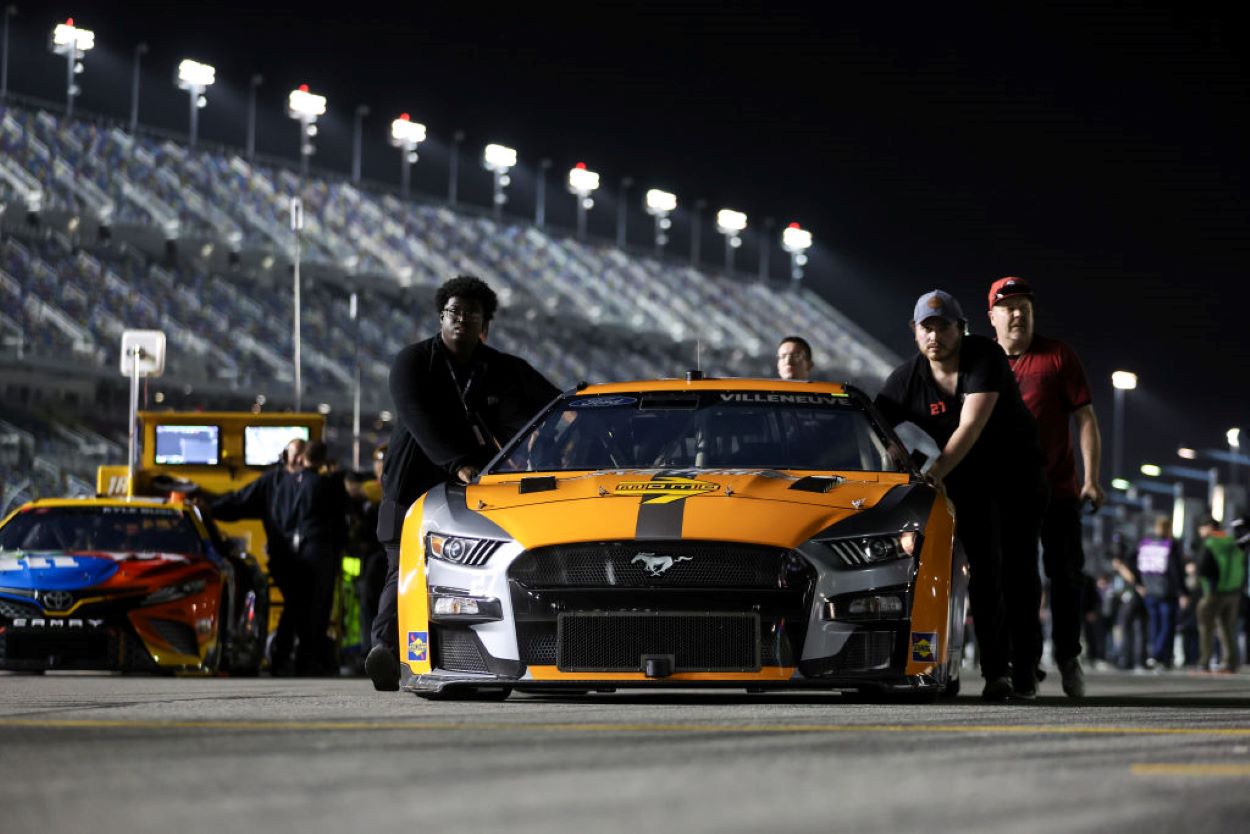 Villeneuve may not have had an engine for his Daytona 500 entry, but he's still having fun.
The 1997 Formula 1 drivers' champion and 1995 Indianapolis 500 winner once thought NASCAR was too radical to attempt.
Motorsport.com reported he likes getting rad.
"When I was in F1, I didn't think I would be able to drive anything else," Villeneuve said. "I was so focused and groomed for those kind of cars, and it's not until I jumped into a NASCAR that I realized there was a lot of fun to be had driving something different, and I've had a blast ever since just jumping in different kind of cars."
Experiencing stock car racing on the Euro NASCAR circuit the past few years, Villeneuve arrived for Speedweeks at Daytona International Speedway eager to master a new discipline.
Racing for non-charter Team Hezeberg in the No. 27 Ford, Villeneuve secured a spot in the 64th Daytona 500 via qualifying on Feb. 16.
The next day, the team experienced engine problems, which continued to the eve of "The Great American Race." Team Hezeberg mechanics engaged in a race of their own, forced to replace the Next Gen car's engine.
Villeneuve told Fox Sports the team would be ready for the green flag.
"Well, we fixed the Thursday problem, but then we found out this morning (Feb. 19) that we'd dropped a valve, so we have to change the engine," he said.
Villeneuve starts last.
NASCAR confiscates new 18-inch tires from RFK Racing, Team Penske
Sweep the Duels and get inspected. That's what's happening to RFK Racing and its affiliate, Team Penske.
According to NBC Sports, NASCAR competition officials on Feb. 19 confiscated wheels used by the two Cup Series teams at Daytona International Speedway.
The competitive contraband reportedly was shipped to the NASCAR Research & Development Center in Concord, North Carolina, for analysis.
NASCAR officials did not announce which tires they claimed from which car.
Led by drivers Brad Keselowski and Chris Buescher, RFK claimed the Duel 1 and 2 at Daytona on Feb. 17. The Duel wins put Keselowski into P3 on the starting grid and Buescher fourth. It was the first Duels sweep since 2015 when Hendrick Motorsports pulled it off with drivers Dale Earnhardt Jr. and Jimmie Johnson. Team Penske's Joey Logano led the Duel 2 on the last lap until a bad mistake.
For the first time in 2022, NASCAR will use 18-inch tires with one center-locking lug nut. Competition officials on Jan. 24 announced stricter penalties for teams this season.
NASCAR did not disclose a timetable for releasing its findings.
Xfinity Series rookie Austin Hill wins on last-lap pass, in front of major crash
Overshadowed by one of the all-time worse last-lap accidents at Daytona, Xfinity Series rookie driver Austin Hill passed hard-luck AJ Allmendinger to claim the Beef. It's What's for Dinner. 300 at Daytona International Speedway on Feb. 19.
Behind the leaders, Anthony Alfredo's machine bumped the back of Myatt Snider's car, which flipped up and completely turned backward, crashing into the fencing. Separated from the engine, the No. 31 Chevrolet settled in the infield as a shell. Climbing out of what was left of the car moments later, Snider did not appear to suffer any significant injuries.
Benefitting from a draft bump by Riley Herbst's No. 98 Ford, Hill earned a trip to the Xfinity playoffs during his debut ride with Richard Childress Racing.
"Now we get to go race for a championship," he told Fox Sports.
Like Sportscasting on Facebook. Follow us on Twitter @sportscasting19.
RELATED: Kyle Larson, Ryan Blaney, Bubba Wallace Recall First-Time Daytona 500 Experiences