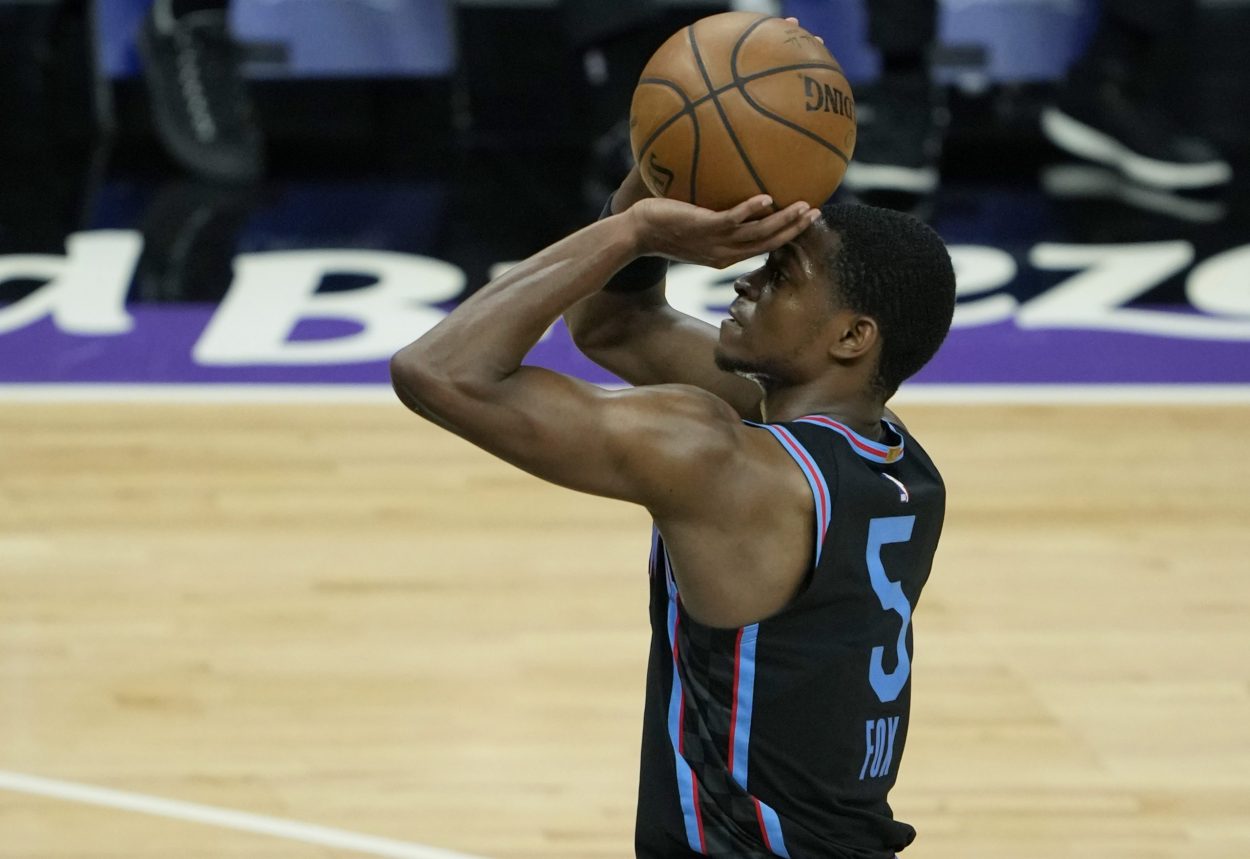 De'Aaron Fox is Shockingly Content With a Dumpster-Fire of an Organization in Sacramento
De'Aaron Fox is just fine staying with the Sacramento Kings in spite of all the organization's missteps in recent years.
De'Aaron Fox is the only star-caliber player on the Sacramento Kings roster. He has been that guy for some time. Yet, it appears Fox is fine with being the franchise centerpiece for a rapidly-sinking ship.
The Kings are in the midst of the longest playoff drought in the NBA. Sacramento hasn't played playoff basketball since 2006. The franchise has been wrought with poor managerial decisions. What's worse, the Kings don't look very close to contending for a playoff spot in the Western Conference despite some surprisingly strong picks in the last two drafts.
Nevertheless, Fox is proud of his title as a franchise player, perhaps to a fault.
De'Aaron Fox is reportedly "content" with the Sacramento Kings
The Sacramento Kings have been a stagnant franchise with little sense of direction in recent seasons.
Sacramento went 31-41 in back-to-back seasons under Luke Walton, who replaced Dave Joerger ahead of the 2019-20 season. Young players like Marvin Bagley and Buddy Hield are either struggling to take the next step or looking for an out (or both). The Kings are struggling to build, but Fox is currently unbothered.
Paolo Uggetti of The Ringer wrote at length about Ben Simmons' trade prospects and pegged the Kings as a potential landing spot. Indeed, Sacramento is a team that has been mentioned in Simmons rumors and has even been listed as a potential suitor for Damian Lillard.
Uggetti mentioned the Kings could use Fox as a trade piece. However, he added that Fox is reportedly "content" in Sacramento.
Realistically, the Kings probably don't have enough incentive to include Fox in a possible Simmons trade. The former Kentucky star probably deserved more recognition this year. Fox averaged 25.2 points, 7.2 assists, and 3.5 rebounds while posting a career-high in effective field goal percentage. He has shown fairly steady growth in each of his first four seasons in the NBA.
Fox is making gains. However, he doesn't have much reason to how unbridled loyalty to a Kings franchise that consistently seems prone to missteps.
Sacramento's messy front-office decisions set the franchise back years
The Sacramento Kings might be in a better position if not for some horrendous personnel decisions in recent years. Kings fans mostly have former general manager Vlade Divac for that.
Divac reportedly refrained from drafting Luka Doncic because he took issue with Doncic's father. Well, pride certainly comes before the fall in that instance. The Kings instead drafted Bagley, who has endured multiple injury-riddled seasons and wants out of Sacramento. However, that was hardly the only error Divac made as Kings GM.
The former Kings center puzzlingly drafted two centers in 2016 despite DeMarcus Cousins and Willie Cauley-Stein already being on the roster. Divac hit on De'Aaron Fox in the 2017 NBA Draft. But also signed Harrison Barnes to a four-year, $85 million contract and later inked Hield to a four-year, $105 million extension, which essentially led to Bogdan Bogdanovic leaving in restricted free agency last summer. He fired Joerger after a 39-win season during the 2018-19 season, the team's best mark in 11 years. Walton has failed to replicate Divac's success.
Sacramento's issues go far beyond Divac, though. Owner Vivek Ranadive suggested in 2014 that the Kings employ a 4-on-5 defensive look, via former Grantland and current ESPN writer Zach Lowe. It's a systemic thing at this point.
The Kings haven't had a real trajectory in years. However, De'Aaron Fox and some of the team's other young guards might intend to change the narrative in Sacramento.
Can Fox help turn the Kings into winners?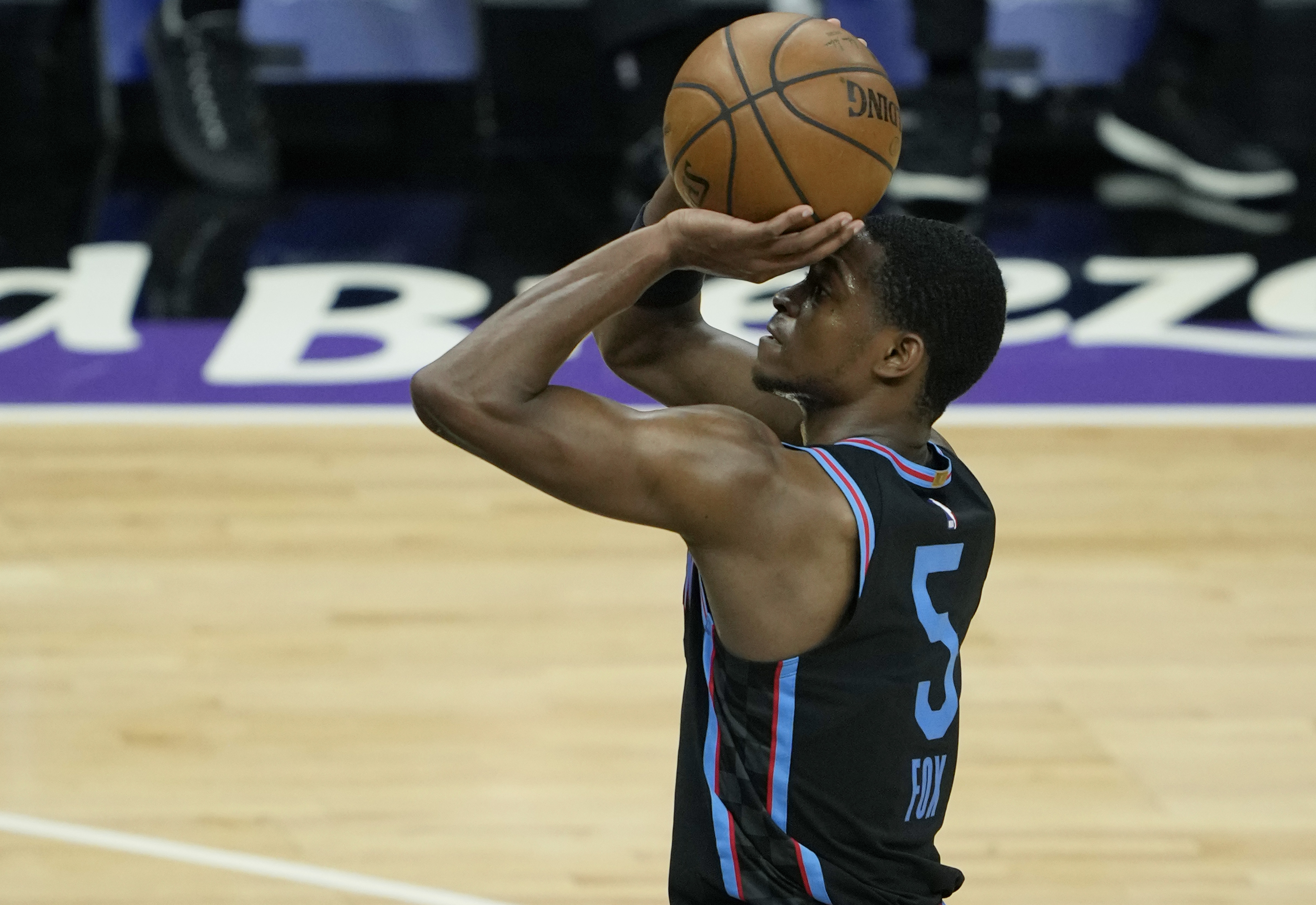 The Kings roster is incredibly deep in the backcourt.
Fox headlines the group at the point, though he can play a bit of a combo guard role. Tyrese Haliburton was named All-Rookie First Team after averaging 13.0 points, 5.3 assists, and 3.0 rebounds. Hield could still move before the start of the new season, but he supplies the Kings with scoring from the 2-guard spot for now. The Kings used their 2021 first-round pick on Davion Mitchell, who was quite impressive during NBA Summer League.
Sacramento also made the prudent decision to re-sign Richaun Holmes and brought in Tristan Thompson in free agency, giving the Kings a bit of stability in the frontcourt to complement the backcourt depth.
The Kings have some talent, but they still lag far behind other Western Conference contenders. Still, De'Aaron Fox isn't exactly yearning for the chance to go elsewhere.