Deadspin Sealed Its Fate as the Biggest Loser In the Rachel Nichols-Maria Taylor Saga Before the NBA Bubble Even Began
While ESPN deals with the fallout of the Rachel Nichols and Maria Taylor saga, Deadspin is trying to do a level of damage control — and miserably failing, too.
Remember Deadspin, the popular satirical website which later led multiple investigations into sports and culture? Well, what remains of the site is deservedly under fire for how poorly their staff not only handled their initial reporting of the Nichols video but how those in command failed to respond after the fact.
Deadspin buried the story about Nichols and Taylor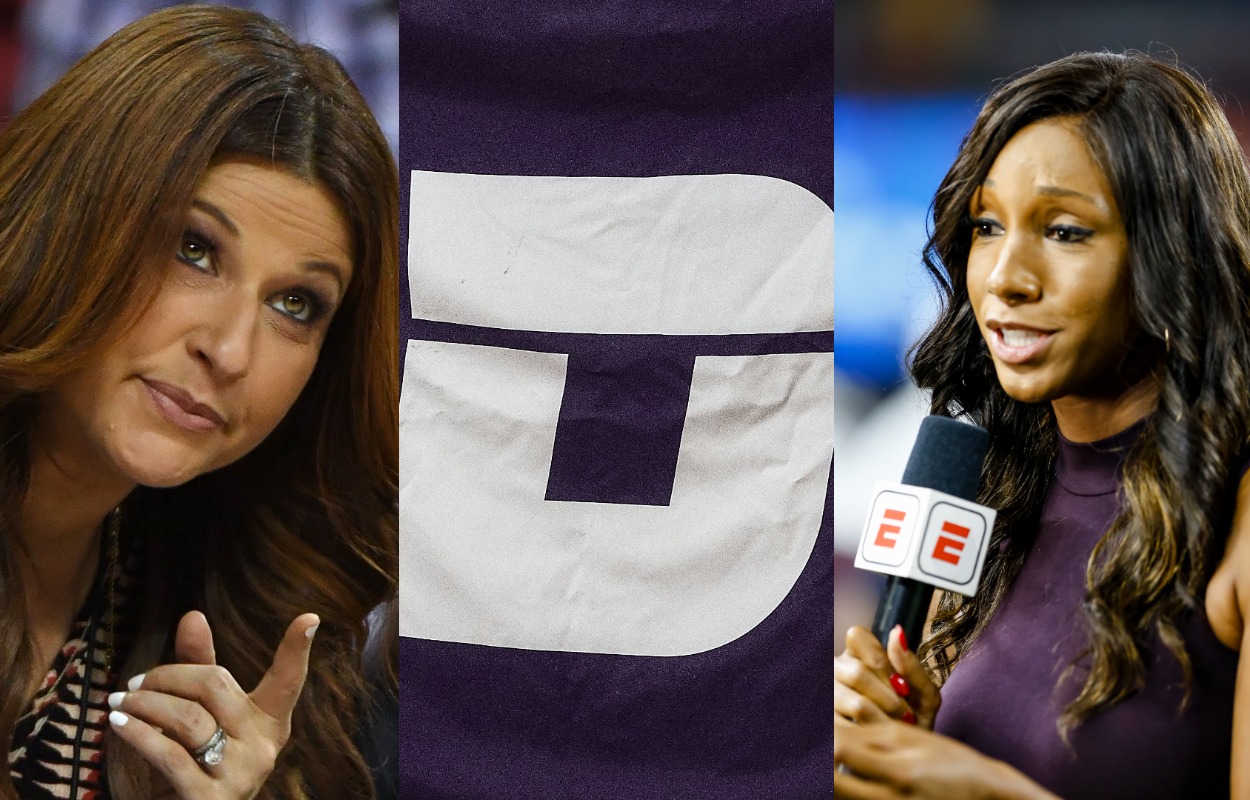 The New York Times recently published a lengthy story about Nichols, the veteran ESPN host, suggesting during a call at last year's NBA bubble that the network gave Taylor more airtime for diversity reasons. Nichols is white, and Taylor is Black.
However, what you may not have known is that Deadspin broke the story nearly a full year ago. Four staffers — editors Eric Barrow, Jim Rich, and Julie DiCaro, along with Carron J. Phillips, a senior writer — had a shared byline on "ESPN Creep Used 'The Jump' Video Feed To Secretly Record Rachel Nichols in Her Hotel Room — Video Got Sent to Us."
That story went online on July 15, 2020, a week before exhibition games even began in the NBA bubble. Despite having four videos and confirming Nichols' involvement, Deadspin chose not to publicly transcribe any of her comments for privacy reasons.
"Nothing in the videos Deadspin viewed show Nichols saying anything that could be construed as either a back-stabber or phony ally. Historically, casting successful women as conniving backstabbers has been a tried and true method of encouraging public condemnation of them. (See, e.g., Clinton, Hillary, and Warren, Elizabeth). You love to see the classics trotted out."

Deadspin
Deadspin then blamed the whistleblower for not telling Nichols her video was streaming and others could see it. DiCaro, who is also a senior writer, addressed the story last July in a now-deleted tweet.
"Some a–hole tried to get us to cancel Rachel Nichols today with creepy secret video," she wrote. "Could this industry get any worse?"
Well, yes, it could.
Deadspin completely mishandled the reporting and the aftermath
Because Deadspin chose to bury the Nichols story, many had forgotten about it entirely when The Times published its investigation. The Times, which had 20 minutes of video and conversation, noted that Deadspin had four minutes of video when the initial story broke in July 2020.
Twitter soon responded with outrage and asked why Deadspin didn't report more on Nichols' comments in 2020 if they had four minutes worth of audio. Phillips addressed the controversy in a lengthy column about Nichols, Taylor, and ESPN's treatment of Black employees. He also explained why he chose not to write in-depth about Nichols at the time.
"I wasn't going to write a column about Nichols being on some bulls–t when it came to Taylor, without knowing exactly what the bulls–t was, and how much bulls–t was exactly there."

Carron J. Phillips
Phillips did what he could regarding damage control and transparency, but that's not enough. He also confirmed that Deadspin had the audio where Nichols implied Taylor received more airtime for diversity reasons. That alone should have been a massive story at the time, so why did the editorial staff hold off?
Although the Times broke their story on a national holiday, Deadspin chose not to issue any type of public statement — even on a Sunday — until Phillips became the sacrificial lamb. There should have been a clear explanation from the editorial staff about why they didn't publish Nichols' comments or dive deeper into the story after confirming it was her in the video.
Deadspin is the biggest loser in the entire saga
Deadspin relaunched in 2020 with a talented staff and a willingness to provide content during the global pandemic. However, many on social media ripped the new writers as "scabs" working for "Zombie Deadspin" for joining the site after its previous employees resigned en masse in the fall of 2019.
Incidents like this make it hard for readers to trust a company. Deadspin had the opportunity to break a significant story involving some of the biggest names at ESPN. Instead, they cited Hillary Clinton and blamed the whistleblower. The woman who recorded the video, Kayla Johnson, received a two-week unpaid suspension and is no longer at ESPN.
Nichols is still hosting The Jump, and Taylor will find work wherever she winds up. Her contract is set to expire with ESPN later this month. But Deadspin, and what remains of a once-proud and successful site, proved it can no longer hang with the puppies, let alone the big dogs.
An Instagram user accused DiCaro of running an article saying Nichols did nothing wrong.
"Never wrote that, and you should probably check out Carron Phillip's piece on what info we did and didn't have,' she wrote in response.
Phillips, of course, does not have an apostrophe in his name.
Like Sportscasting on Facebook. Follow us on Twitter @sportscasting19.
RELATED: ESPN's Sarah Spain Provided a Blunt Assessment of the Sports Media Landscape: 'People Don't Like Ambitious Women'