Deandre Ayton's Murky Future Should Force the Phoenix Suns to Go All-in on the 2022 NBA Championship
The Phoenix Suns have been the most consistent team in the NBA in 2021-22. Chris Paul and Co. just entered double-digits in the loss column three months into the season.
The Suns appear to be an all-around, complete team. They have a No. 1 scorer in Devin Booker, three-point shooters galore like Mikal Bridges and Cam Johnson, and the Point God himself in CP3 (who's injured but should return for the playoffs).
The team has a crucial x-factor that shouldn't be overlooked, though, in center Deandre Ayton. The former Arizona star is one of the few big men in the league quick enough to switch on the perimeter defensively yet still protect the rim while also being a threat on the offensive end.
The Suns have a good chance to win this year's NBA Championship, but they might have to go all-in over the next few months to do it. The way the franchise handled Ayton's rookie max extension — by not giving him one — puts the center's future in murky waters.
If he finds a contract to his liking this offseason and bolts, Phoenix's championship window may slam shut in a hurry.
Phoenix has been the NBA's best team this season
The Suns headed into the All-Star break 48-10. After splitting a pair of games on Feb. 24 and 25, Phoenix's record stands at 49-11.
The defending Western Conference Champions are six games ahead of second-place Golden State Warriors in the conference standings and eight games up on Ja Morant and the Memphis Grizzlies.
The Suns' offense has demolished teams. Phoenix is fourth in the NBA in scoring (113.6 points per game), tied for first with the Chicago Bulls in field-goal percentage (48.2%), and eighth in three-point percentage (35.9).
Booker leads the team in scoring at 25.6 points per game, but the Suns have six other players averaging double figures.
Phoenix is also the seventh-best rebounding team in the league (Ayton grabs 10.1 per game) and is fifth in assists and sixth in opponent points allowed. The team's plus-minus of 8.0 leads the NBA.
So the Suns are poised and ready to make a serious run at another NBA Finals appearance with a good chance at bringing the Larry O'Brien Trophy to the desert this time around.
But the pressure's on because their double-double center's future is in doubt.
Deandre Ayton's future with the Phoenix Suns is not guaranteed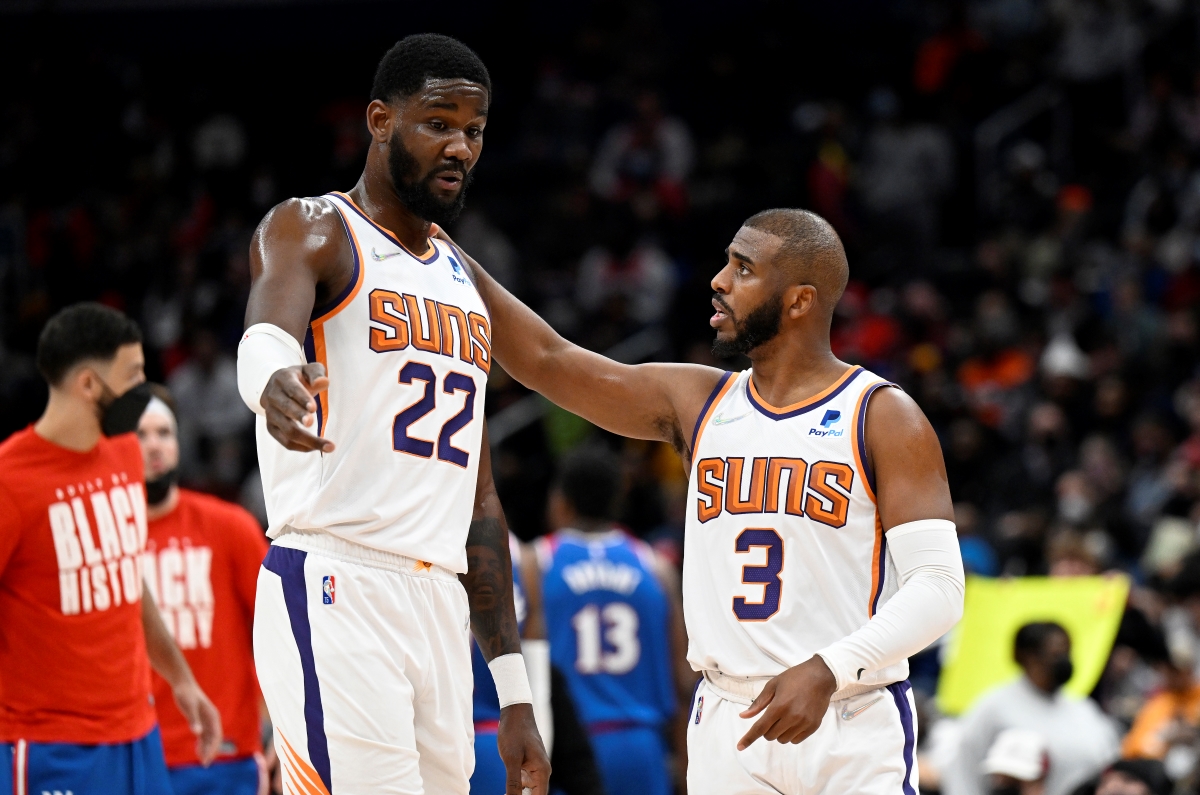 Phoenix's big man asked for the rookie max this past offseason, and rightly so. But the Suns declined to offer it, making Ayton a restricted free agent this coming summer.
"I love Phoenix, but I'm really disappointed that we haven't really gotten a deal done yet," Ayton said in October per CBSSports. "I mean, we were two wins from a championship. I just really want to be respected, to be honest, to be respected like my peers are being respected by their teams. I'll just keep it like that."
According to that same CBSSports piece, eight of the last 10 No. 1 overall picks have gotten that rookie max extension, with one of the exceptions being Markelle Fultz, who hasn't been able to stay on the floor consistently at any point in his career.
Centers are admittedly being devalued in the NBA with each passing season. However, versatile centers like Ayton are still in demand. The top three players in the MVP voting as of Feb. 27, for example, are Nikola Jokic, Joel Embiid, and Giannis Antetokounmpo — all centers
No one would argue that Phoenix's big man is on the same level, but he's certainly on the next tier with his ability to stay on the floor, both offensively and defensively, against any lineup big or small.
Ayton has career averages of 16.0 points and 10.5 rebounds while also averaging more than a block a night.
He's shot better than 60% from the field the last two seasons and is also a 74.9% career free-throw shooter. No part of the 23-year-old's game could be considered a liability.
Veterans JaVale McGee and Bismack Biyombo have provided much-needed depth behind Ayton. Maybe the Suns feel like they could piece together a dramatically cheaper center rotation. But McGee, Biyombo, or any other minimum-salary vet can't approach Deandre's talent level or production.
It's important to note the franchise can match any offer Ayton receives from another team this offseason. But the Suns have refused to pay Ayton the max already — if another team offers it, would Phoenix flip flop and decide to give it to him then?
Also of important note, the organization hasn't paid the luxury tax — which it would certainly dip into with an Ayton extension — since 2009-10, per CBSSports. They also made questionable roster decisions to stay just above the tax then, which potentially cost Steve Nash, Amar'e Stoudemire, and the seven-seconds-or-less Suns a chance at a championship.
Based on the franchise's past, the odds lean toward Phoenix not matching a max offer if Ayton receives one.
The franchise needs to go all-in on this season
Phoenix was two wins away from bringing home the Larry O'Brien Trophy in 2021. It's often forgotten the team had a 2-0 lead over the Milwaukee Bucks in the Finals.
In an interview with ESPN after his team took a 3-1 lead in last year's Western Conference Finals, Paul said of Ayton:
"Deandre Ayton, we're going to get him a bag this summer. We're going to get him a bag this summer. And he's showing everyone in the playoffs right now why."
Well, Deandre still hasn't gotten his bag, but he's showing his importance to the Suns anyway.
There are no guarantees in the NBA. But if Phoenix fails to win this year's championship and then refuses to dive into the luxury tax to pay Ayton, the path to a title in the future gets unnecessarily more difficult.
All statistics courtesy of NBA.com.
RELATED: Chris Paul Injury Throws the Western Conference Race Wide Open