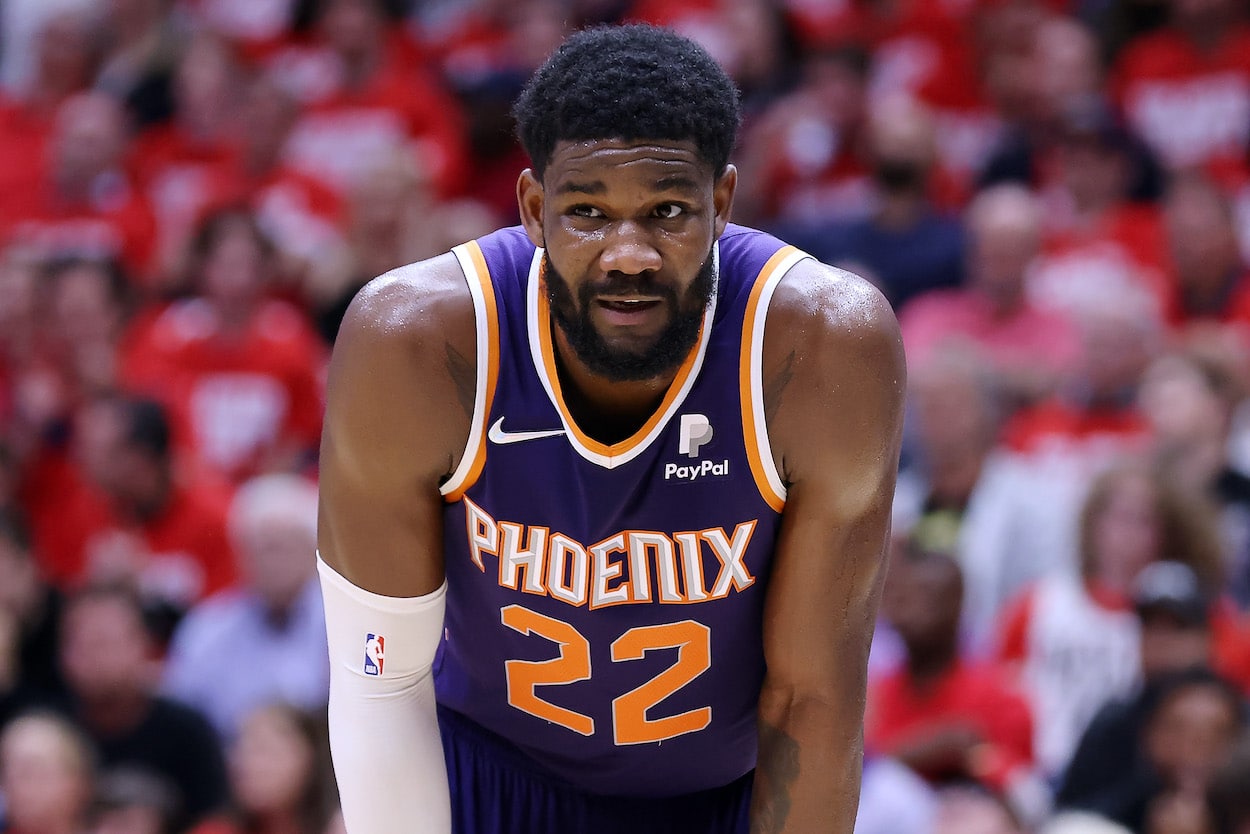 Deandre Ayton Makes NBA History With $132.9 Million Phoenix Suns Deal
Deandre Ayton is returning to the Phoenix Suns with the biggest offer sheet match in NBA history. What does that mean for the team's bottom line?
For a few hours on Thursday, July 14, it looked like the Indiana Pacers would make a bold move and sign restricted free agent Deandre Ayton to a franchise-record deal. However, shortly after the player signed the offer sheet, the Phoenix Suns matched and retained Ayton's rights for the next four years. The center's new contract is the biggest of its specific kind in NBA history.
The Phoenix Suns saved money while still giving out a historic contract
Deandre Ayton has campaigned for a long-term extension from the Phoenix Suns for the last two seasons. Fellow Class of 2019 stars like Luka Doncic, Trae Young, Jaren Jackson Jr., and even his teammate Mikal Bridges got their deals much earlier than Ayton.
The No. 1 pick isn't at the level of Doncic or Young. But he has been as good or better than other bigs from that draft class like Jackson, Wendell Carter Jr., or Robert Williams.
In four seasons, Ayton's put up 16.3 points, 10.5 rebounds, 1.6 assists, and 1.0 blocks per game. He's also recorded a 20.7 PER, 24.6 win shares, and 5.7 VORP for advanced analytics fans.
The Suns remained steadfast about not offering him a max extension, though.
If governor Robert Sarver and the Suns gave Ayton a max extension prior to him signing an RFA offer sheet, the contract would have been either Phoenix was able to offer Ayton a max five years, $179.3M, or four years, $138.5M.
By waiting to match an offer sheet, the Suns saved $5.6 million on a four-year deal.
Still, the $132.9 million extension is the highest offer sheet processed in NBA history. And it puts $16.8 million over the luxury tax threshold.
Deandre Ayton and the Suns salary cap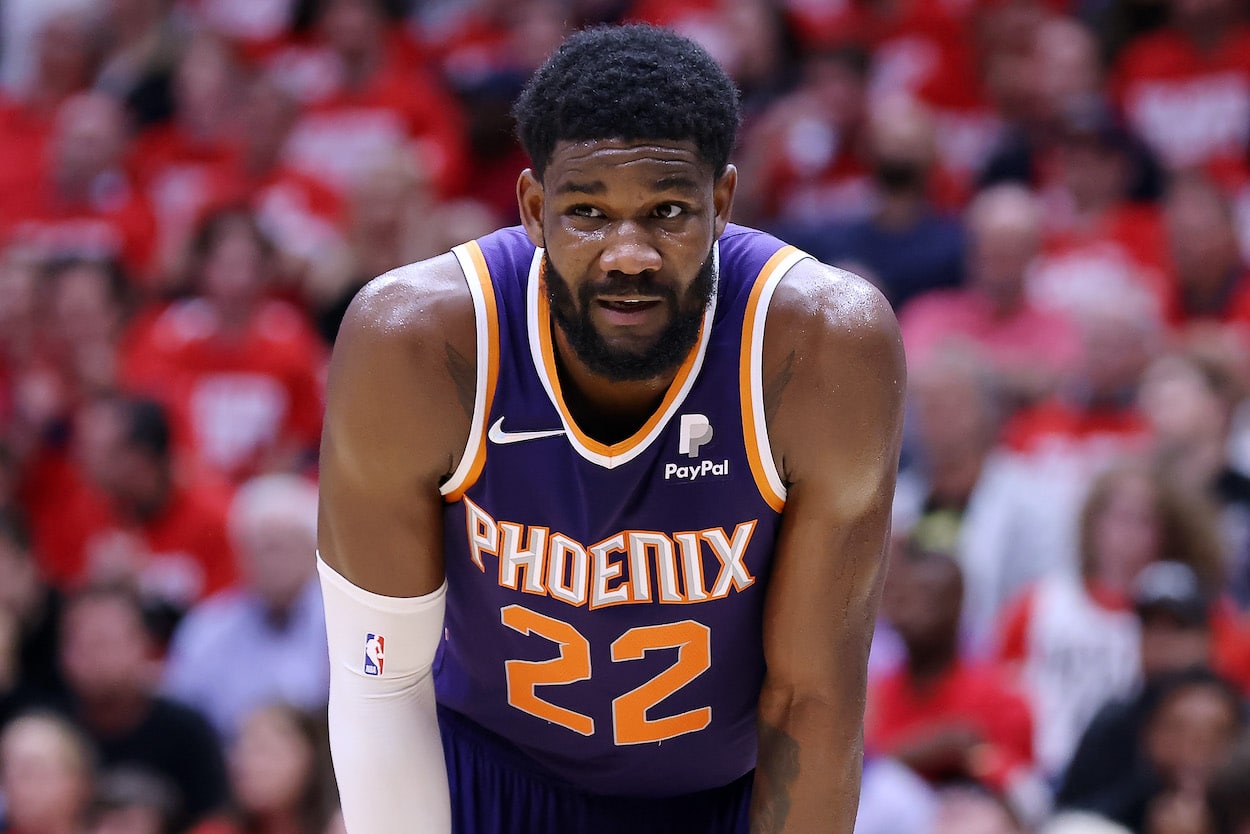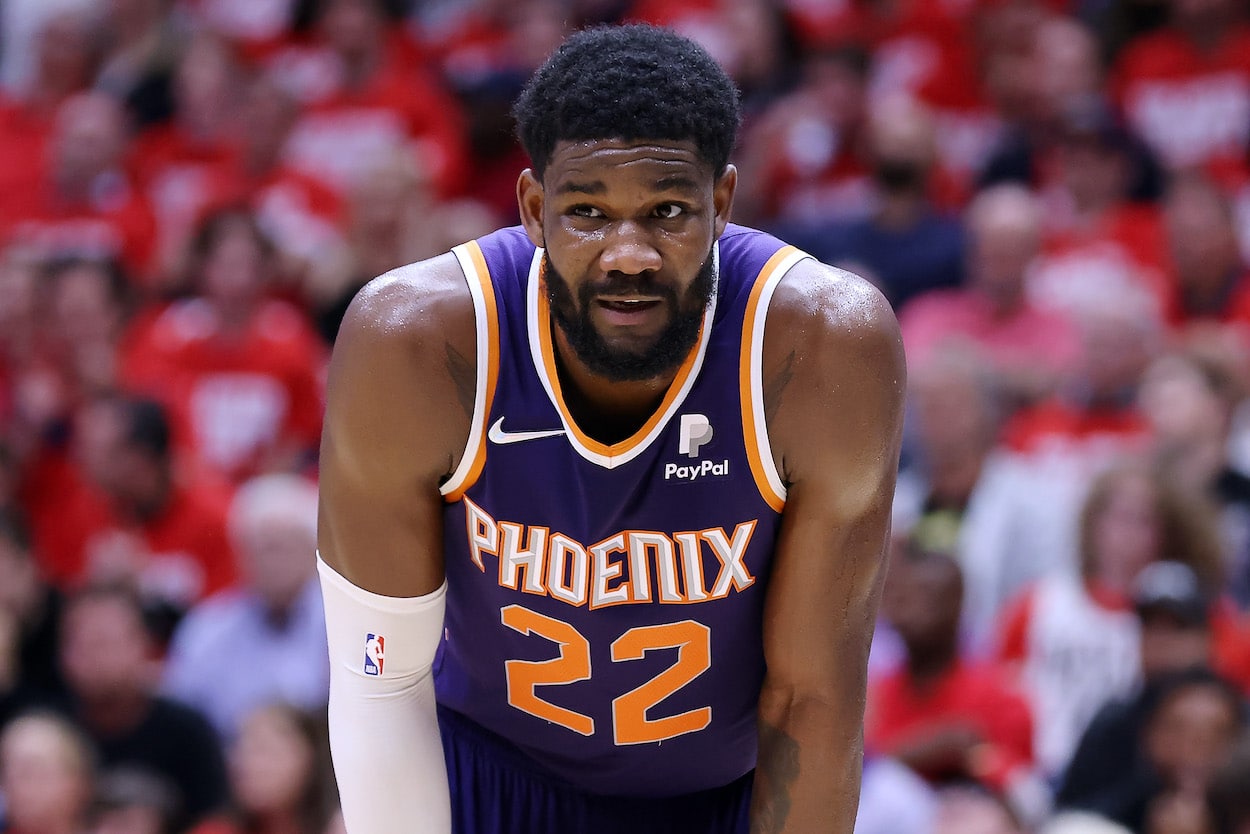 Despite the fact that governor Robert Sarver isn't known as a big spender in NBA circles (to put it nicely), the Phoenix Suns are going into the luxury tax to make the most of future Hall of Famer Chris Paul's final years.
The franchise has won four playoff series in the least two years, which is more than it won in the previous 13 seasons combined.
Sustaining this type of success is expensive, though. The Suns will pay Ayton $30.9 million, $32.4 million, $34 million, and $35.5 million.
That means next season, the Suns will play four players — Ayton, Paul, Devin Booker, and Mikal Bridges — $114.1M. In 2023-24, that group will make $120.9 million. The soft salary cap for 2022-23 is $123.6M and should only be slightly higher the following year.
The Suns have now locked into that core for the next two seasons and committed to the trio of Booker, Bridges, and Ayton for at least the next four.
Is that good enough to win an NBA title?
That's the $114.1 million question for next season. If 37-year-old Chris Paul can fight off Father Time and/or Booker or Ayton can make another incremental leap, it just may be. If not, though, it's a lot of money to pay without getting a trophy.
All stats courtesy of Basketball Reference and contract figures courtesy of Spotrac