Deandre Ayton and 13 Other Arizona Basketball Players Picked in the First Round of the NBA Draft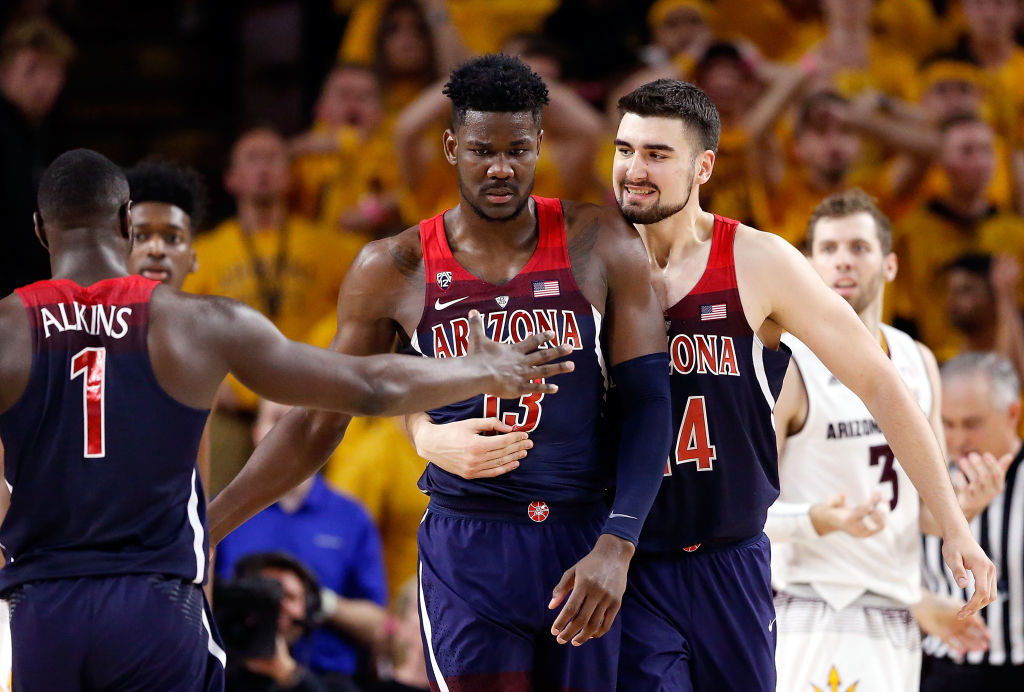 If you're a basketball fan and you didn't know the name Deandre Ayton before, we have two things to say to you.
First of all, where have you been? Ayton played a valuable role for the very valuable team at the University of Arizona last season.
Second, you'd better get used to hearing his name a heck of a lot in the very near future.
Deandre Ayton is about to blow up
Deandre Ayton was the No. 1 pick in the 2018 NBA Draft, selected by the Phoenix Suns.
Duke's Marvin Bagley, Slovenian guard Luka Doncic, Michigan State guard Jaren Jackson, and Trae Young from Oklahoma joined Ayton as top-5 picks.
The Suns are getting a player ready to step in and play the NBA right away. Even though scouts question his defensive abilities, his size (he's 7-foot-1 and 260 pounds with a 7-foot-6 wingspan), skill, and athleticism make him tough to pass up.
He was allegedly part of a massive scandal that rocked the NCAA during the 2017-18 season, but the allegations turned out to be inaccurate and not true.
Ayton is making news off the court for a different reason lately. He's teaming up with Jay-Z and shoe and apparel company Puma as it totally redefines its basketball brand. It might not be too long before we mention Deandre Ayton in the same breath as Michael Jordan, LeBron James, or Stephen Curry as the faces of hugely successful companies.
Arizona has a long history of seeing its players drafted into the NBA. Since 1987, there have been only six years (1997, 2000, 2002, 2010, 2012, and 2016) when the Wildcats didn't have at least one player selected.
If Deandre Ayton is the first player off the board, he'll be the first Arizona player in history taken No. 1 overall. Mike Bibby and Derrick Williams, selected No. 2 by the Minnesota Timberwolves in 2011, are Arizona's highest draft picks. Unless he goes undrafted, Ayton joins a long list of Wildcats picked in the NBA Draft.
Notable Arizona players picked in the NBA Draft
If we limit the list to just the 21st century, these are some of the notable players to go from the University of Arizona to the NBA via the draft:
Richard Jefferson, 2001, Houston Rockets (No. 13 overall)
Gilbert Arenas, 2001, Golden State Warriors (No. 31)
Luke Walton, 2003, Los Angeles Lakers (No. 32)
Andre Iguodala, 2004, Philadelphia 76ers (No. 9)
Channing Frye, 2005, New York Knicks (No. 8)
Jerryd Bayless, 2008, Indiana Pacers (No. 11)
Jordan Hill, 2009, New York Knicks (No. 8)
Derrick Williams, 2011, Minnesota Timberwolves (No. 2)
Aaron Gordon, 2014, Orlando Magic (No. 4)
Stanley Johnson, 2015, Detroit Pistons (No. 8)
Lauri Markkanen, 2017, Minnesota Timberwolves (No. 7)
That list of players right there doesn't even include NBA champion Jason Terry (No. 10 in 1999), Bibby (No. 2 in 1998), Damon Stoudamire (No. 7 in 1995), all-star Ed Stokes (No. 35 in 1993), Sean Elliott (No. 3 in 1989), and eventual NBA Coach of the Year award winner Steve Kerr (No. 50 in 1988).