Deandre Ayton's Own Suns Teammate Might Be Responsible For Him Not Getting a $172.5 Million Max Extension
Fresh off their first NBA Finals berth in 28 years, the Phoenix Suns are showing hesitance in securing part of their future and signing center Deandre Ayton to an extension.
The Suns made the rather obvious choice to negotiate a new contract with Chris Paul after the future Hall of Fame point guard left his fingerprints all over Phoenix's run to the Finals. It seemed more than possible the Suns would also try to sign Ayton to a rookie extension given his strong run of play in the playoffs.
However, an Ayton extension doesn't appear to be in the offing. That might be because the Suns are preparing to possibly offer a big deal to one of his teammates.
Contract talks between Deandre Ayton and the Suns have "stalled"
Numerous members of the 2018 NBA Draft class signed their rookie extensions this offseason, including Luka Doncic, Trae Young, Shai Gilgeous-Alexander, John Collins, and Michael Porter Jr. But the No. 1 pick in that draft remains without a deal.
Adrian Wojnarowski of ESPN reported Tuesday that the Suns are showing "reluctance" in signing Deandre Ayton to a rookie-scale extension, resulting in negotiations stalling between the two sides. Ayton is eligible for a five-year, $172.5 million contract, but Wojnarowski reported there is a growing sense that Phoenix won't sign him before the Oct. 18 deadline for rookie extensions.
Ayton played his role to perfection. The former Arizona product saw a drop in scoring this season with the arrival of Chris Paul but still averaged 14.4 points and 10.5 rebounds while shooting a career-high 62.6% from the field. Ayton upped his production in the playoffs, averaging 15.8 points and 11.8 rebounds on 65.8% shooting.
The 23-year-old gives the Suns a vital interior presence as a rim-runner and a guy who runs the floor hunting opportunities. Ayton does terrific work on the offensive glass and continues to grow with his game in the low post and midrange scoring ability. He would seem to be an indispensable piece of the championship puzzle as Phoenix tries to build a sustainable winner.
However, the Suns might be getting picky about who they're offering big money to, and another member of Ayton's draft class is making his case to get a monster contract.
The Suns could prioritize re-signing Mikal Bridges
Like Deandre Ayton, Suns swingman Mikal Bridges is also a class member of the 2018 NBA Draft and eligible for a rookie-scale extension. He, too, will be a restricted free agent next summer if he does not sign before the Oct. 18 deadline.
It's quite possible the Suns are refraining from paying Ayton because they feel Bridges could be the more important player to the franchise.
Bridges made a big leap in his third season. The former Villanova star averaged a career-high 13.5 points on 54.3% shooting from the field and 42.5% from beyond the arc, adding 4.3 rebounds and 2.1 assists. His growth on the offensive end is imperative because of his role on the other end of the floor.
Bridges has developed a reputation as one of the best young wing defenders in the NBA. He routinely takes on the most challenging individual defensive assignments and is a menace in the passing lanes.
The 25-year-old takes pressure off Devin Booker and allows CP3 to be peskier as a help defender and rover. He is the engine for a Suns defense that ranked ninth in defensive rating last season. Mikal Bridges' gains on the offensive end are encouraging, and his importance to team defense might be enough for the Suns to prioritize him over Ayton.
At this point, some basketball fans might be wondering: why not sign both? Well, it's important to remember who has the controlling stake in the Phoenix Suns.
Suns governor Robert Sarver doesn't like to spend money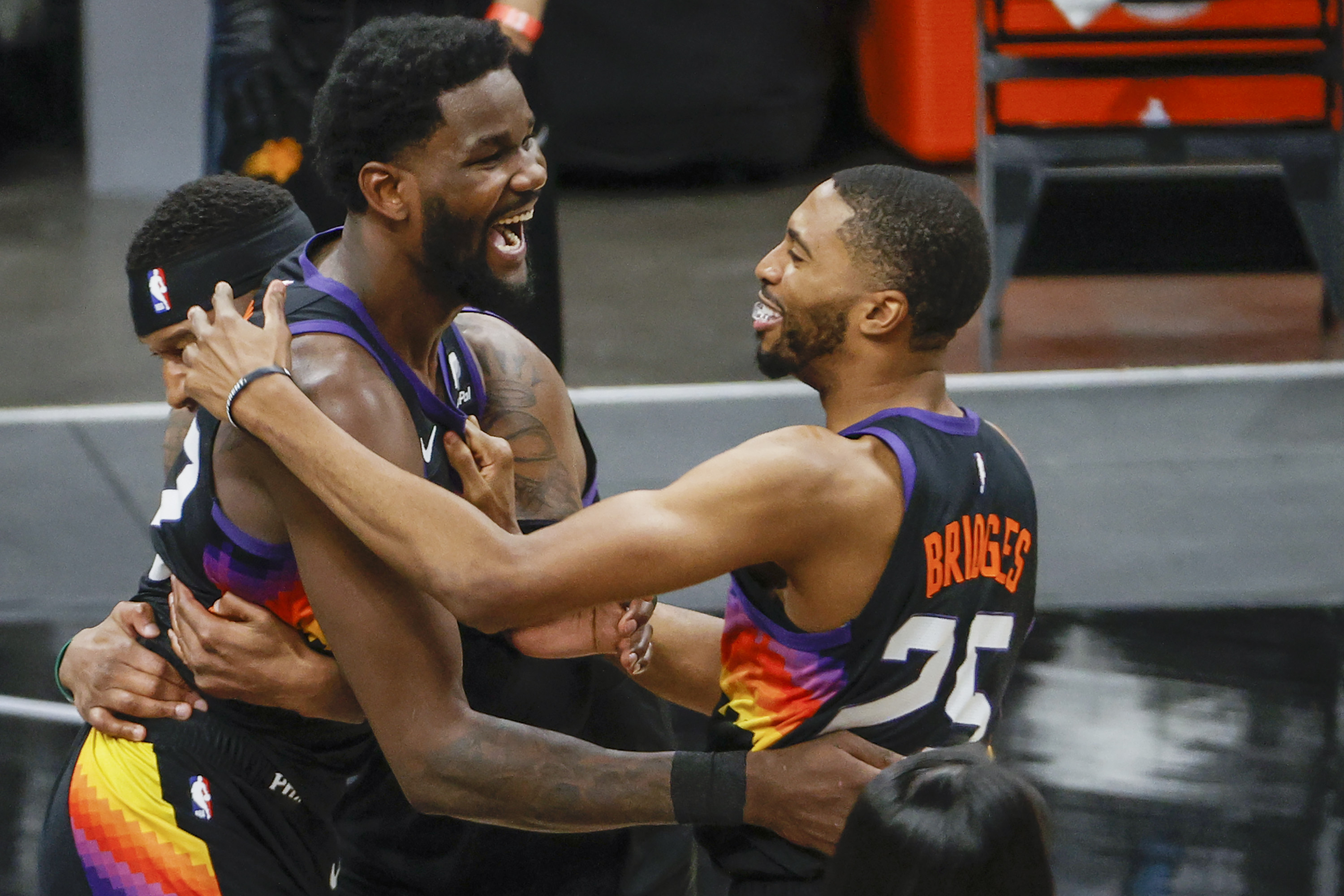 With Chris Paul now under contract through at least summer 2023, the Suns are paying a decent sum to the Point God and Devin Booker. Their governor might prefer to avoid spending too much on the other budding youngsters.
Robert Sarver is a notoriously cheap executive. He traded the No. 7 pick in the 2004 NBA Draft — which ended up being Luol Deng — mostly to recoup $3 million. Yes, Sarver greenlighted trading a top-10 pick essentially for cash. A similar situation occurred a couple of summers ago, when Phoenix dealt T.J. Warren and the No. 32 pick in exchange for… cash considerations.
Sarver even hinted earlier this summer that the Suns might not be able to re-sign Paul if he elected to opt-out. Of course, Phoenix did re-sign CP3. But Sarver's cryptic comments (h/t Kellan Olson of 98.7 FM Arizona Sports) were somewhat telling of his reluctance to spend big.
So, if Sarver hates spending in excess, and the Suns have two young players they need to consider bringing back, is it too much to suggest Phoenix is holding its cards and deciding which is ultimately more critical to the organization's future?
Deandre Ayton is probably deserving of a rookie extension. However, the Suns' timidity in offering big money could have something to do with Mikal Bridges also heading for restricted free agency as well as the team's own cheapness.
Stats courtesy of Basketball Reference.
RELATED: Deandre Ayton Spent More Than $7,000 on New Clothes Before His Phoenix Suns Career Officially Began: 'If That What It Costs to Look Great in the NBA, I'm All In'