DeAndre Hopkins Dreamt About Joining the Arizona Cardinals Before the Houston Texans Shockingly Traded Him
DeAndre Hopkins is undoubtedly one of the NFL's elite pass-catchers. The Houston Texans traded the All-Pro wide receiver to the Arizona Cardinals after the 2019 season. The head-scratching transaction defines the past few years in Houston, but Arizona was happy to welcome their new receiver.
Hopkins revealed he saw the move coming before everyone else.
DeAndre Hopkins had a dream about playing for the Arizona Cardinals
Hopkins sat down with Cari Champion on UNINTERRUPTED's In the Moment to discuss three moments in his life that have shaped him. The trade from Houston to Arizona was a monumental moment for him. He believes it allowed him to show people what he's about as a football player.
"It was a blessing for me to be able to go to an organization like the Arizona Cardinals," he said of joining his new team.
Hopkins revealed a dream that he had while still a member of Texans. He envisioned himself playing for the Cardinals and catching a pass. The 29-year-old said how he caught the ball was different and "weird."
Champion asked him what he thought that mean. "It could've been the Hail Mary, you know," Hopkins responded, referring to his improbable game-winning catch against the Buffalo Bills in 2020.
After 8 seasons with the Houston Texans, Hopkins didn't miss a beat in Arizona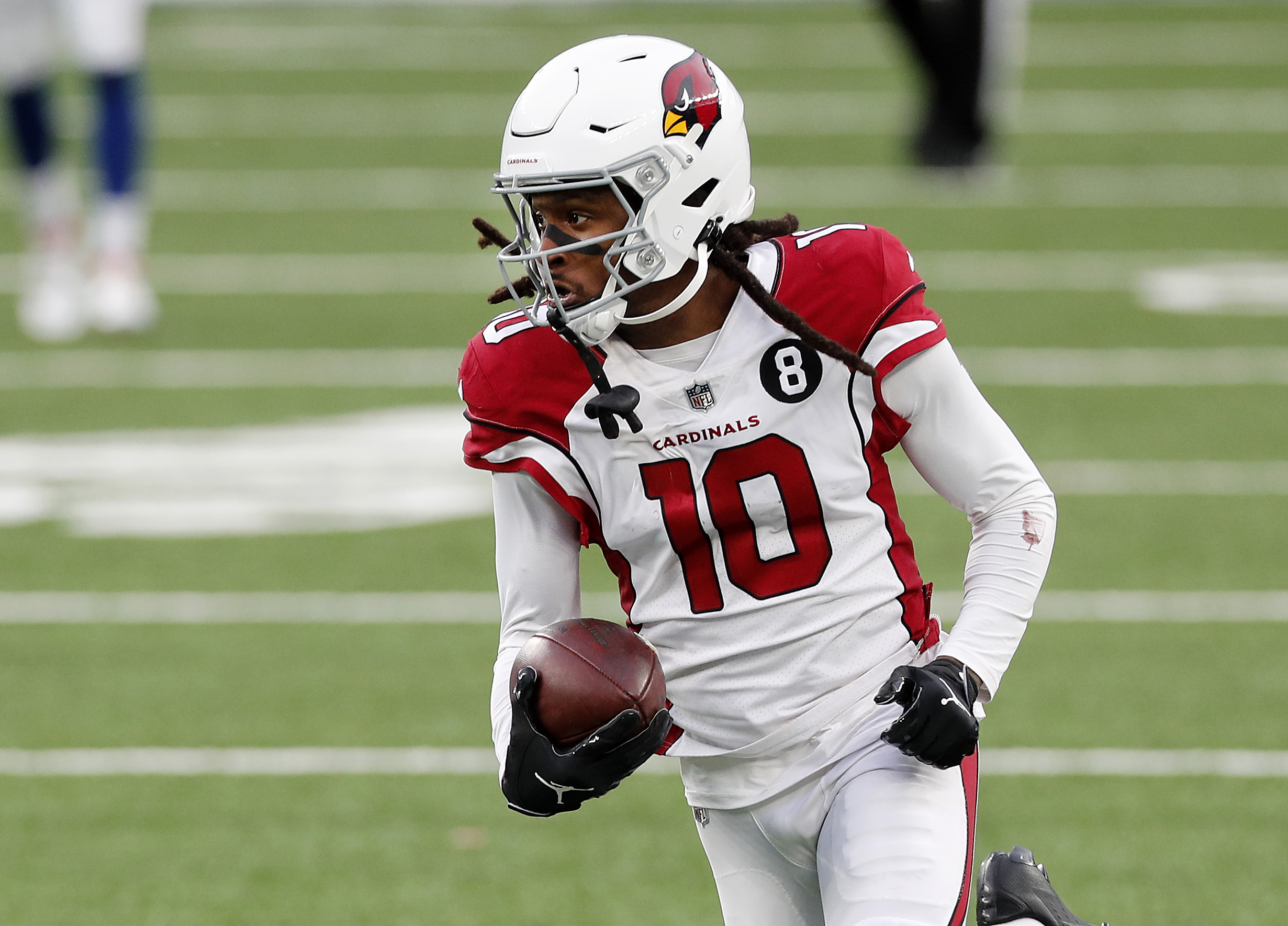 Hopkins put up some big numbers in his first season with the Cardinals. There were some questions about how he'd fit and adapt to a new offense. His performance put all of those questions to rest.
The Clemson product started all 16 games for Arizona in 2020. He recorded 115 receptions for 1,407 yards and six touchdowns. He finished third in both receptions and receiving yards. His touchdown total was slightly lower than what we have grown accustomed to seeing from Hopkins, but he was a model of consistency.
Hopkins and quarterback Kyler Murray clicked right away. The fresh start was tremendous for the Central, South Carolina native, but it also paid enormous dividends for Murray.
Nuk became a security blanket for Murray. He was targeted 160 times in 2020. Only Buffalo Bills wideout Stefon Diggs received more targets. The third-year signal-caller will continue to rely on Hopkins to get open and make big plays in 2021.
DeAndre Hopkins believes he is the best wide receiver in the NFL
The NFL is loaded with talent at the wide receiver position. There are a handful of players who get mentioned in the best receiver in the league conversation. DeAndre Hopkins is undoubtedly one of them.
Since the Texans drafted him in 2013 out of Clemson, he's produced at a high level. In eight professional seasons, he's caught 747 passes amassing 10,009 yards and 60 touchdowns. There are no flaws in his game. He's an elite route-runner and has mastered the art of creating separation.
Hopkins feels that he has not gotten his proper respect because he played for the Texans.
I had that mentality in Houston that I was the best receiver in the game. I'm putting up the stats. I'm putting up the numbers. Why aren't people talking about me?

DeAndre Hopkins
He believes that he's getting more credit now that he's in Arizona. The Houston Texans have been considered a moribund franchise. Hopkins' says his individual performance was overshadowed by Houston's lack of success as a team.
Davante Adams, Stefon Diggs, and Tyreek Hill make solid cases for the No. 1 spot, but Hopkins has just a strong of a case as anyone.
All stats courtesy of Pro Football Reference