Deandre Hopkins Has a Heartbreaking Reason He Wears the Number 10
DeAndre Hopkins is one of the NFL's biggest stars, and he's brought his family along for the ride. He wears the number 10 in tribute to one of his cousins whose struggles left a mark on Hopkins as a kid. This and other stories about his childhood paint a portrait of a man who is as impressive a man as he is a football player.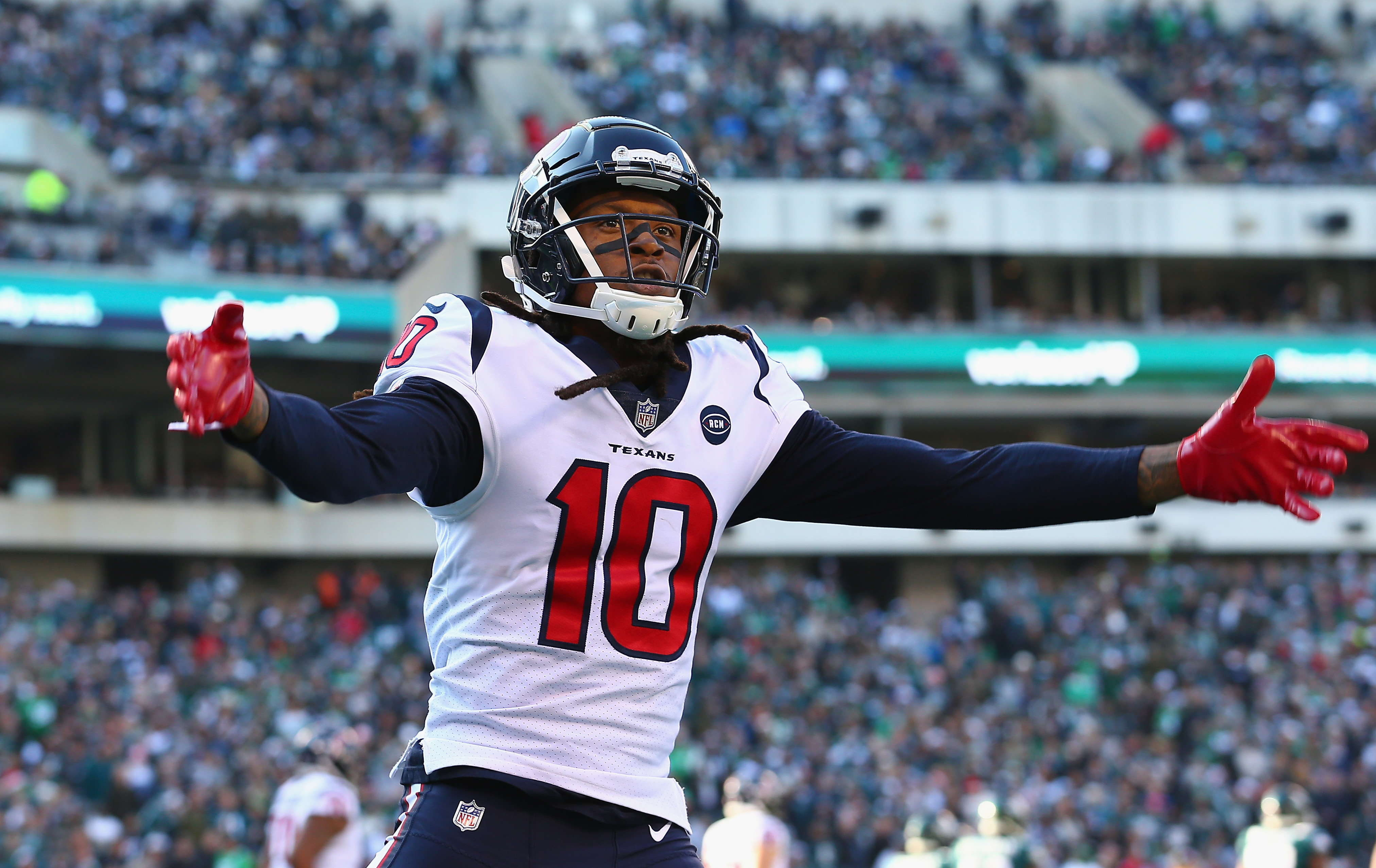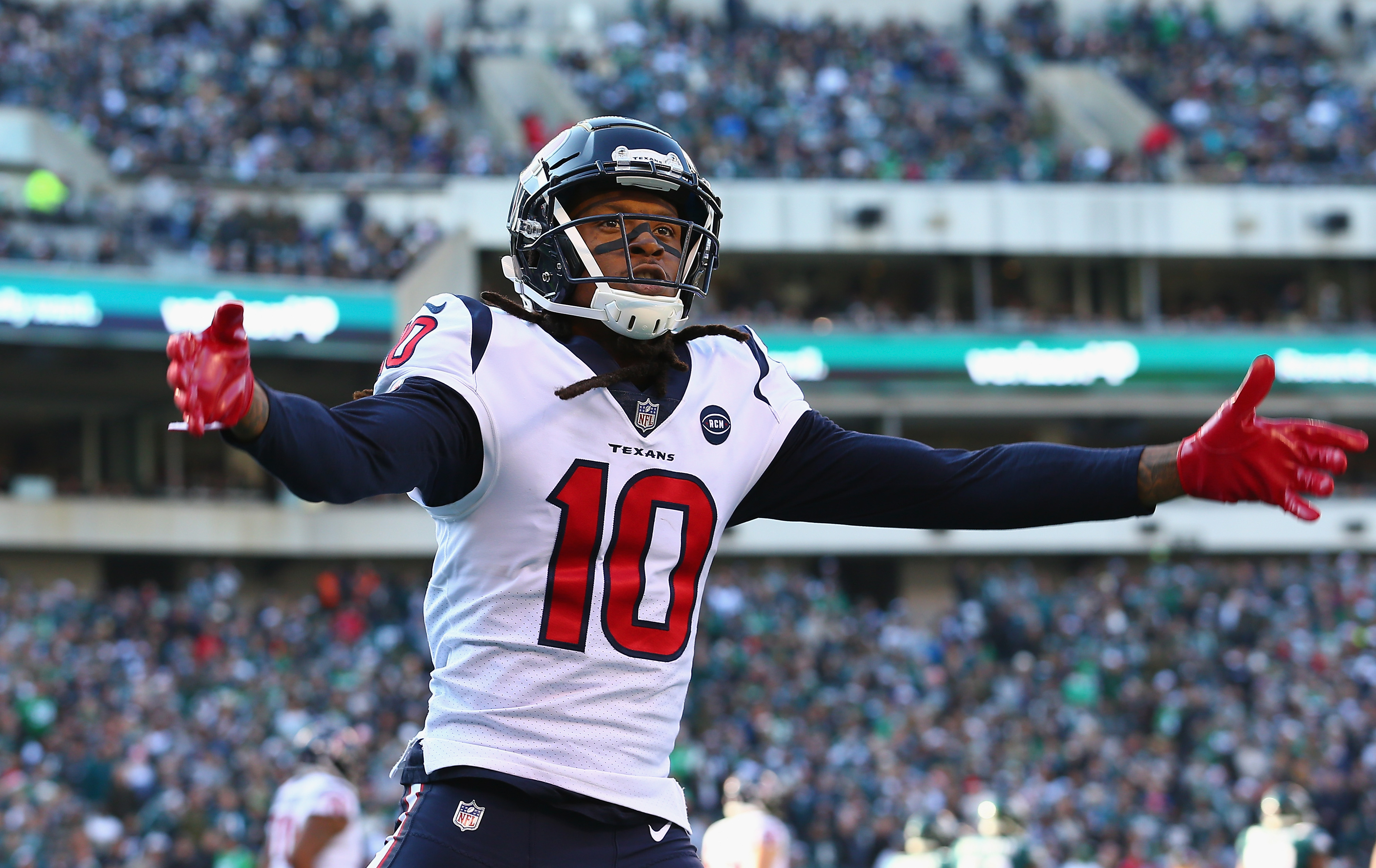 Why does DeAndre Hopkins wear the number 10?
For most of his seven years in the NFL, DeAndre Hopkins has spent each game day doing the same thing: catching touchdowns and terrifying opposing defenses. He's done this while wearing the number 10 on his back.
That choice of number is very personal for Hopkins. He revealed recently as thousands of Americans took part in peaceful protests against police brutality and the systemic racism that sanctions their actions. 
Extreme punishments for minor offenses is sadly a common occurrence in this supposed "Land of the Free". Hopkins' cousin isn't the only family member affected by the War on Drugs.
His father was set to go to jail for decades on drug trafficking charges when he died in a car accident when Hopkins was a baby. This still wasn't the end of horrors that would afflict his family. 
Terrible events couldn't stop DeAndre Hopkins from fulfilling his dream
Just a synopsis of Hopkins' childhood makes you understand how miraculous it is that he made it to the NFL, let alone became a star. According to ESPN, his mother, Sabrina Greenlee, was blinded and disfigured after a woman she didn't know threw acid at her face. As a result, she lost her job at an automotive plant and sold drugs to make ends meet. 
Football was Hopkins' safe space amid the struggles at home, and he made the most of his talent. He became an All-ACC receiver at Clemson, and continued to shine as an NFL player.
Catching passes from mediocre quarterbacks like Matt Schaub and Brian Hoyer could only diminish his greatness so much. Hopkins made his first Pro Bowl in his third year after setting then-career highs in receptions (111), yards (1,521), and breaking the franchise record for most touchdowns catches in a season (11).  
He really took a leap after the Texans drafted Deshaun Watson. In the three years they played together, Hopkins was twice named to the All-Pro first team, and racked up over 1,000 receiving yards in each season.
You'd think a combination that productive would be kept together as long as possible, but Bill O'Brien, for reasons that only make sense to him, thought differently. 
Starring for a new team next season
DeAndre Hopkins will wear the number 10 next season (whenever that happens) but he'll be doing so for a new team. He was traded to the Arizona Cardinals for the paltry package of David Johnson, a 2020 second-round pick, and a 2021 fourth-round-pick.
The deal was clowned immediately after being announced, and with good reason. Trading one of the best wide receivers in the league in his prime for a running back with negative trade value, reportedly because their best offensive weapon wanted a new contract, is such a bad idea that it can't even be recreated in video games. 
The deal is a disaster for Houston, and a boon for the Cardinals. The combination of Hopkins, Larry Fitzgerald, and Christian Kirk gives Kyler Murray the pass-catching core he needs to fulfill his potential.
Kliff Kingsbury's Air Raid offense was a huge improvement for the franchise, but you can only get so far without top-level talent outside. Adding Hopkins fixes a lot of issues going forward. Arizona will be one of the most exciting teams to watch next season.
All stats courtesy of Pro Football Reference