DeAndre Hopkins Reveals Why He Didn't Use an Agent When Negotiating His New Massive Deal
Among the all-time best starts to a career, DeAndre Hopkins' start has to be in the conversation. Hopkins has consistently been one of the best receivers in the NFL since entering the league in 2013. He has done it with some mediocre quarterbacks too, as the Houston Texans didn't have their franchise quarterback, Deshaun Watson, until Hopkins was already in his fifth season.
Now, Hopkins is on the Arizona Cardinals, and he just recently got a new massive contract extension from them. However, what might be even more impressive than his play on the field, is the fact that he did the negotiations for his extension himself, without an agent. Hopkins recently revealed what his reasons were for doing that. They ultimately show that he is already thinking about his future and about his life after football.
The Houston Texans traded DeAndre Hopkins after seven seasons
RELATED: Deandre Hopkins Has a Heartbreaking Reason He Wears the Number 10
After playing college ball at Clemson, the Houston Texans drafted Hopkins with the No. 27 overall pick in the 2013 NFL draft. He became an excellent NFL receiver immediately too. After catching 52 passes for 802 yards in 2013, Hopkins had 76 catches for 1,210 yards and six touchdowns in 2014.
During the 2015 season, though, Hopkins became a Pro Bowler. He caught a whopping 111 passes for 1,521 yards and 11 touchdowns. He then had 78 catches for 954 yards and four touchdowns during the 2016 season.
From 2013 through 2016, Hopkins played with some mediocre and bad quarterbacks. Here are some of the QBs he played with: Matt Schaub, Case Keenum, Ryan Fitzpatrick, Ryan Mallett, Brian Hoyer, T.J. Yates, Brandon Weeden, Brock Osweiler, and Tom Savage.
The Texans then drafted Deshaun Watson in 2017. Watson only played in seven games that year due to injury, but Hopkins has arguably been the best receiver in the NFL since then. He has been a Pro Bowl selection and a First-Team All-Pro honoree in each of the last three seasons. Hopkins also led the NFL with 13 touchdown catches in 2017, and he had career-highs in receptions with 115 and receiving yards with 1,572 in 2018.
However, following the 2019 season, the Texans traded him and a draft pick to the Arizona Cardinals for running back David Johnson, and a couple of picks.
He and the Arizona Cardinals agreed to a new contract extension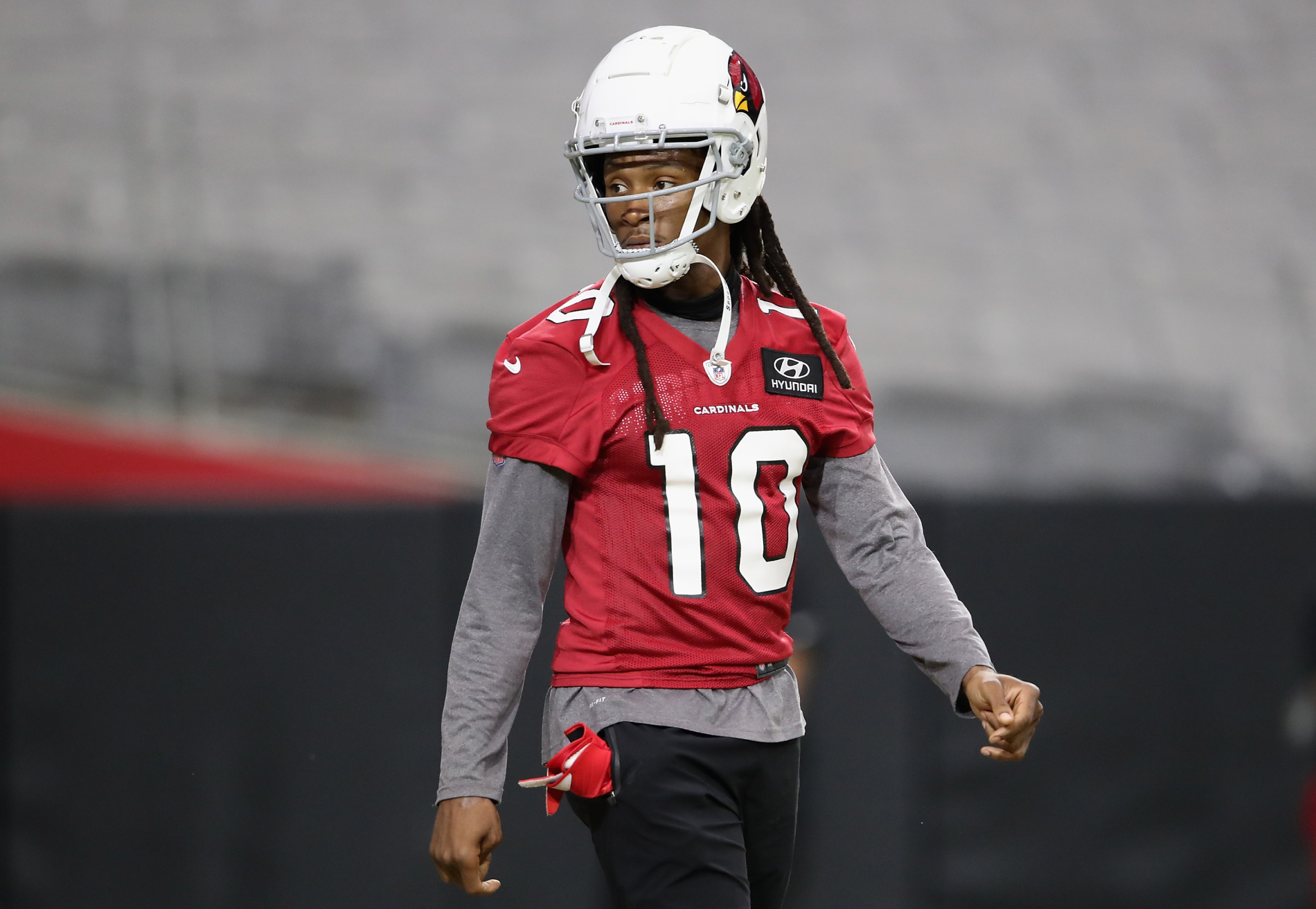 RELATED: DeAndre Hopkins' Life Is More Tragic Than You Think
Right before the start of the 2020 NFL season, Hopkins and the Cardinals agreed to a two-year contract extension. It is worth $54.5 million, according to NFL Network's Ian Rapoport.
It also includes $42.75 million in guarantees, and his $27.25 million salary is the highest in league history for a non-quarterback, according to Bleacher Report. The extension gets added to the three years left on his current contract.
Hopkins has certainly proven himself on the field over the years. That's why he got the massive contract. However, he also just proved himself at the negotiating table.
DeAndre Hopkins revealed why he didn't use an agent
RELATED: DeAndre Hopkins Just Roasted Bill O'Brien in Clever Patrick Mahomes Tweet
According to CBS Sports, Hopkins cut ties with CAA sports — who had been previously representing him — in June. This meant that he had to do his own negotiations, which not only helped him get a record-breaking deal, but it also saved him some money.
"It's ownership and me believing in myself and my abilities to study the terminology of contracts and me knowing where I want to be after football," Hopkins said, according to azcentral.
Hopkins has aspirations to build a team eventually as he has goals of working in a front office after his playing days.
"I know one day I want to be a part of an organization and help build it, so I feel like this was a good time to learn and study everything that hopefully, I'll one day be doing," Hopkins said, according to azcentral.
In addition to setting himself up for the future, Hopkins' move is also somewhat of a statement to other players.
"I think also just showing other players that you can get things done yourself if you believe in yourself and have the right team around you," Hopkins said, according to azcentral. "Agents are great. There's never no knock on the agent or nothing against the agent that I had previously. There was no bad ties with them. It was just something that I wanted to do myself."
DeAndre Hopkins is one of the best players in the NFL. He also just proved that he might be one of the smartest too. He certainly has a bright future on and off the field.
Stats courtesy of Pro Football Reference