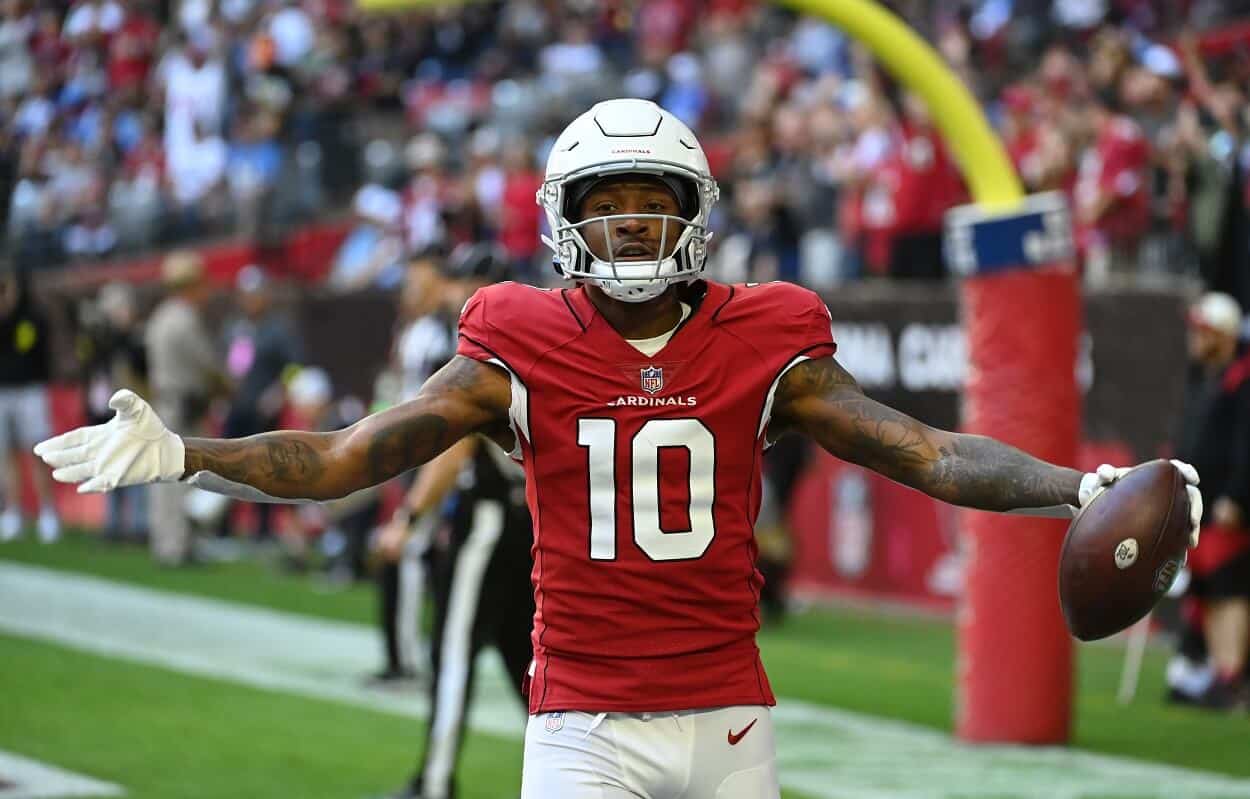 DeAndre Hopkins Rumors: Scary Scenario Should Convince the Bills to Sign the Star Receiver Before It's Too Late
The Buffalo Bills can't afford to lose DeAndre Hopkins to the Kansas City Chiefs.
The Buffalo Bills better act fast if they want to avoid a familiar fate. 
Despite winning double-digit games and making the playoffs in each of the last four seasons, Sean McDermott's squad has continually come up short in its quest to win a conference title, let alone a Super Bowl ring.
And even though the Josh Allen-led Bills should be considered one of the early favorites to represent the AFC, their dream of hoisting the Lombardi Trophy will never come true if they don't stop the reigning champions from making a splashy move that would put Patrick Mahomes in prime position to win back-to-back Super Bowls.
The battle to land DeAndre Hopkins involves two AFC heavyweights
With the Cardinals cutting their most accomplished player over the weekend, the race to sign one of the league's top receivers has gotten off to somewhat of a slow start. While there's been plenty of speculation all offseason about where DeAndre Hopkins will play in 2023, it's clear teams have some hesitations about paying the soon-to-be 31-year-old north of $15 million. 
However, all it takes is one receiver-needy franchise to meet the wideout's asking price. And based on a report from ESPN's Jeremy Fowler, Hopkins has at least a few potential landing spots. 
To no surprise, two of the top teams in the AFC are in the mix to sign the three-time first-team All-Pro. 
"Teams I'm talking to believe that the Bills and Chiefs are threats here (to sign DeAndre Hopkins)," Fowler said on Tuesday's edition of Get Up! 
"These are two AFC contenders vying in this arms race. The problem is they don't have a lot of money, just a couple million in salary cap space each," he explained. "This is a player who will want a deal most likely commensurate with his skill set. He's representing himself. He has the option to take some free agent visits to meet teams in person and see what's what." 
While neither the Bills nor the Chiefs necessarily need Hopkins to compete for a championship, both teams could use better depth at receiver. But for a Buffalo team that has yet to prove it can handle business in its own conference, letting Kansas City come out on top in the arms race shouldn't be an option.
The Bills can't afford to let the Chiefs add a premier talent for Patrick Mahomes
The Chiefs just proved they can win without an elite wide receiver. If there's anything scarier than seeing Patrick Mahomes capture his second ring with a cast of pass catchers that nobody would describe as elite, it's seeing him work with a bonafide WR1. We already saw what that looked like with Tyreek Hill, and while the 2023 version of Hopkins certainly isn't on that level, pairing the sure-handed veteran with the most talented quarterback in NFL history would make the Chiefs incredibly dangerous. 
Given their roster turnover and lackluster playoff performances in past years, the Bills remain an unproven commodity to some degree. Meanwhile, the Chiefs have cemented their status as a dynasty. If Allen wants to close the gap between himself and Mahomes, he has to play like an MVP in the postseason and get his team over the hump. 
That won't be possible if a Chiefs offense that finished first in scoring in 2022 adds a five-time Pro Bowler with a point to prove of his own. 
After all, how exactly do the Bills plan on winning a shootout against Mahomes and Co. with a skill group that is rather thin behind Stefon Diggs? Sure, first-round pick Dalton Kincaid has exciting upside. But counting on a rookie tight end coming off a back injury to be a big-time contributor is incredibly optimistic. And it's hard to get excited about a group of receivers that features names like Gabriel Davis, Deonte Harty, and Trent Sherfield. 
In reality, the Bills probably need someone like Hopkins to truly feel comfortable about their chances of exorcising their playoff demons. And at the very least, they need to stop the Chiefs from widening the talent gap.
Cap issues could cause Buffalo and Kansas City to lose out in a bidding war for Hopkins
Unfortunately for the Bills, their financial situation may prevent them from winning the Hopkins sweepstakes. 
Fortunately for the Bills, the Chiefs' own cap constraints could keep them out of the mix to land the league's most notable free agent. 
According to Spotrac, Buffalo has just $1.4 million in cap space, a figure that clearly isn't enough to accommodate the type of salary Hopkins should command. 
Somehow, the defending Super Bowl champions have even less wiggle room. While the Chiefs could quickly open up space by signing star defensive lineman Chris Jones to a record-setting contract extension, they currently have less than $660,000 to spend. 
Ultimately, neither team appears well-positioned to come out on top. On the other hand, teams like the Carolina Panthers, New York Jets, Detroit Lions, and New England Patriots have both the cap room and need at the position to make a legitimate run at one of the most productive receivers of the last two decades. 
Then again, in a league where the Los Angeles Rams essentially sacrificed their future to win a Lombardi Trophy, perhaps the Bills will be motivated by their failures to do whatever's necessary to land DeAndre Hopkins.