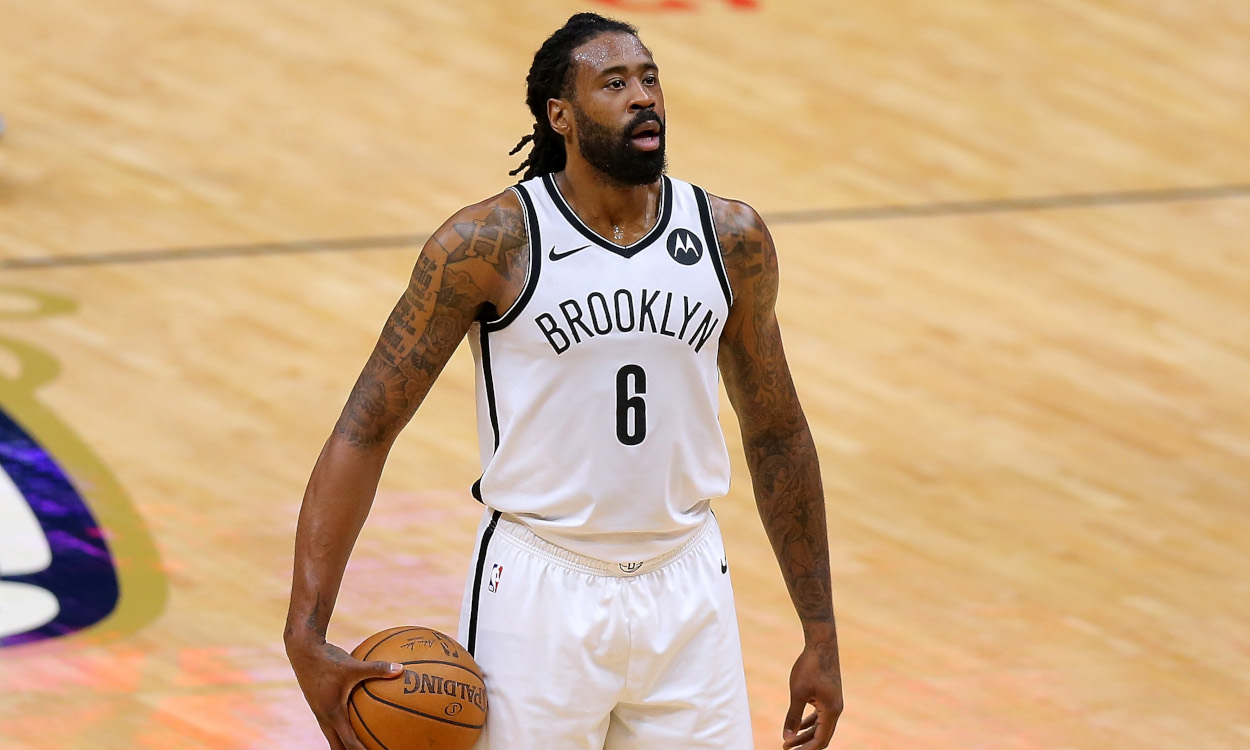 DeAndre Jordan Hilariously Denounced Former Brooklyn Nets Superstar Teammates
DeAndre Jordan had jokes when he was introduced by the Los Angeles Lakers. Traded by the Brooklyn Nets before a contract buyout in Detroit, Jordan joked about his relationship with Nets stars Kevin Durant and Kyrie Irving.
DeAndre Jordan officially signed with the Los Angeles Lakers on Sept. 9, 2021, as soon as he cleared waivers following his release from the Detroit Pistons. Jordan gave back $4 million, and the Pistons bought out the remaining $15.7 million remaining on the four-year, $40 million deal he signed as a free agent with the Brooklyn Nets in 2019.
With his departure from Brooklyn, Jordan returns to LA in his quest for a ring. He spent the first 10 seasons of his career with the Los Angeles Clippers. The three-time All-NBA selection split a season between the Dallas Mavericks and New York Knicks before joining 2016 U.S. Olympic teammates Kevin Durant and Kyrie Irving in Brooklyn.
Things didn't go as planned for DeAndre Jordan with the Brooklyn Nets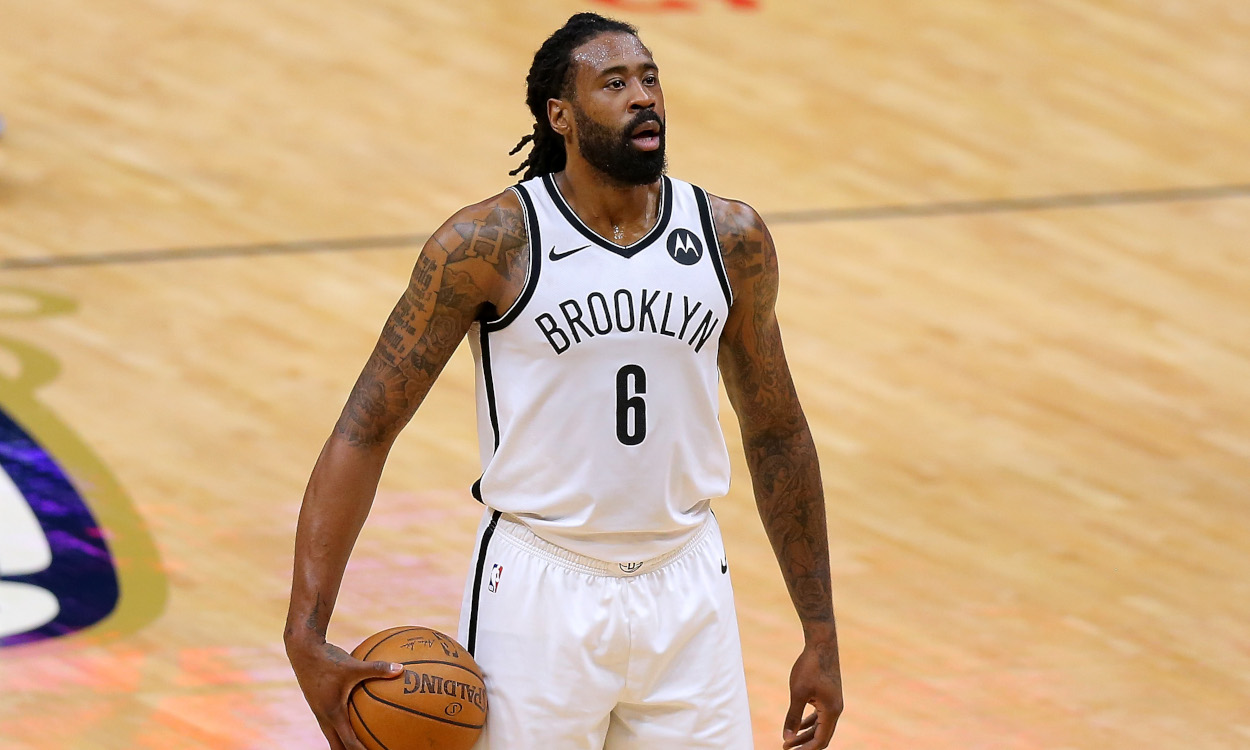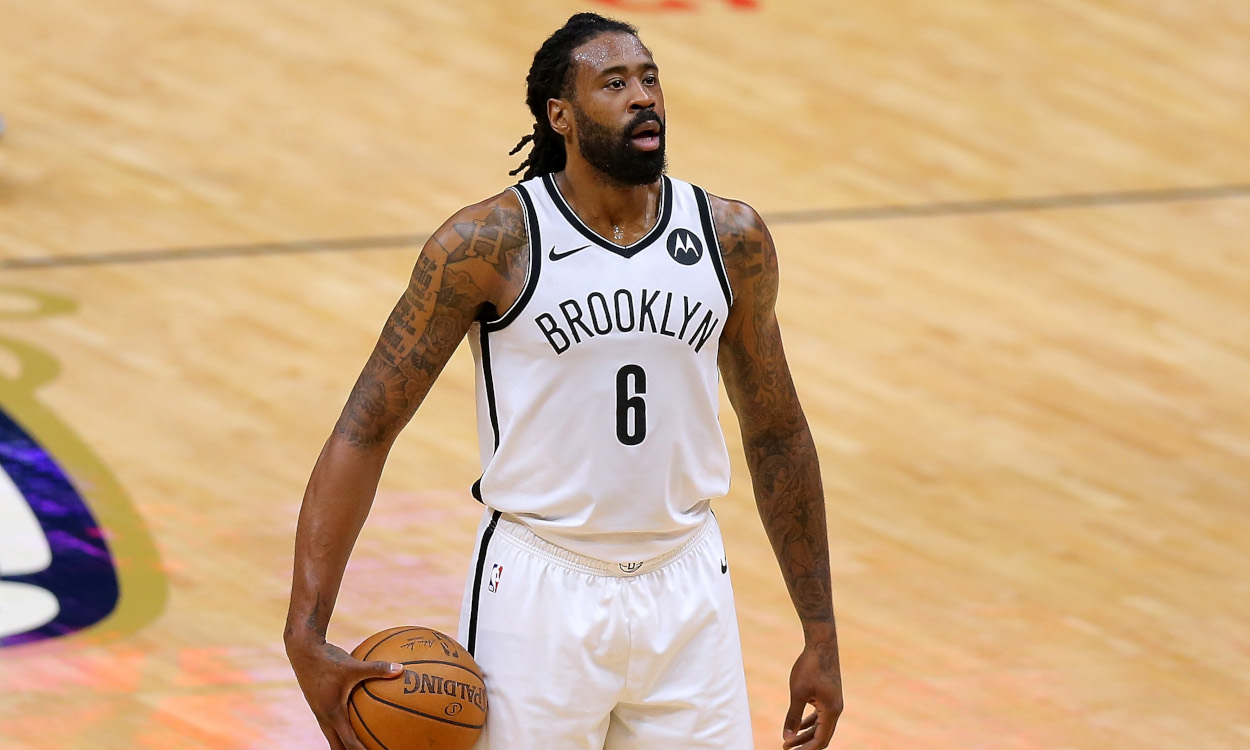 In July 2019, both Durant and Irving took less-than-max deals to allow Brooklyn Nets general manager Sean Marks to make room for the addition of DeAndre Jordan. The trio bonded during the 2016 Olympics in Rio de Janeiro.
Jordan's role diminished as last season went on before he spent all of Brooklyn's playoff run on the bench. Marks reportedly worked with Jordan's representatives to facilitate the trade to Detroit, giving up four second-round picks and the maximum allowable cash contribution of $5.78 million.
Jordan got his freedom. Brooklyn avoided a potentially massive luxury tax hit the next two seasons due to the former All-Star's dead money. The Nets also added 2019 first-round pick Sekou Doumbouya and former Net Jahlil Okafor. Brooklyn already waived Okafor.
At his introductory video conference in LA, Jordan took a playful shot at his former teammates on the East Coast.
Jordan said he was 'definitely not friends anymore' with Brooklyn Nets stars Durant and Irving
The Lakers opened a roster spot for Jordan by trading veteran Marc Gasol to the Memphis Grizzlies. Per ESPN, Gasol plans to remain in Spain this season. Memphis plans to buy out the remaining year on Gasol's veteran's minimum contract.
Jordan began his comments with a tongue-in-cheek declaration of hostilities with Durant and Irving. According to ESPN.
"We're definitely not friends anymore, so … ."
The veteran big man clarified the relationship in more serious terms.
"We're friends before basketball, after basketball, and I think ultimately we all just want to be happy," he said. "And being able to compete is something that's very important to me, and they understand that. And we're brothers beyond basketball, so us being teammates or not isn't going to reflect on or affect our relationship."
Jordan credited the Brooklyn Nets organization for working with him.
"It was just both parties wanted to figure out something that was best for both of us," he said. "And I feel like they gave me that respect as a veteran player to be able to understand that I wanted to be able to complete. … It just worked better for both of us."
If nothing else, the demographics in LA are a fit for Jordan.
DeAndre Jordan's role in LA
The Lakers have 13 guaranteed contracts on their roster, with training camp opening later in September. DeAndre Jordan and Dwight Howard are the only centers listed on LA's roster. Though he prefers not to, All-Star Anthony Davis will likely see significant minutes at the 5 for the Lakers as well.
At 33, Jordan comes to a team packed with veterans. New additions Carmelo Anthony (37), Trevor Ariza (36), Rajon Rondo (35), Howard (35), Wayne Ellington (33), Russell Westbrook (32), and Kent Bazemore (32) are also in the over-30 club. Holdovers LeBron James and Wesley Matthews are 36 and 34, respectively.
Experience is the Lakers' biggest ally entering 2021–22. However, age might be their most significant threat to winning an NBA-record 18th championship this season. James sustained the only two significant injuries of his career in the last three years, including missing 27 games with a bad ankle last season. Davis is not among the 30something crowd, but his record has large chunks of lost time due to injury.
If the oddsmakers in Las Vegas are right, Jordan and the Brooklyn Nets are destined for a reunion next June in the NBA Finals. Per Vegas Insider, the Nets are plus-240 favorites to win the championship. LA has the best odds in the Western Conference at plus-400. DeAndre Jordan says he and Brooklyn's megastars are friends until the end. But those feelings will get put on hold in a playoff atmosphere.
Contract information courtesy of Spotrac.