DeAndre Jordan Fills a Need for the Philadelphia 76ers but Doesn't Move The Needle Toward a Title
The Philadelphia 76ers are likely to sign center DeAndre Jordan to back up Joel Embiid. The Los Angeles Lakers waived the 14-year-veteran on March 1, making him eligible to play with a new team in the postseason. The Sixers needed to clarify their bench situation behind Embiid after trading veteran Andre Drummond to the Brooklyn Nets in the Ben Simmons deal.
Philadelphia will allow Jordan to clear waivers rather than claiming him. Already a taxpaying team, approaching the addition of the 33-year-old as a free agent instead of a waiver claim limits the tax penalty.
But what are the 76ers getting?
DeAndre Jordan is going to his 4th team since early September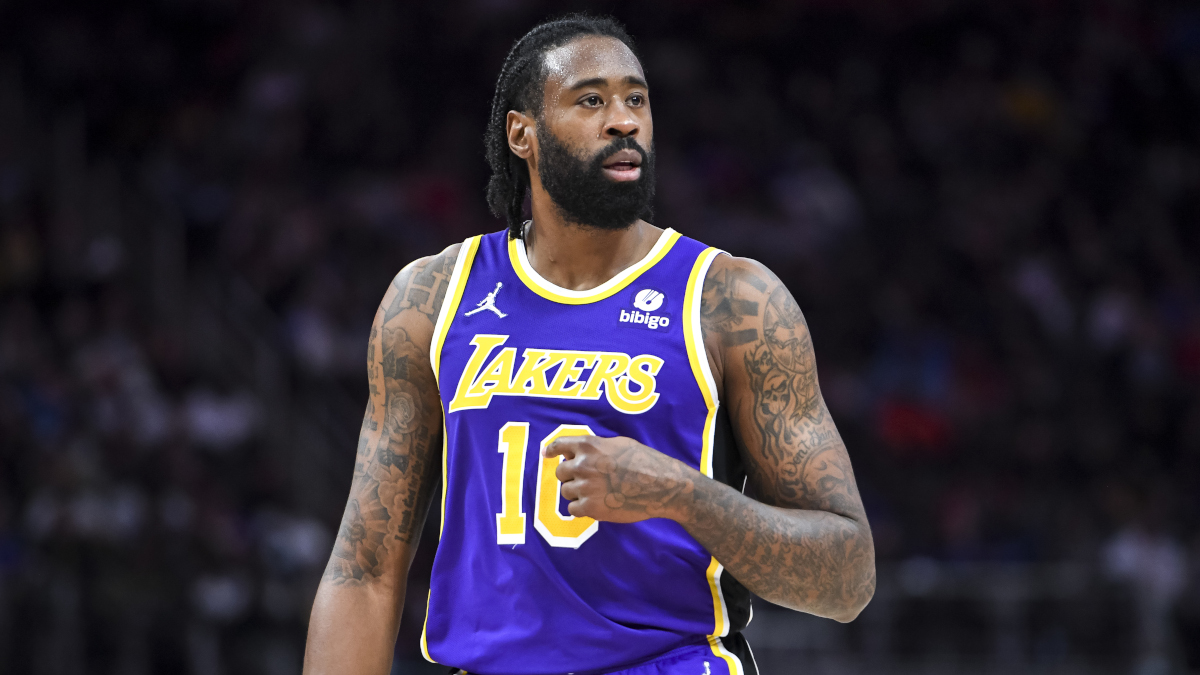 The Lakers signed DeAndre Jordan on Sept. 9, three days after the Detroit Pistons bought out his contract. The former All-Star gave back $4 million, and Detroit ate the final two years and $15.7 million of the four-year, $40 million deal Jordan signed with the Brooklyn Nets in July 2019.
The Nets traded Jordan to the Pistons for Sekou Doumbouya and Jahlil Okafor. LA also cut Doumbouya loose on March 1, terminating his two-way contract to sign Wenyen Gabriel. The Lakers added veteran guard D.J. Augustin in Jordan's roster spot.
While Jordan was a three-time All-NBA selection earlier in his career (thanks in large part to the All-NBA team still being defined by one center, two forwards, and two guards), he's been declining rapidly the last three seasons.
He started 19 games for the Lakers, but coach Frank Vogel pulled him from the rotation just before Christmas. He played in only five games since, scoring 10 points with 15 rebounds in 52 minutes.
Jordan never had a jump shot to speak of and as he aged, finding playing time in the pace-and-space era got more complicated. Brooklyn deactivated him for the playoffs last year.
Now he'll get a chance to be another in a revolving door of big men playing behind Embiid for the Philadelphia 76ers. Adrian Wojnarowski of ESPN reported the Sixers are the frontrunners to land Jordan.
By signing Jordan to a prorated veteran's minimum deal for the rest of the season, Philadelphia's tax bill will increase from $13.2 million to $13.8 million. According to Bobby Marks of ESPN via Twitter, claiming the veteran off waivers would have taken on Jordan's total $1.66 million cap hit and upped the penalty to $16.1 million.
The Philadelphia 76ers needed another option
After trading Drummond, the Philadelphia 76ers tried to force-feed backup center minutes to second-year man Paul Reed. Undersized for the job at 6-foot-9 and 210 pounds, Reed scored 15 points with 18 rebounds in 43 minutes in the first three games after the trade.
He also picked up eight fouls.
Paul Millsap, acquired from the Nets, has averaged 5.5 points and 3.0 rebounds in 11.0 minutes a night since coming to Philly. Like Reed, he lacks the size to play extended minutes at the 5. The 76ers added Willie Cauley-Stein on a 10-day contract on Feb. 24. He's played once, logging four minutes at the end of the team's blowout win at Minnesota on Feb. 25.
Embiid is a leading candidate for NBA MVP, averaging 29.8 points and 11.1 boards in 33.0 minutes a game. Because of his medical history, coach Doc Rivers doesn't want to lean too heavily on the Cameroon native. But finding 15 minutes of competent play a night proved difficult after Drummond went to Brooklyn.
DeAndre Jordan might not be much help. He averaged 12.8 minutes in LA, putting up 4.1 points and 5.4 rebounds. His finale for the Lakers was one for the Shaqtin-a-Fool archives, as he fired an outlet pass that was a little too high for Wayne Ellington. Like, five rows deep into the baseline seats too high.
He hasn't played in a postseason game since 2017, his last season with the Clippers. The 6-foot-11 center is at least one step slower defensively. The good news for the Sixers is they don't need All-Star DeAndre from five years ago. They need someone who won't kill them when Embiid takes a break.
It's an impressive list of backups before DeAndre Jordan
Before signing Drummond last summer, the Philadelphia 76ers had Dwight Howard as Embiid's backup last season. In the playoffs, they only leaned on the former All-Star for 12.4 minutes a game, and the veteran gave them 4.7 points and 6.3 boards a night. But the team was a minus-34 in those minutes.
In 2020, the 76ers had the uncomfortable frontcourt pairing of Embiid and Al Horford and tried to stagger minutes. It ended in a first-round sweep, about the only staggering Philly mustered.
Greg Monroe and Boban Marjanović shared the backup duties in the 2019 postseason when Embiid was a plus-143 for the playoffs. The stand-ins combined to go minus-69, including the infamous Game 7 loss on the Kawhi Leonard buzzer-beater in the second round. Monroe played two minutes in that game, and the Sixers were outscored by nine points. In a two-point defeat, that felt significant.
So it's not a high bar for DeAndre Jordan to clear. But Philadelphia is facing a familiar problem this season. When their superstar center is on the floor, they've outscored opponents by 258 points. When Embiid sits, they've been outpaced by 121.
The Philadelphia 76ers won't ask DeAndre Jordan to be a difference-maker come spring. If he can give them break-even minutes while Embiid gets a breather, they'll be ecstatic. But at this point in Jordan's career, even that is probably too much to ask.
Statistics courtesy of Basketball Reference and NBA.com. Contract information courtesy of Spotrac.
RELATED: James Harden Thinks Tobias Harris Should Dribble Less