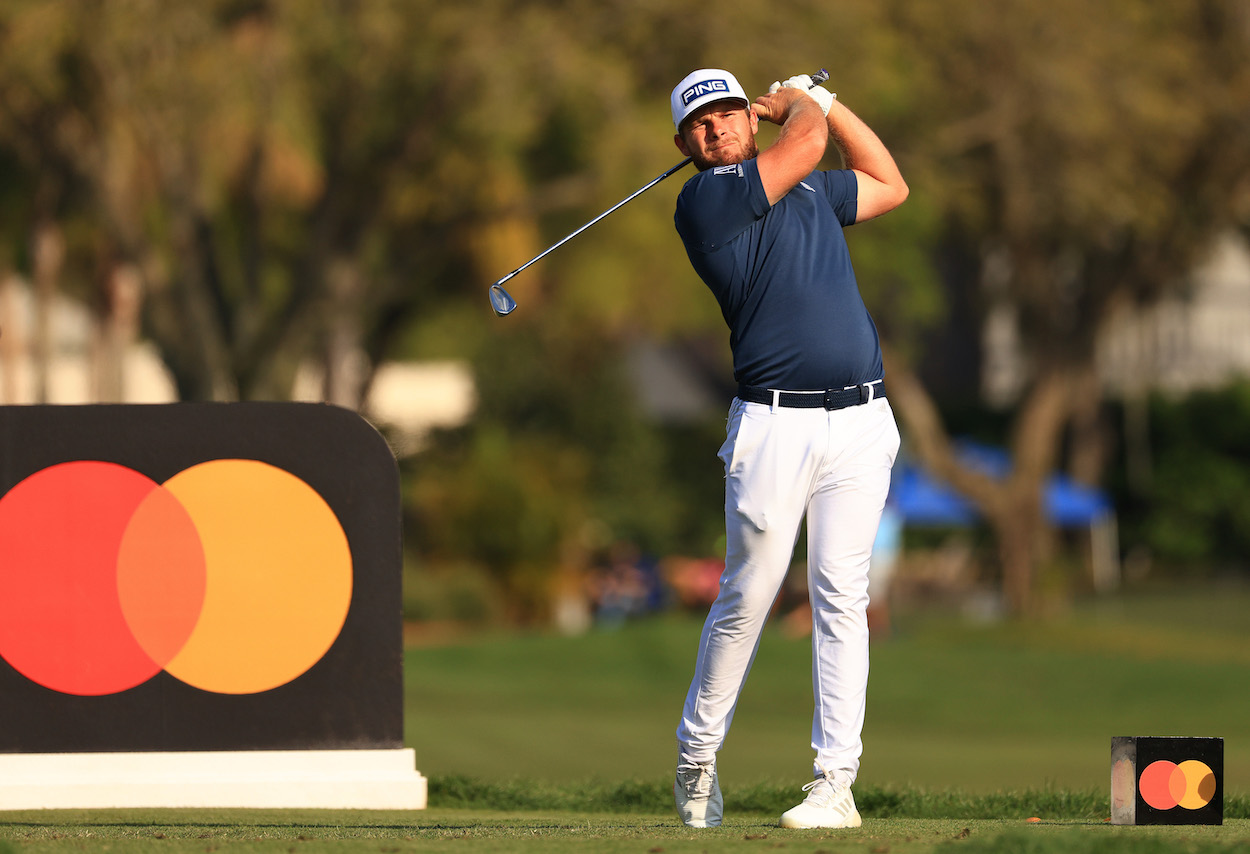 Defending Bay Hill Champion Tyrrell Hatton Hits Embarrassing Nightmare of a Shot and Weekend Golfers Can Relate
Defending Arnold Palmer Invitational champion Tyrrell Hatton hit an embarrassing shot on Sunday and all weekend golfers felt his pain and frustration.
Last year Englishman Tyrrell Hatton won his first PGA Tour event against a loaded field at the Arnold Palmer Invitational. A year later, Hatton returned to defend his title in Florida, and things did not initially go as planned, with a 5-over 77 in his opening round. 
Hatton scrambled, and on Friday, fired a 67 and made the cut. After another stellar round Saturday, he found himself in contention at the start of his final round on Sunday at 6-under, just five shots behind the leader and fellow countryman Lee Westwood. After his opening tee shot found the left rough, Hatton pulled out a fairway wood for his second shot, and it didn't go anywhere close to the plan. He looked like a weekend duffer more than the defending tournament champion and it was a portend of things to come.
Tyrrell Hatton wins 2020 Arnold Palmer Invitational
Last year, in winning his first PGA Tour title, Tyrrell Hatton had to battle the best golfers in the world and the elements. He got off to a fast start at Bay Hill, firing a 68 and 69 on Thursday and Friday, taking a share of the 36-hole lead with Sung Kang.
Over the weekend, the fast and firm golf in windy conditions sent scores soaring. Hatton shot a 1-over on Saturday and 2-over on Sunday, but both were considered solid scores under the circumstances. 
Tyrrell Hatton finished 4-under for the week and held on for a one-shot win over Marc Leishman. It was the highest winning score in the tournament's 42-year history. 
Tyrrell Hatton starts Arnold Palmer event slow in 2021
Tyrrell Hatton returned to Orlando this year with a ton of confidence after last year's performance and first PGA Tour win at the Arnold Palmer Invitational. After posting a score of 5-over in his opening round Thursday, Hatton looked like anything but the defending champion as he was tied for 107th out of the 123-man field. 
Hatton rebounded on Friday with a 67 and survived the cut by two strokes. On Saturday, the 29-year-old shot an even better 66 and rocketed up the leaderboard into contention, just five shots off the lead of Lee Westwood.  
Duffs a shot like every weekend golfer
Tyrrell Hatton understood heading into the final round he needed to go low for any shot of possibly winning the Arnold Palmer Invitational for a second year in a row. After his first hole, Hatton knew that wasn't a realistic expectation. 
Hatton's drive off the first tee found the left gnarly rough and left him 181 yards to the green. What happened next was a scene that rarely plays out on the PGA Tour, but regularly on the local municipal courses.
Hatton pulled out a fairway wood and ripped at the ball buried deep in the grass. The white speck of a ball popped above the top blades of grass for just a split second, bouncing a couple of times off the top of the lush green grass, before disappearing 10 to 15 yards in front of him.
It was a shot most weekend golfers can totally relate to. Hatton managed to bogey the hole. However, that shot was a precursor of things to come as Tyrrell Hatton finished 5-over for the day and a final score of 1-under. 
Like Sportscasting on Facebook. Follow us on Twitter @sportscasting19.