Deion Sanders' Colorado Buffaloes Pulled 3 Levers That Will Help Him Compete in the Pac-12
Deion Sanders has made a positive impact during his second act as a college football coach. Working for Jackson State University, the former Dallas Cowboys star made some wonder if he might be ready to work in the NFL. Sanders insisted he was much happier sticking to college ball.
Apparently, that didn't mean staying with JSU. After three seasons with the rapidly improving team, the HBCU's top recruitment tool is headed to the University of Colorado. So how did this move happen, and is it the right choice for the one-time NFL superstar?
Deion Sanders is headed to Colorado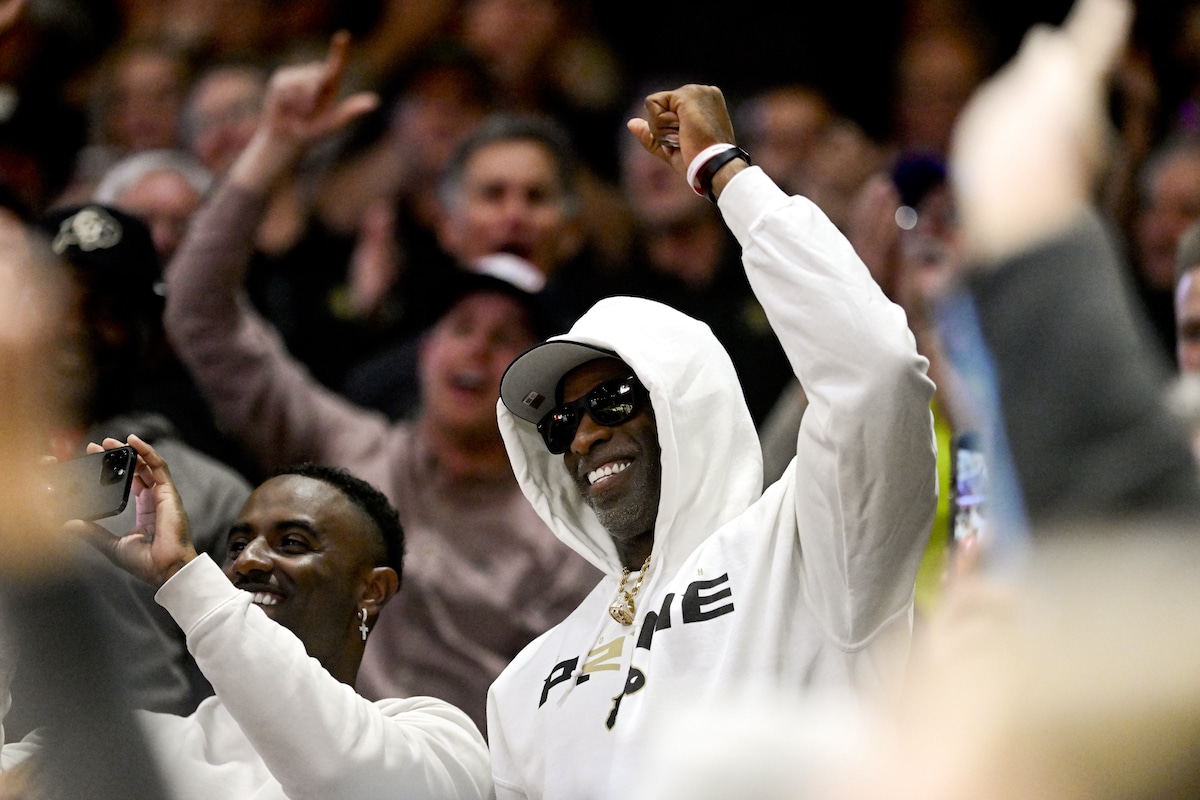 Sanders' move to CU came together quickly and not without controversy, as CNN reports. JSU loses a coach with a rock solid 26-5 record. More importantly for their future, the HBCU loses their No. 1 recruitment draw. The Sanders era marked a big jump in the team's quality of play, setting them up for a strong future.
All of that may or may not be in jeopardy, depending on how the school recovers from this blow. Their loss is CU's massive gain. The six-time NFL All-Pro comes to Colorado with momentum behind him, at a bigger school, with access to massive funding and powerful recruitment tools.
This major blow to the JSU football program, and HBCU football in general, is nonetheless a fitting move for Sanders. With no interest in moving up to the NFL as a coach, joining a competitive Pac-12 school makes perfect sense.
And CU has put a lot on the line to ensure Sanders has everything he needs to compete with other wealthy Pac-12 schools that've spent years holding CU at bay.
Deion Sanders' University of Colorado contract comes with a huge raise
As the Mississippi Clarion Ledger reports, Sanders won big twice over the weekend. JSU defeated Southern 43-24, winning the SWAC title for the second year in a row. Then, the head coach announced his massive new contract with CU.
While the exiting JSU skipper owes $300,000 to his former team for exiting his contract early, the move is still very much in his financial favor. CU is on the line for $29.5 million over the next five years. If that number seems eye-watering, understand this is only the bare minimum.
The contract is laden with bonus possibilities. These include team-wide academic performance incentives ($50,000 per year), winning more than six games in a season ($100,000 each), and winning the national championship ($750,000). If Sanders meets most of these, he could be one of the highest-paid college football coaches of all time.
CU pulled three levers to land Sanders as head coach of the Buffaloes
So how did CU execute this massive coup to get one of the hottest names in college football coaching? Joseph Pompliano of Huddle Up reports that Colorado's football program pulled "three levers" to make the improbable move a reality.
First, they offered up the aforementioned massive, unprecedented contract. They knew Sanders had an emotional connection to JSU. Only a huge offer could get him to even answer their calls. But the size of this move led to another problem: a contract bigger than the CU football program can afford.
That leads to the second level: a NIL collective. This funding pool seeks to raise money for the CU football program by contacting alumni. Hiring a two-time Super Bowl winner with a strong record in college football has already attracted big donors to this fund.
Finally, CU changed their transfer rules — not just for football players, but the entire school. This makes it easier for CU to attract top-level recruits who have already amassed college credits. This also makes it easier for Sanders to do the part of his job away from the gridiron and attract players with fewer limitations.
Primetime got everything he wanted and then some. This leaves JSU in a difficult position, but CU will likely see its football program rapidly improve in the coming years.