Deion Sanders Is Ready to Give $5 to Every Football Player in the Southwestern Athletic Conference to Increase Visibility
Most college football fans couldn't tell you where Jackson State University is, but the school's hiring of Deion Sanders as head coach continues to make waves. Sanders' fame brings plenty of attention — not always for the best reasons — and his latest gambit to draw eyes toward the SWAC might have the old-school fans of college football clutching their collective pearls.
It's not clear that his idea would be successful at all. But it is the latest example of how the NCAA's relaxed attitudes toward money in "amateur" sports will affect decision-making going forward. 
How has Deion Sanders performed as Jackson State's head football coach?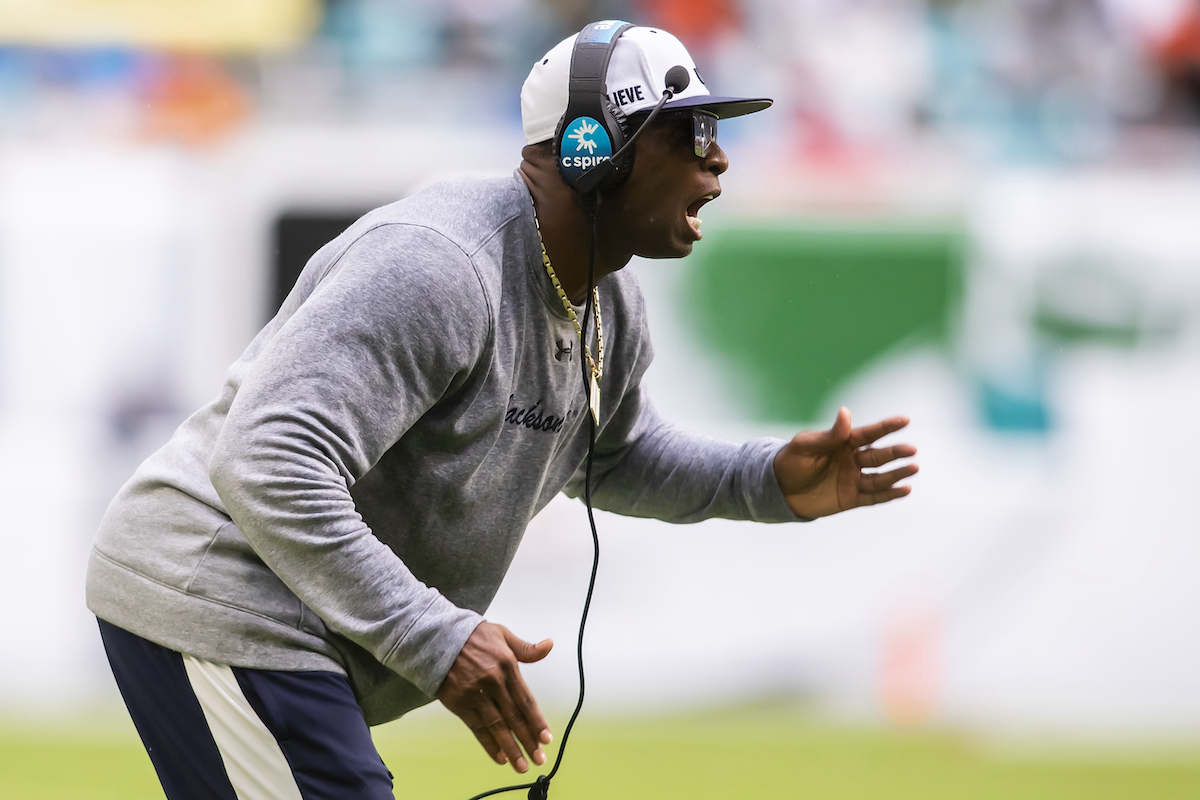 Eyebrows raised across the country when the Jackson State Tigers announced Sanders as the program's head coach. The 54-year-old represented a big risk for the school. His only coaching experience was at the high school level, and his salary — $300,000 a year and 10% of the gate when the home attendance is above 30,000 — is above average for FCS schools. Jackson State's last winning season was in 2013. 
Numerous violations and bizarre quotes did not inspire immediate confidence. Circumstances were made even tougher by the coronavirus pandemic cutting down Sanders' first season to seven games — the last game forfeited by the other team — played in the spring semester. Still, the early results have been promising. 
The Tigers finished last season with a 4-3 record and have won two of their first three games this year. Sanders' fame is also bringing a higher caliber of football players to the school, which could pay huge dividends. His ambition could bring Jackson State to bigger heights than a HBCU school has seen in recent years. 
Sanders has a flashy plan for bringing more attention to the SWAC
There's a reason Sanders earned the nickname "Prime Time." The man knows how to bring attention to himself at all times. 
The Southwestern Athletic Conference is notable for being the main HBCU conference for football. But that distinction is not enough to make any of the universities more than a footnote in the national conversation. Sanders, as reported by The Mississippi Clarion Ledger, wants to make the players household names by making their names more visible — literally. 
"Is it that expensive to put their name on the back of the jersey?" Sanders asked in a press conference following the TIgers' week one 7-6 victory over Florida A&M. "Don't you think his mom and them, want to see the baby name on the back of the jerseys? Don't you think his siblings, his friends, his family, his loved ones?"
The SWAC has no conference-wide policy on the issue, giving Sanders the chance to push for a change. He sees it as a way to make the players more popular and instill personal pride in performances. "That's the kind of stuff we take for granted," Sanders said. "I don't. I'm very detailed. That guy worked his butt off, did what he had to do, changed his whole composite of his thought process. We could at least put his darn name on the back of his jersey."
He even offered to foot the bill for the new threads. "What is that?" An extra $5 a jersey? I'll take care of it for the whole SWAC if they do it." Economics of jersey manufacturing aside, Sanders does make a good point.
Keeping the names off of the jerseys, especially since football players wear helmets, makes it next to impossible for anyone to stand out unless they are exceptional. It can work for schools like Notre Dame, which have a longstanding national brand. But for smaller schools, it impedes players' financial success. Considering Sanders' Celebrity Net Worth, which is reportedly valued at $40 million. This amount of money wouldn't affect his daily life much. 
"Those are the kinds of things we're very detailed about," Sanders said to end his statement. "We're very detailed with the little things, and our kids deserve that, don't they?"
The NCAA has restricted personalization for so long but progress is being made
For the NCAA, 2020 transformed minds about letting players personalize their jerseys or brand themselves in any way unapproved by the school. The organization took the lead of the NBA and WNBA by allowing student-athletes to wear patches showing support for social justice causes on their uniform, as Sports Illustrated reports.   
This is the new normal for NCAA schools. The passing of name, image, and likeness rules mean that policy rules that make it easier for players to make money off of personal brands will dictate where players decide to attend. 
Teams like Alabama are already using the possibility of big deals as recruiting tools in press conferences. The flaunting of local riches will only get more brazen from here. It will be fascinating to see how this affects which teams succeed when money can be spent above the table. 
As universities jump from conference to conference in order to chase the biggest bag of cash, it's possible that colleges that aren't regularly near the top of the sport may be able to compete thanks to funds from boosters. Or the Crimson Tide will continue to roll. We'll just have to wait and see. 
RELATED: Auburn Quarterback Bo Nix Proactively Contacted His 1st Sponsor, Milo's Tea, Ahead of the NIL Rule Change