Deion Sanders' Instagram Video Brought Him Wings, Beans, and the Local Fire Department
No one can ever say that Deion Sanders isn't finding ways to enjoy himself at Jackson State University.
Sanders, the Pro Football Hall of Fame cornerback, is now a college football head coach. As his team prepares to open their spring season, Sanders is learning just how different Jackson, Miss., is from his previous stops.
Clearly, the local community is taking to Jackson before he even coaches his first game. Just ask the local fire department if you don't believe us.
Deion Sanders recently had fun with the local fire department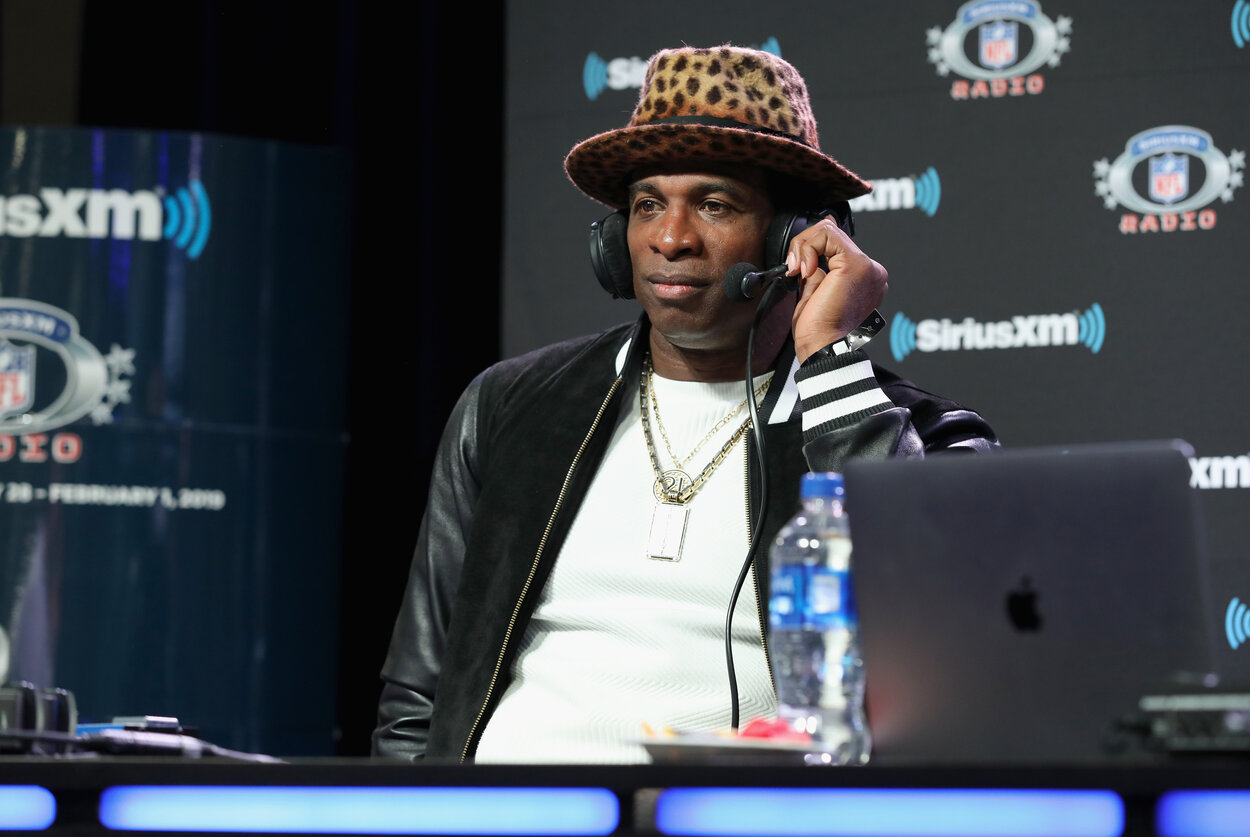 RELATED: Deion Sanders Has Already Had His First Taste of NCAA Problems
Deion Sanders recently ran into a problem that many who work late shifts also encounter at some point.
The conundrum of where to eat when nothing is open can be tough, especially in the winter months. Sanders posted an Instagram video complaining about the lack of open restaurants.
When he made the video, Sanders had just learned that both McDonald's and Waffle House were closed because of a recent winter storm.
"Jackson Mississippi and surrounding areas let's be upfront and honest in the new relationship so there won't be any room for deception. Let me know what it is and it is what it is. We're STARVING."
It's a good thing that Sanders has over 1.6 million followers on Instagram. The local Jackson Fire Department Station 5 arrived at Jackson State and brought a buffet of sausage, wings, steak fries and baked beans.
"God bless ya'll for taking care of our staff," Jackson wrote in an Instagram video featuring the firefighters.
Sanders is certainly staying in the news at Jackson State
RELATED: Deion Sanders' HOF Bust Looks Like 'a White Dude From Upstate New York'
Deion Sanders might be coaching at the FCS level, but he's easily staying relevant.
Sanders, who still does the 21st & Prime podcast with Barstool Sports, has used his charm and unique manner of speaking to stay in the news. Late in 2020, Sanders said he believed that Jackson State's players would help the community to such a degree that teen pregnancies would decrease.
Earlier this year, Sanders shared on Instagram that he is enforcing toilet rules at JSU. Sanders wanted his players to respect others by leaving a clean bathroom area after using it.
The football legend has also spent time with local fans in a healthy and safe way amid the pandemic.
Deion Sanders' Jackson State team has their first game soon
RELATED: Deion Sanders Negotiated Himself a Sweet Deal To Coach Jackson State
In just a few days, Deion Sanders will officially coach his first college football game.
Jackson State hosts Edward Waters, an NAIA school from Florida, on Sunday, February 21. Sanders' son, Sheduer, has been competing for the Tigers' starting quarterback job.
Jackson State opens conference play on February 27 against Mississippi Valley State. The Tigers' first four games will all air on ESPN3 before playing Prairie View A&M on March 28. That game will appear on ESPNU.
Sanders previously regularly appeared on ESPN in the 2000s before he took a full-time job at NFL Network. One can't blame the Worldwide Leader for wanting more Deion in their lives.
Like Sportscasting on Facebook. Follow us on Twitter @sportscasting19.