Deion Sanders Is Serious About Coaching College Football — Including the Miami Hurricanes
Deion Sanders is a unique athlete, one of the few in history to have successful careers in both Major League Baseball and the NFL, with his greatest fame coming in football. After he retired from playing, Sanders went into broadcasting and is currently one of the faces of NFL Network. But he isn't necessarily committed to staying in broadcasting forever. He has made comments that indicate that he is serious about potentially changing careers and becoming a coach in college football. How serious is he about making that switch? Sanders' comments on the topic indicate he's dead serious.

Deion Sanders' NFL playing career
Sanders was a defensive back and punt returner at Florida State from 1985-88, playing in 44 games during his four-year collegiate career. He scored three touchdowns on 126 punt returns at FSU, and he recorded 14 interceptions defensively, returning three of them for touchdowns. He was a consensus All-American in his junior and senior seasons.

Based on his performance in college, the Falcons selected Sanders with the fifth overall pick in the 1989 NFL draft. He played 14 seasons in the league, and he became a two-way player, playing wide receiver as well as cornerback. Most of his success came on the defensive side of the ball, as he only had 60 catches in his career for 684 yards and three touchdowns. He tallied 53 career interceptions, returning them for more than 1,300 yards and nine touchdowns. He recovered 13 fumbles, scoring on one of them, and he ended his career with more than 500 tackles. Sanders also continued returning kicks in the NFL, notching six touchdowns on punt returns and three more on kick returns. He entered the Pro Football Hall of Fame in 2011.

Sanders has had talks to coach college football
Deion Sanders is open to the possibility of becoming a college coach, and he has spoken to schools about vacancies already, according to him. Dan Patrick talked to Sanders about it on his radio show. During the interview, Sanders said his talks with Florida State were "interesting," but there were several reasons it didn't work out.

Sanders also revealed he went past a second interview with another school other than Florida State. He admits some schools could shy away from him because he "wants to win" and "do it a certain way." He's not looking to join a staff as an assistant or coordinator, though. Sanders specified that he wants to be a head coach in the collegiate ranks.

Deion Sanders wants to coach, even if it's a former rival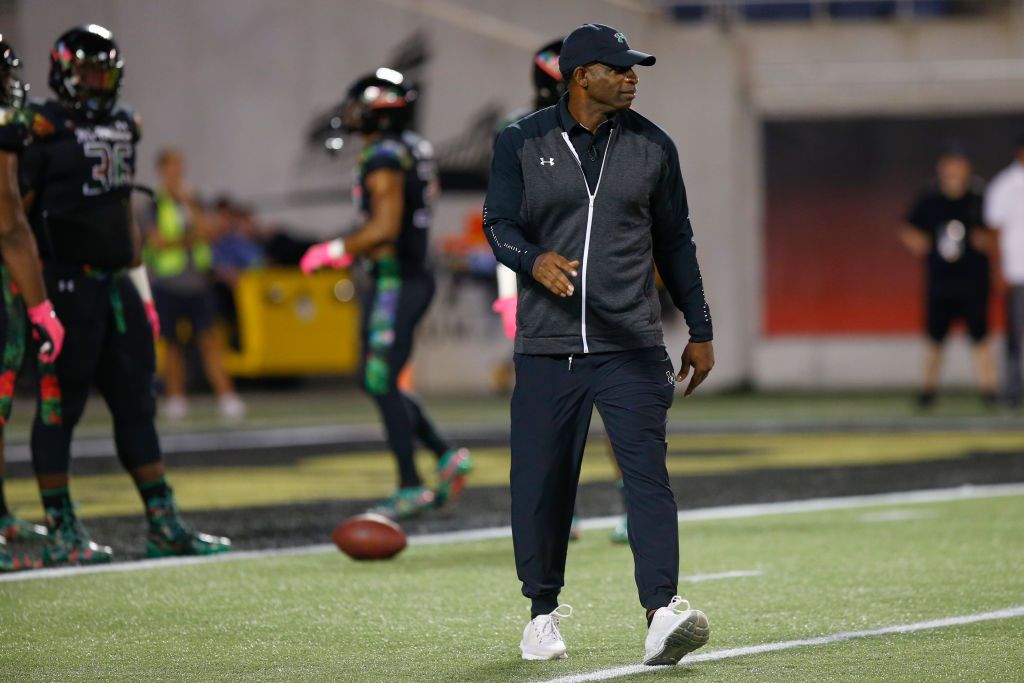 Sanders has confidence that he will eventually land a head coaching job, and to prove how serious he is about it he told Patrick that he is willing to coach the University of Miami (FL) — one of FSU's biggest rivals — or at a cold-weather school, which is notable for the Florida native who also spent the majority of his professional career in warm weather locations like Dallas and Atlanta.

In addition to indicating that he is open to coaching pretty much anywhere, Sanders voiced confidence in the Patrick interview that a coaching job is in his future and that it is a matter of when, not if, he lands a gig. When asked straight up if he really wanted to coach Florida State, Sanders answered with an emphatic "yes" and continued, saying he's "going to be a head coach in college football next year … somewhere." He also said that he is "that confident and assured" that it is going to happen. If you're familiar with Deion Sanders, you know that he is confident and full of bravado. If he is set on becoming a head coach, you might not want to count him out of it happening.