Deion Sanders Predicts NFL Future for 1 of His Jackson State Football Players
Deion Sanders is heading into his second season at the helm as head coach of the Jackson State football team. The Tigers finished with a 4-3 record in the condensed 2020 season.
The Pro Football Hall of Famer undoubtedly has an eye for talent, and he's recruited several highly-recruited players to join him at Jackson State. He gave high praise to one of his standout players, De'Jahn Warren. Sanders believes he's a future NFL player.
Sanders took the job at Jackson State to shine light on HBCUs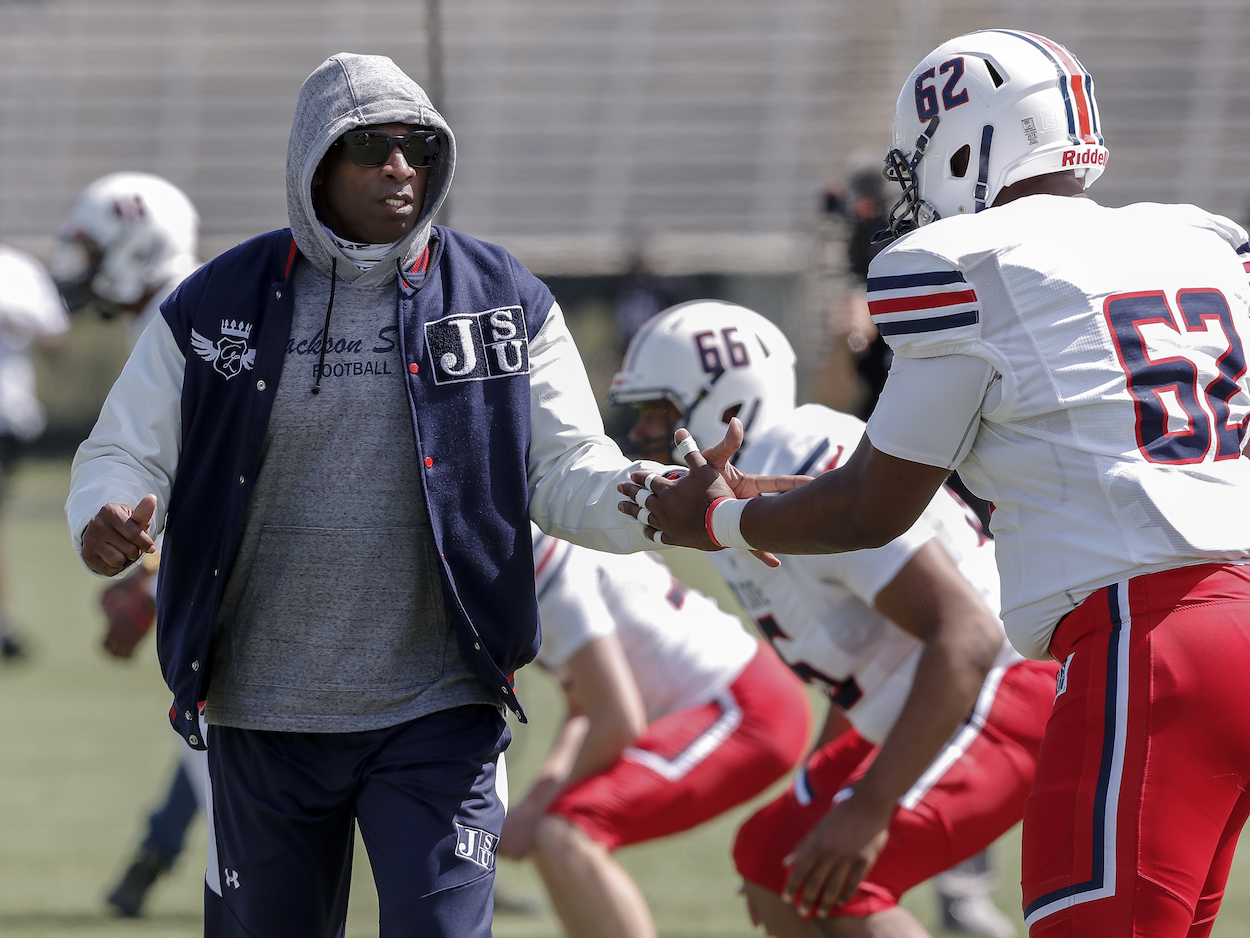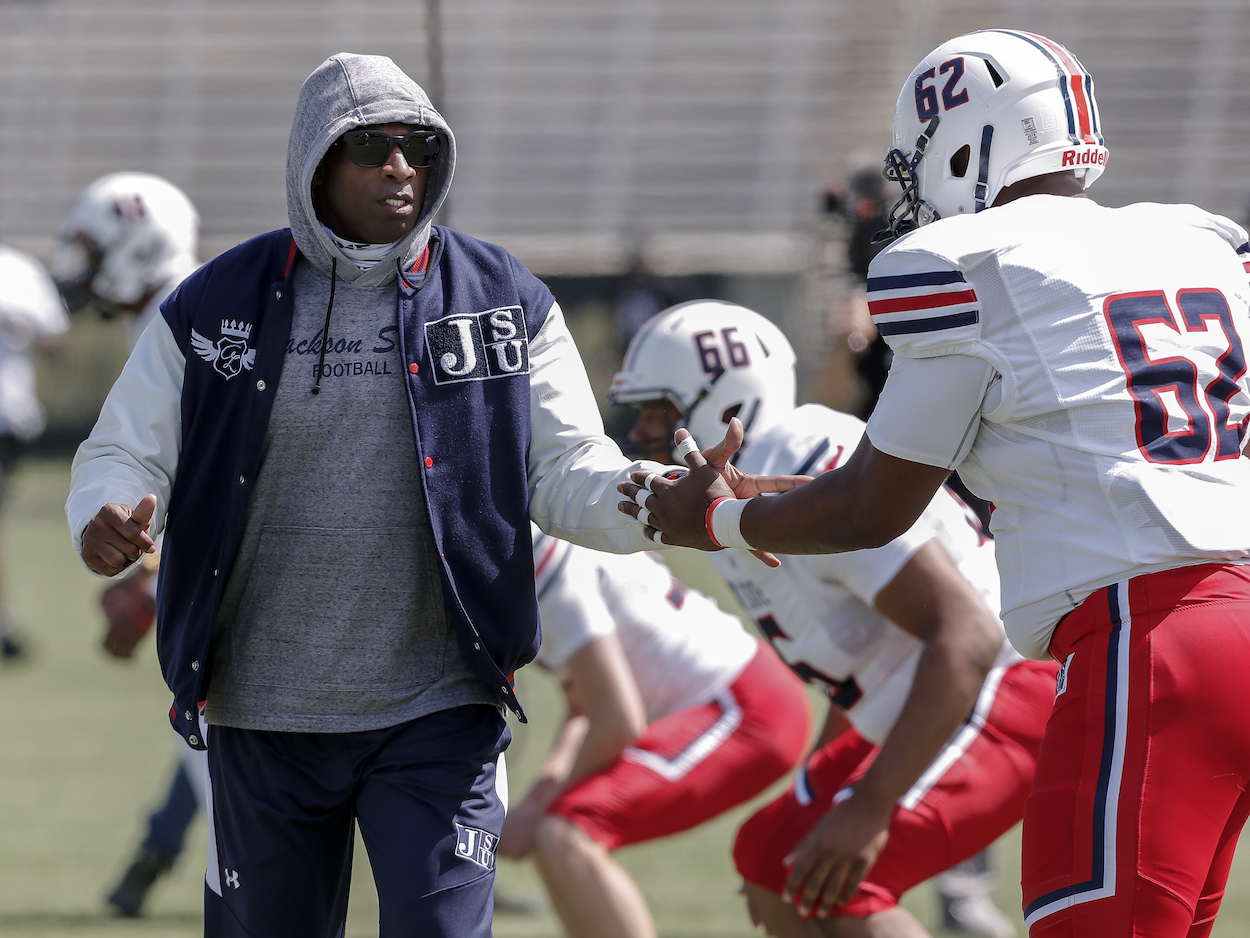 Deion Sanders made headlines when he announced he would become the new head coach of the Jackson State football program. Historically black colleges and universities have long been underfunded in comparison to their Power 5 conference counterparts. Sanders is looking to change that.
Coach Prime joined Brandon Marshall, Chad Johnson, Channing Crowder, and Fred Taylor on the I Am Athlete podcast. He discussed what it takes to turn the tide and get more recognition for HBCU programs. Crowder said schools like Jackson State could not compete with Power 5 schools like Alabama, Michigan, and Florida State.
The eight-time Pro Bowler responded saying, "You bring in a conduit for change." There has been a movement to level the playing field. However, Prime wants to take it a step further. "First of all, I don't want to level nothing. I want to have the advantage," he said.
Sanders believes he can relate to the young black players more than the coaches at most Power 5 conference schools. He says if players are "into the glitz and glam," they should go to one of those schools, but he says there's more to it than just that.
"Why can't we be the change for us," he asked. Sanders played his college ball at Florida State and said players like him put the football program on the map. He feels that players and coaches have the power to impact on how HBCU athletics are viewed.
Sanders says De'Jahn Warren is a future NFL player
Barstool Sports' Coach Prime series followed the Jackson State football team in Deion Sanders' first season as head coach. The series provided an in-depth look at the former All-Pro cornerback's quest to rebuild the program.
In Episode 3, Sanders highlights one of his best players, defensive back De'Jahn Warren. The Landover, MD native played high school football at Suitland High School. He later attended Lackawanna Community College. Warren turned himself into the No. 2 junior college prospect in the nation, according to the 247Sports Composite rankings. He received offers from major college football programs, including Georgia, Alabama, Oregon, and Oklahoma.
Warren initially committed to Georgia, but Sanders and his coaching staff flipped the highly-coveted prospect and got him to commit to the Tigers. The junior is one of the leaders of the Jackson State defense. He started six games in the spring, recording 17 solo tackles, one interception, and three pass breakups. Due to his high-level ball skills, opposing quarterbacks rarely threw to his side.
His coaches and teammates call him "Nugget." Sanders speaks very highly of his young corner.
Nugget is the kind of kid, when he learns the intricate details of this game, and the do's and don't and the situational hand placement, hips and all. When Nugget learns that, Nuggets is going to be a problem.

Deion Sanders
"The sky's the limit," Sanders continued. "We're looking for three more Nuggets, and that's hard to come by because he's going to play on Sundays.
Warren made the transition from safety to cornerback, and who better to learn from that the best?
Deion Sanders believes Jackson State football has several pro talents
While Warren is likely the most NFL-ready of the players on the Jackson State football team, Coach Prime believes that many of his players have the potential to play on Sundays in the future.
The two-time Super Bowl champion joined ESPN's First Take to discuss the documentary and his journey to Jackson, Mississippi. Sanders noted that he feels his players can compete with some of the best players in college football.
"The only thing that separates these guys from Power 5 guys is not only the resources but the exposure," he claimed. He also said that multiple players who are "very draft-able," and have the talent to be selected in the first three rounds of the NFL draft.
The best place to start is with Sanders' own sons. Shedeur Sanders is penciled in as the starting quarterback in 2021. The former four-star prospect held offers from schools like Alabama, Florida, and LSU but decided to play for his father. His brother Shilo Sanders is a former three-star prospect who transferred from South Carolina.
Prime was able to bring in several other transfers, including USC's Abdul-Malik McClain and Tennessee's Nyles Gaddy, both linebackers. On offense, they added two four-star wide receivers in Trevonte Rucker and Quaydarius Davis, who spurned Power 5 schools to play at Jackson State.
Sanders is building something special with the Jackson State football program, which can become an unexpected NFL pipeline.
Stats courtesy of Jackson State Football team site