Deion Sanders Ruins Shaq's Dreams While Giving Brutal Take on NFL Coaching
Can you imagine a world in which Deion Sanders coached the Dallas Cowboys? Can you imagine "Prime Time" himself once again representing The Star and leading the Cowboys back to the Super Bowl?
Noted Cowboys superfan Shaquille O'Neal could. In fact, he recently made a plea to owner Jerry Jones, asking him to hire the Hall of Fame defensive back. 
Sanders says he can't do it, and it's not just because he has a busy schedule.
Shaquille O'Neal is apparently over Mike McCarthy coaching the Dallas Cowboys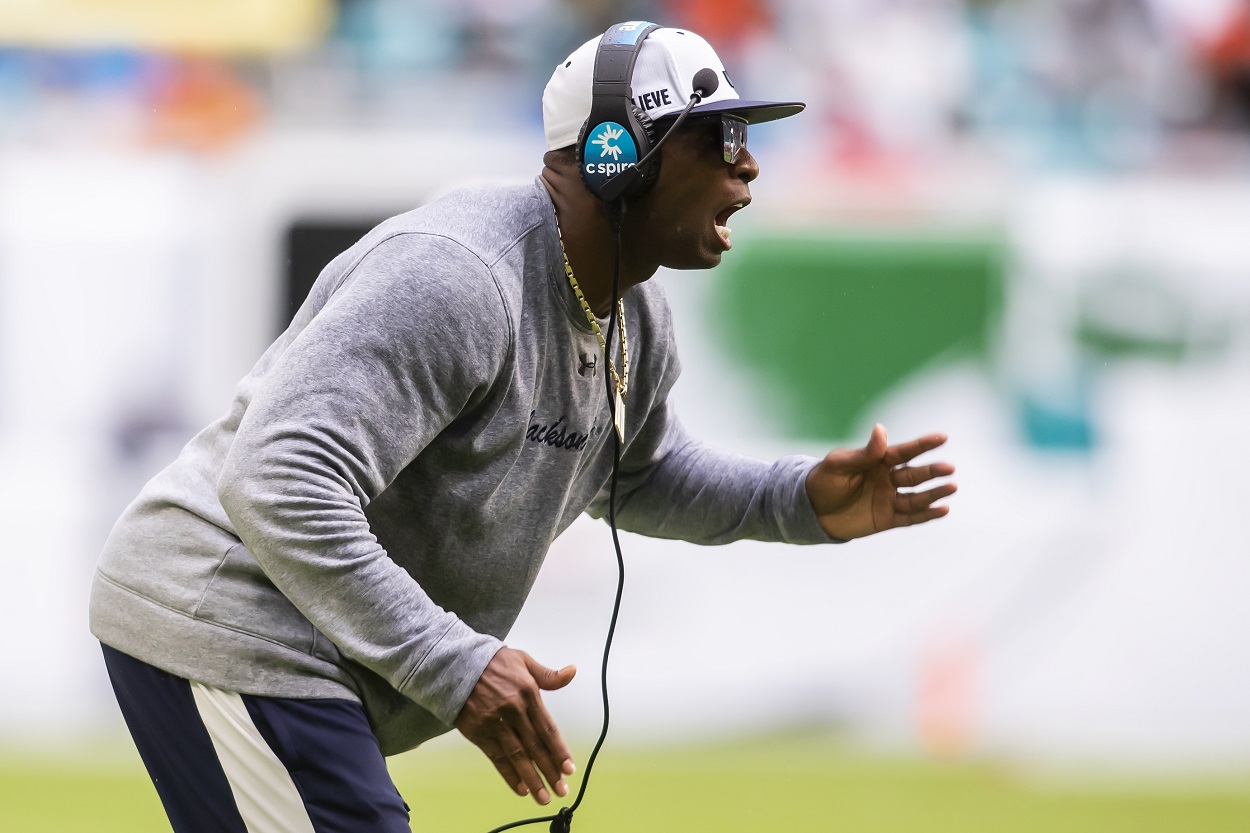 Shaq was clearly frustrated with Dallas' Super Wild Card Weekend loss to the San Francisco 49ers.
It wasn't just that the Cowboys lost, but it was all the context surrounding the loss.
On paper, Dallas had a team that looked like it could make a run to the Super Bowl. The Cowboys boasted the top statistical offense in the league and the best defense in terms of turnover creation. They had superstars on both sides of the ball and entered the playoffs having won five of their last six games.
Dallas had everything except discipline. Mike McCarthy's team was infamously undisciplined, and it cost the Cowboys in the playoffs. Dallas lost to the 49ers, 23-17, and while the team didn't look sharp, the 14 flags certainly didn't help matters.
Venting on his podcast about his favorite team, the man they call The Big Diesel called out to Jerry Jones by name with his idea for a new head coach.
"I'm putting this out right now. Deion Sanders is the next head coach for the Cowboys. Jerry Jones, this message is from Shaquille O'Neal Incorporated, Deion Sanders for the next coach of Cowboys," O'Neal said via Sports Illustrated.
"You want to get Dallas back rocking? Bring Deion to the fold. Deion will hold those players accountable. Deion Sanders for the next Cowboys coach. Put it out. Tweet it, d******. TikTok it. Instagram it. OnlyFans it. Put it out."
Deion Sanders says he wouldn't be able to coach NFL players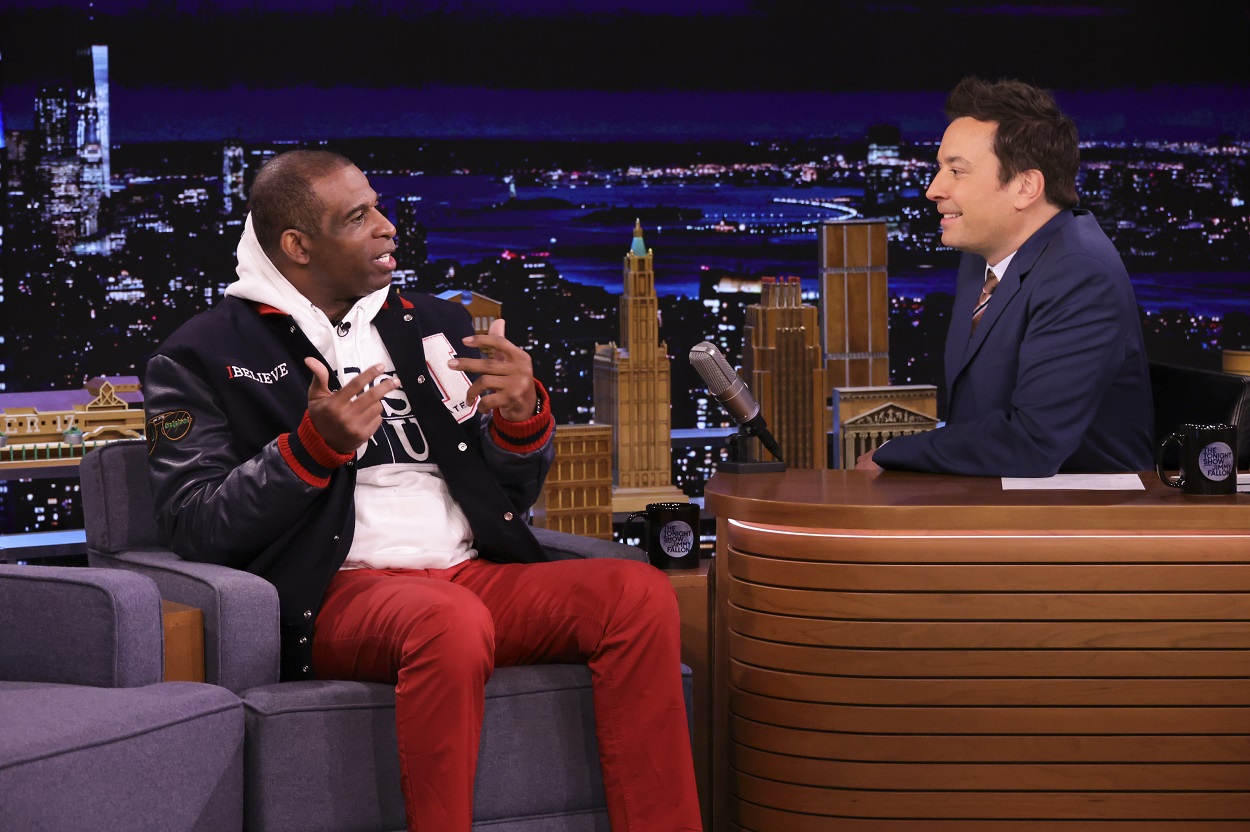 Sanders made a name for himself as a superstar on the field, but his "second act" in football has been equally as impressive.
Prime became head coach at Jackson State University in September of 2020. He's a big name, of course, so he instantly brought a ton of credibility to the football program, especially on the recruiting trail. In fact, the Tigers have a commitment from 5-star cornerback Travis Hunter, who's considered the No. 1 overall recruit in the nation, according to the 247Sports Composite.
Not bad Prime Time. Not bad, at all.
His results on the field haven't been half bad either. The Tigers went 11-2 in 2021, and they were undefeated (8-0) in their conference.
It makes sense that Sanders would seem like a natural fit from the Cowboys. The jump from the SWAC to the NFL notwithstanding, he does have the name brand and the credibility with players. It's not every day you have an opportunity to learn from an eight-time Pro Bowler, six-time All-Pro, a defensive player of the year (1994), and someone who wears a gold jacket.
Ironically, though, NFL players and their attitudes keep Sanders from thinking about coaching at that level. Recently speaking on The Tonight Show Starring Jimmy Fallon, he said that he wouldn't be able to deal with professionals as a head coach.
"I love Jerry Jones. I love the Cowboys, but I cannot coach pros," Sanders said, as transcribed by 247Sports. "I have a problem with a professional athlete not doing his job and he's getting handsomely paid. I don't have any (tolerance) for that. There's some out there working their butts off, but there's plenty out there that just don't get it And I would fight. I would fight every day as a coach … I couldn't do it. I'm old school … it would be tough." 
McCarthy is entering a critical season with the Cowboys
While Shaq's dreams were undoubtedly dashed by Sanders saying he has no interest in coaching at the NFL level, The Big Aristotle may not have to wait long to see a coaching change in Dallas.
McCarthy is on the hottest of hot seats this season. Don't believe it? Just listen to Jones.
"Mike knows that someday, somebody other than him will be coach of the Cowboys," Jones recently told Jori Epstein.
The context of that quote is important. Jones was talking about defensive coordinator Dan Quinn sticking around in Dallas rather than taking one of the many head coaching jobs he interviewed for this offseason.
"I've now had three times, quite similar circumstances, when (a coach) did stay here," Jones had said. "He stays here because there always has been, with every coach, every one of those three coaches, has said they'd love to be the head coach of the Cowboys. Every one. Every one."
If you're McCarthy, how can you feel good about your standing in Dallas? He at least has a Super Bowl win under his belt, so he has that going for him. Even so, the typically confident veteran coach even admitted that he's in a strange situation with the Cowboys.
It's liable to get even stranger if Dallas comes out of the gate slow in 2022.
With Quinn potentially waiting in the wings and Sean Payton no longer with the New Orleans Saints, McCarthy may spend more time looking over his shoulder in 2022 than looking at his play sheet.
Stats courtesy of ESPN and Pro Football Reference. Contract information via Spotrac
RELATED: Deion Sanders Wants to Go Viral With His Plan to Fix the NFL's Minority Hiring Problem