Deion Sanders Sees Glory Days Ahead for Trevor Lawrence and Urban Meyer on the Jaguars Despite the 'Hiccups'
Deion Sanders has officially jumped on the Trevor Lawrence and Urban Meyer bandwagon. 
Sanders, the legendary NFL cornerback and current Jackson State head football coach, doesn't sound like a man who expects the Jaguars to defeat Tom Brady and the Buccaneers in Super Bowl 56. But he does have high expectations for one of the NFL's longest-suffering franchises. 
Sanders thinks Meyer will be a winner in Jacksonville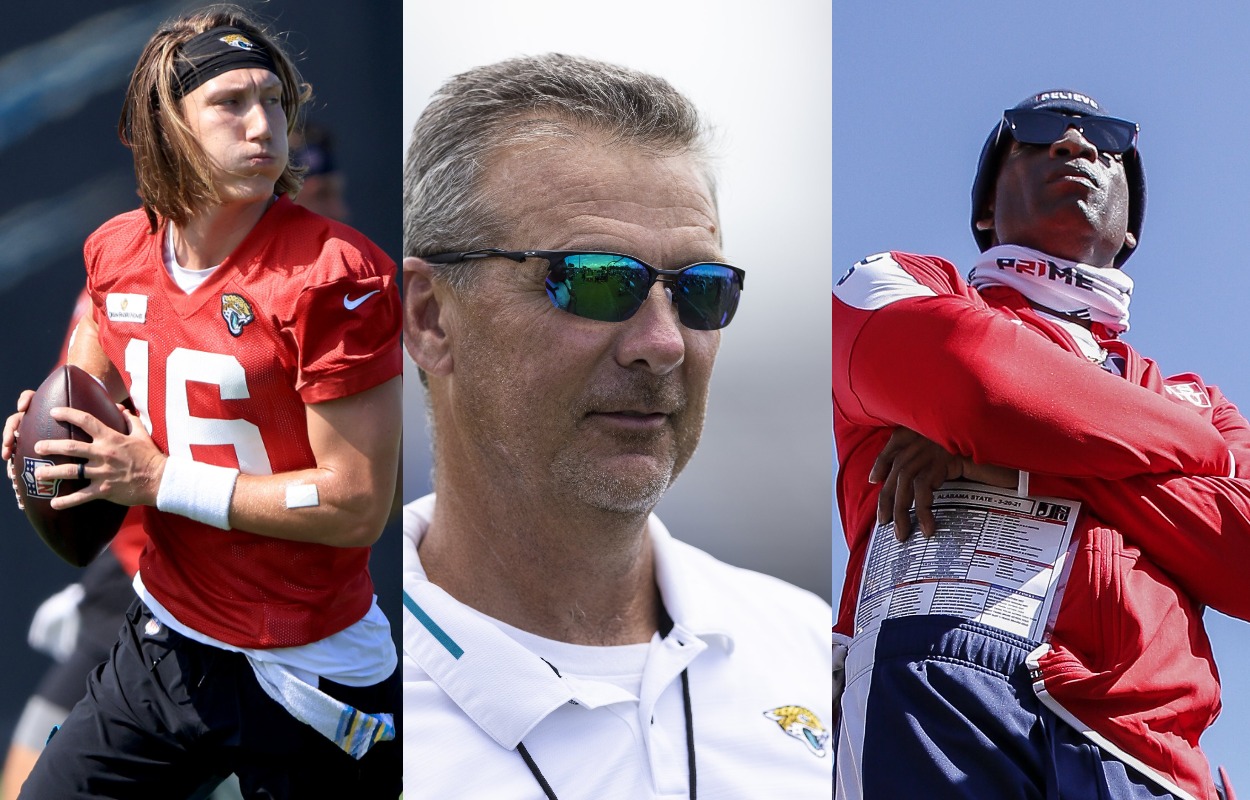 Sanders has never been one to hold back and censor himself, whether it involves religion or proper etiquette involving the toilet. 
According to 247 Sports, Sanders recently discussed the Jaguars during an appearance on the NFL Network. The Pro Football Hall of Famer expressed optimism about Meyer, the longtime college football coach who Sanders called a "winner."
"I like his staff that he assembled. I know the type of ball that he's going to play. They did really well in the draft. We're going to see if that pays dividends."

Deion Sanders
Although Meyer won three national championships as a college football head coach, he'd never worked on an NFL staff before taking over the Jaguars. Sanders cautioned against anyone expecting Meyer to immediately break off a winning record and dominate the way he did at Ohio State.
"He's going to have some hiccups. … But he has the opportunity," Sanders said of Meyer.
Sanders is also excited to see Lawrence at quarterback
Sanders won two Super Bowl rings in the NFL and frequently played on some of the league's top teams, especially during his tenure with the Dallas Cowboys.
But before that, he played on a Falcons team that went 8-24 in his first two seasons. The former All-American cornerback at Florida State endured losing nearly every week.
That is the reality that Lawrence, who went 34-2 as the Clemson Tigers' starting quarterback from 2018-20, might have to deal with as he begins his NFL career. Sanders noted as much when he appeared on the NFL Network.
"I just want to see how the young kid handles adversity," Sanders said. "I don't think he's ever been up against adversity. And I guarantee you in Jacksonville he's going to have some adversity."
The Jaguars could be one of the NFL's most intriguing teams in 2021
Sanders made it clear that he's paying attention to the Jaguars in 2021, and he likely won't be alone.
The idea of an NFL team going from worst to first, especially with a marquee name at quarterback like Lawrence, is always intriguing. And eyes are guaranteed to be on Meyer as he transitions from the broadcast booth and a successful career as a college coach to the NFL.
The Lawrence and Meyer era officially begins when the Jaguars open at the Houston Texans on Sunday, September 12. If Deshaun Watson doesn't play for the Texans that day, perhaps the Jaguars can begin this newest chapter with a victory.
It is way too early to even start considering the Jaguars as a playoff team, even after the NFL expanded to seven teams per conference last season. But with Lawrence and Meyer in the mix, maybe the Jaguars can sneak to six or seven wins and become a fun watch in the process.
Like Sportscasting on Facebook. Follow us on Twitter @sportscasting19.
RELATED: Tim Tebow Wouldn't Be the 1st of Urban Meyer's Former Florida Quarterbacks to Play Tight End in the NFL