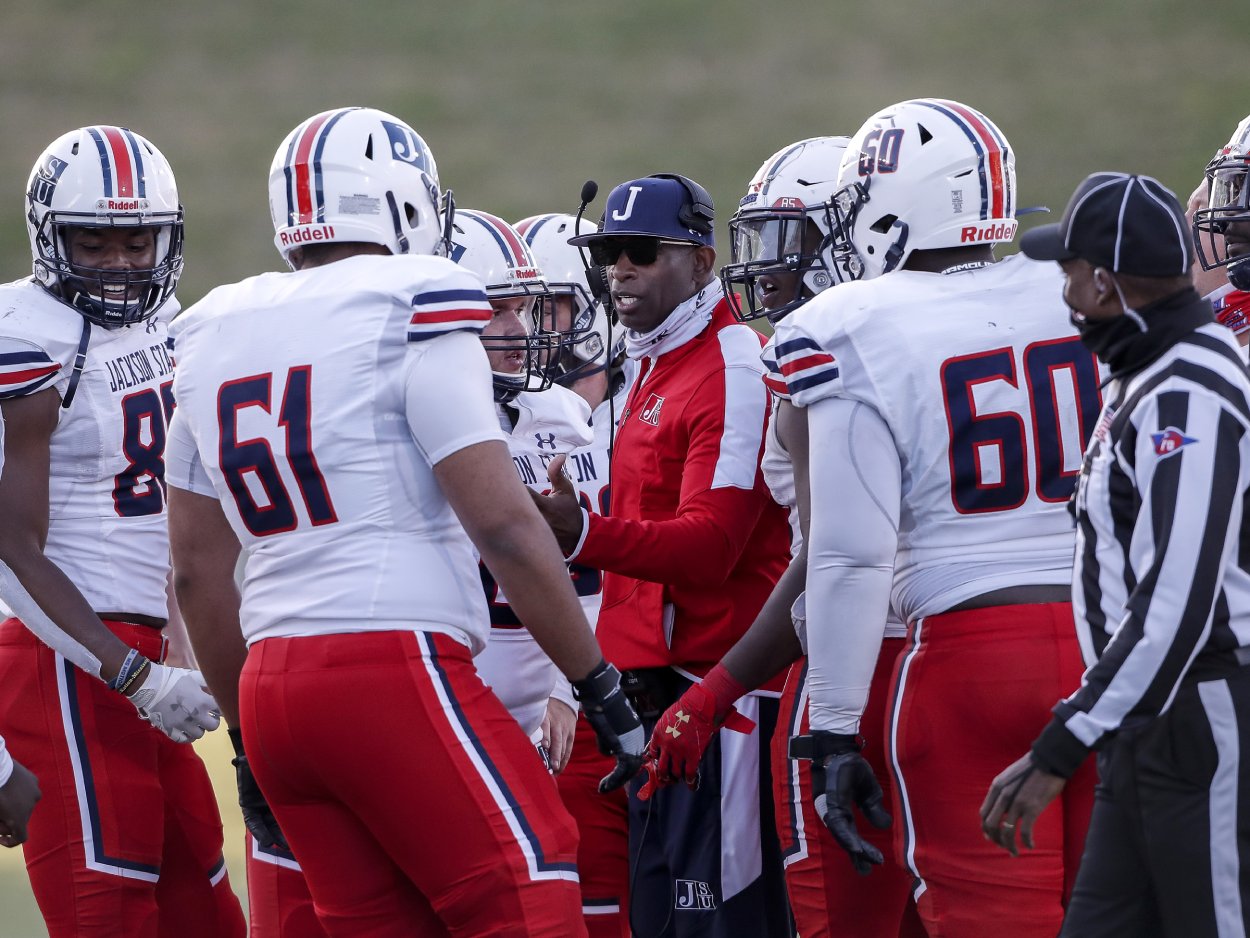 Deion Sanders' Son Is Hyping Himself up Even Before Showing What He Can Do on the Field
Jackson State quarterback Shedeur Sanders, Deion's son, is channeling his father's arrogance and boldness before even playing a down of college football.
Deion Sanders spent his professional football and baseball careers talking a big game. It's clear that an ability to dominate on the gridiron isn't the only trait his son, Shedeur, picked up from the Pro Football Hall of Fame defensive back.
Deion is now the head football coach at Jackson State, an FCS program that is now attracting marquee talent. Shedeur, who will compete for the team's starting quarterback job this summer, recently showed the boldness and arrogance that made his father one of the most beloved players in modern NFL history.
Shedeur Sanders is talking a big game before even playing his first game at Jackson State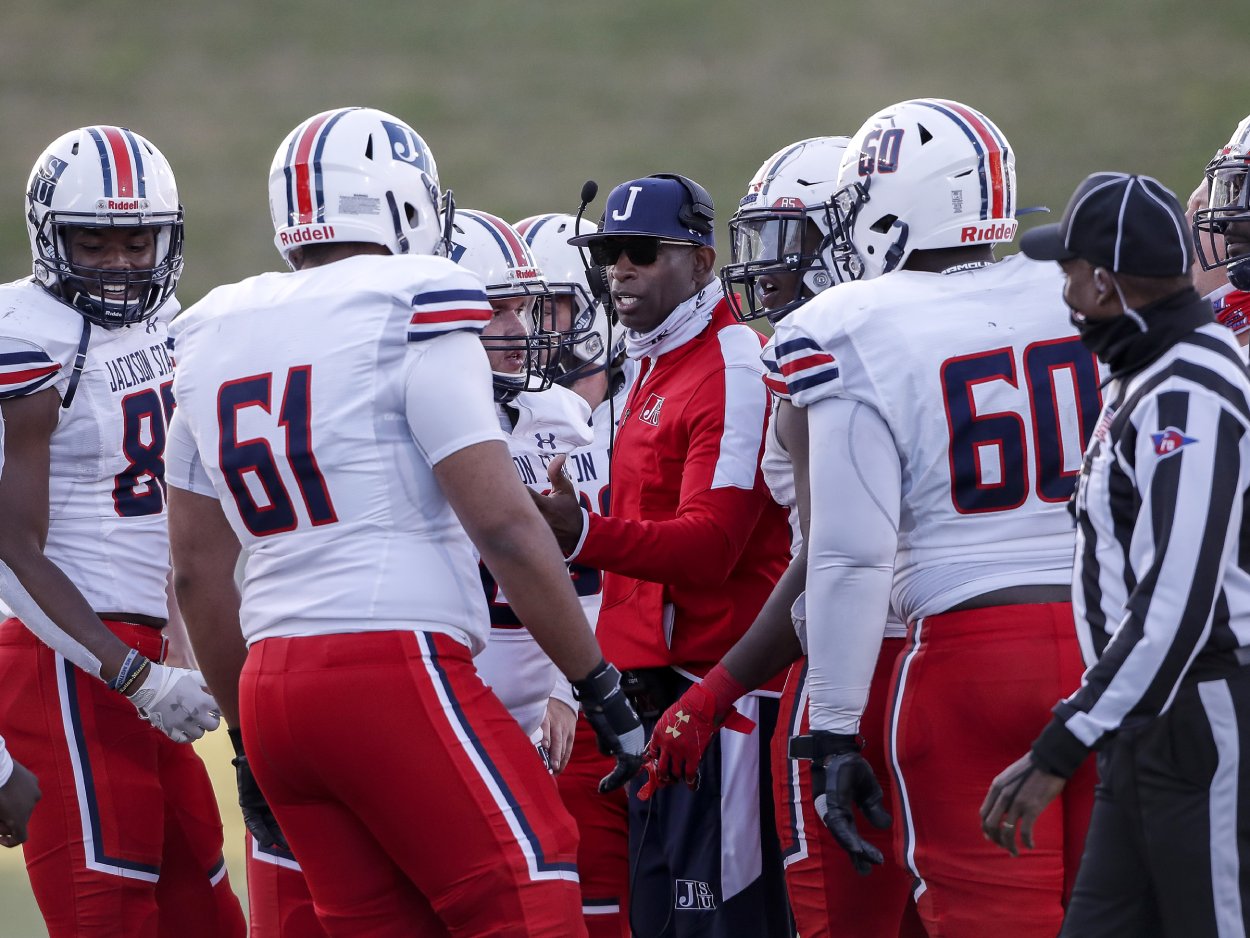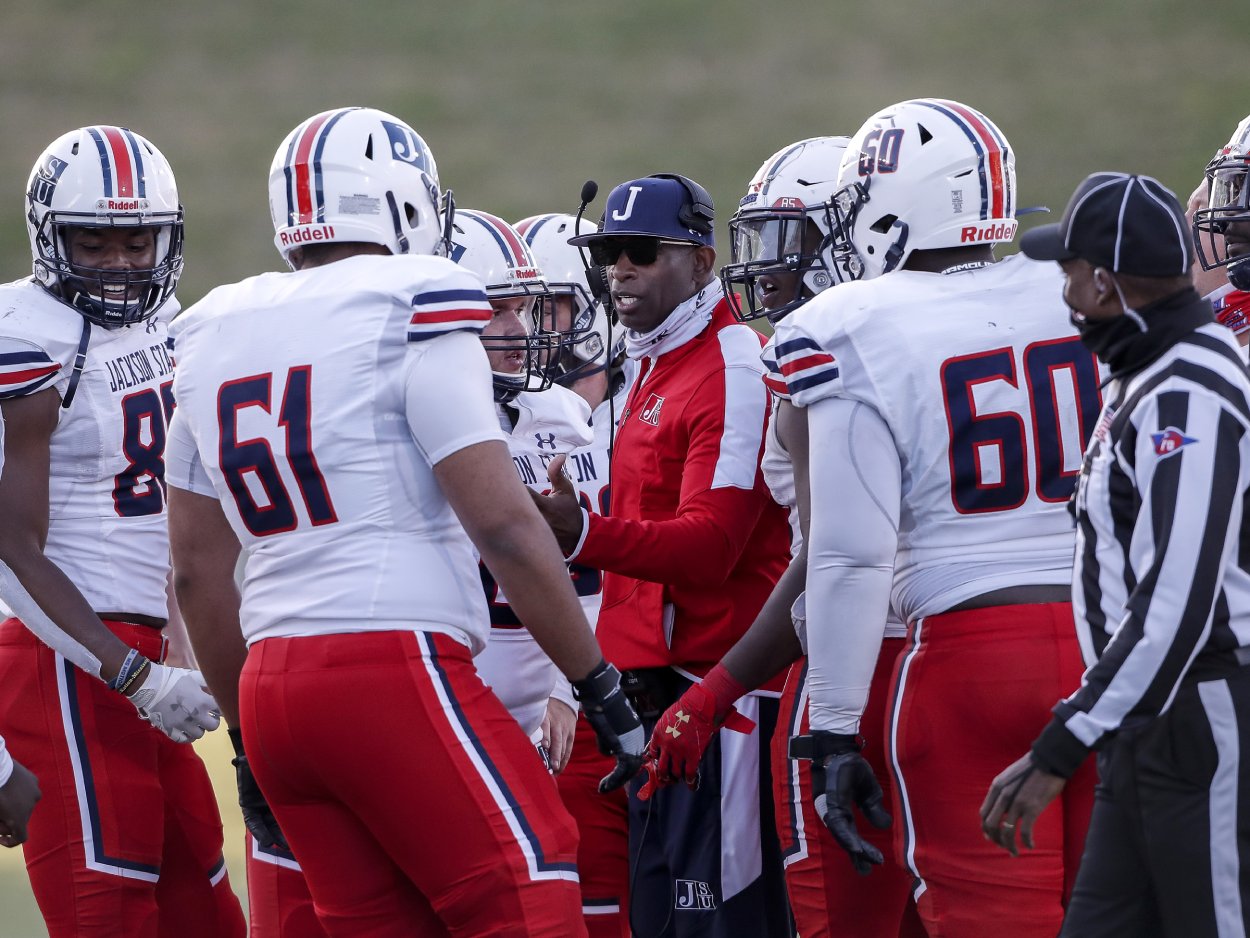 Deion and Shedeur Sanders are taking the SWAC by storm more with their words than their abilities, at least for now.
FootballScoop transcribed comments the younger Sanders recently made at the conference's media day. When discussing the Tigers' offense, Shedeur made it clear that the unit should have no issues scoring points at will when the season starts.
"You've got to understand we not … y'all don't really understand, like, it's players that have different caliber of talent that all came to JSU. So it's like when you compare us to a regular SWAC team, a different SWAC team, the best, like, you've got to understand we didn't come here because we had to. We came here because we chose to. It's a difference."

Shedeur Sanders
For context, many talented FBS players often transfer down to the FCS level or enroll at a community college because of issues at their previous school. The Netflix docu-series Last Chance U featured several players, such as former Florida State quarterback De'Andre Johnson, who transferred to a community college because of legal problems. Johnson was involved in an altercation in 2015, only months after he enrolled at FSU.
Shedeur, who signed with Jackson State out of high school, wants the world to know that players are choosing his father's school because they want to be there. In his eyes, who wouldn't want to play for Deion Sanders?
Sanders might want to take a step back and ease up on the trash talk
Talking boldly runs in the Sanders bloodline as much as athleticism and talent. Deion made a living off it as an active player and as a television analyst before he became Jackson State's head coach in 2020.
However, Shedeur may want to ease up on the trash talk. His father got away with it during his career because he was a proven All-Pro talent who eventually earned enshrinement in the Hall of Fame.
Conversely, Shedeur has yet to throw a pass at the college level. Although he enrolled in time for JSU's spring season earlier this year, NCAA rules prevented him from seeing the field during that time. He is eligible to play this fall as a true freshman.
Clearly, he's passionate about playing for his father and building something special at Jackson State. But he hasn't done anything in college yet beyond going to class and throwing passes in practice. A player with no stats to his name shouldn't, and can't, be so bold and expect to be taken seriously just yet.
Now, suppose he wins the starting quarterback role and impresses in the Tigers' opener against Florida A&M on September 5. In that case, his father may start publicly encouraging his son to keep talking and bringing the eyes to JSU.
The Sanders family is poised to make a statement at Jackson State this fall
The Sanders family has a chance to run Jackson State and turn them into one of the country's most exciting FCS programs.
Shedeur will compete for the starting quarterback job this fall. His brother, Shilo, is a sophomore defensive back who began his career at the University of South Carolina. JSU listed Shilo, a dual-threat player in high school who lined up at cornerback and receiver, as a safety on its online roster.
Although Jackson State went 4-3 this past spring, one of those wins came after Alcorn State needed to forfeit because of COVID-19 issues. JSU went 2-3 in SWAC play and needs more consistency, especially on defense, if they're to compete for a conference title this fall.
Shedeur sounds confident about what he and his teammates will do this season, and it's always great seeing a young quarterback try taking control and inspiring hope. However, he should hope for his sake that he didn't part the cart before the horse at SWAC Media Day.
Like Sportscasting on Facebook. Follow us on Twitter @sportscasting19.