Deion Sanders and His Sons Lived up to the Hype and Quietly Shocked the Football World This Fall
Article Highlights:
NFL legend Deion Sanders led Jackson State, an FCS program and HBCU, to its first SWAC title since 2007
Sanders' son, Shedeur, impressed at quarterback despite being a true freshman
The father-son duo have positioned themselves to make a lasting impact on college football
While most of the college football world spent this fall focused on Cincinnati's miraculous run to the College Football Playoff and the always-exciting coaching carousel, NFL legend Deion Sanders worked his magic at Jackson State University. 
If you're not familiar with Jackson State, it's an FCS program and HBCU (historically Black college and university) in Mississippi. What you need to know is Sanders, and his family, lived up to every promise they made en route to turning the Tigers into a championship contender.
Deion Sanders and his Jackson State team lived up to every expectation
In September 2020, Jackson State hired Sanders, who had never coached above the high school level, to try turning around a program that hadn't posted a winning season since capturing the Southwestern Athletic Conference East Division title in 2019.
Sanders, as he's always done, talked a big game and put a target on his back in the process. Still, his name and brand quickly brought numerous transfers, especially from the Power 5 level, to Jackson State. After the pandemic pushed the start of JSU's 2020 season to February 2021, the Tigers went 5-4 earlier this year.
Even with the unusual circumstances, that wasn't good enough for Sanders. With his son, Shedeur, taking over as the starting quarterback, the two-time Super Bowl champion led Jackson State to an 11-1 finish this season. JSU's only loss came in a 12-7 defeat against Louisiana-Monroe, an FBS program, in September.
Jackson State defeated Prairie View, 27-10, in the SWAC Championship Game on Saturday, Dec. 4, a victory that clinched JSU's first conference championship since 2007 and the first 11-win season in program history. In a testament to the roster and culture Sanders built, the Tigers continued winning even as their head coach missed several games while recuperating from complications after foot surgery.
When he spoke with ESPN after defeating Prarie View, the perennial All-Pro defensive back reflected on the Tigers' historic season.
"You can do anything you want to in this world if you just believe and stick to it. … I'm so elated right now. It's one thing to win, but to win with our people?"

Deion Sanders
JSU will face South Carolina State in the Celebration Bowl, the de facto HBCU national championship game, on Dec. 18.
Shedeur Sanders impressed all season as a true freshman quarterback
When Jackson State played its 2020 season in the early months of 2021, it created an intriguing eligibility clause. High school players who signed JSU, or any other team that played this past spring, were ineligible to play in games because it was still the 2020-21 academic year. However, those players could practice and work out with the team.
Enter Shedeur Sanders, Deion's son and, as of September 2021, the Tigers' starting quarterback. After watching from the sidelines last spring, the true freshman took over the reins this fall and thrived under his father's watch. Shedeur entered the Celebration Bowl having completed 67.9% of his passes for 3,056 yards, 29 touchdowns, and six interceptions. He also rushed for three touchdowns.
Despite his impressive numbers, Sanders is not a finalist for the Walter Payton Award, an honor given to the best offensive player at the FCS level.
The talented true freshman connected with Malachi Wideman, a Tennessee transfer, on a 16-yard touchdown in the SWAC title game. Another of Deion's sons, Shilo, started at safety and has 36 tackles, a sack, three interceptions, and forced two fumbles this season.
Sanders and his family have positioned themselves to make a lasting impact on college football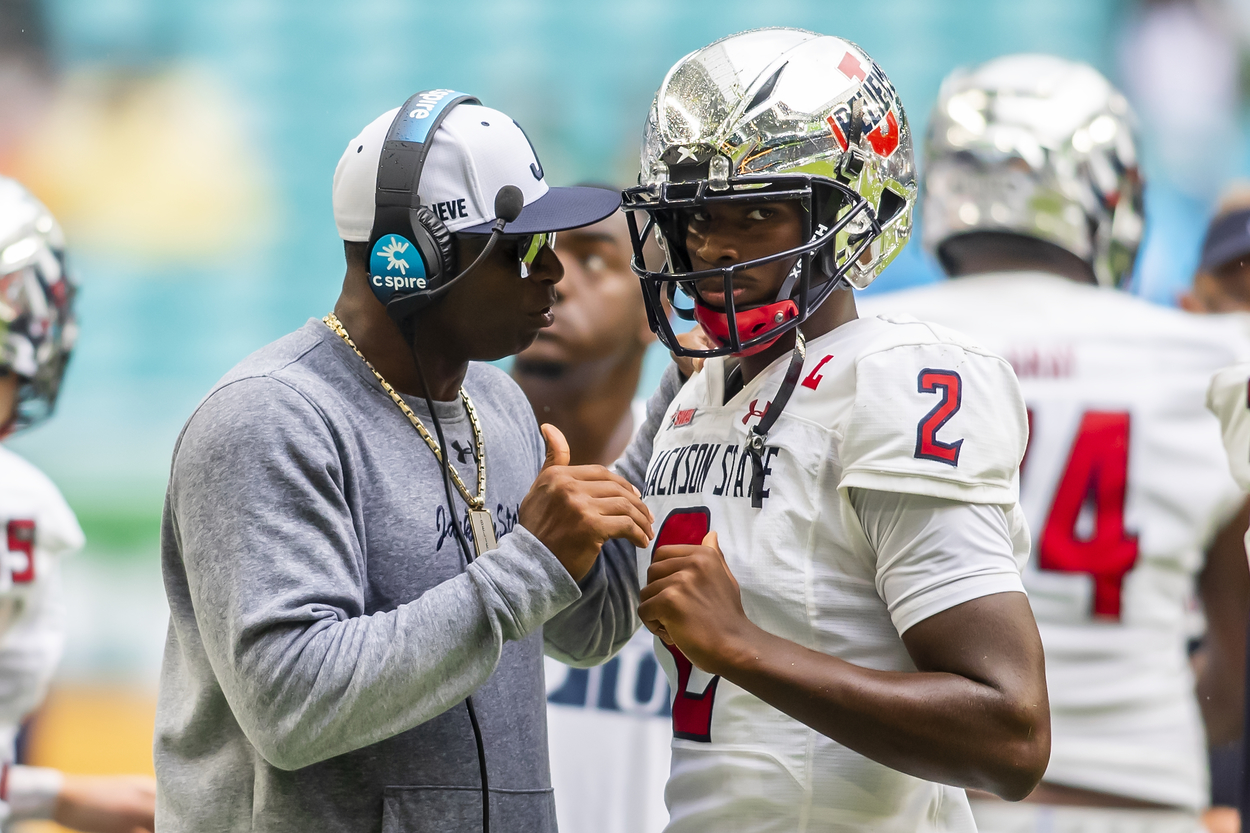 Barring any unexpected changes to the draft process, Sheuder is not eligible to enter the NFL draft until 2024. Although Deion was linked to the TCU head coaching vacancy, he remained JSU's head coach at publication. Both are expected to run it back in 2022.
The father-son duo has an excellent opportunity on their hands. Although JSU is not moving to Division I-A as part of the newest realignment, Deion Sanders has proven that he can talk the talk and walk the walk as a head coach. Meanwhile, Shedeur clearly doesn't fear the pressure of being a starting quarterback and the head coach's son.
A win on Dec. 18 will give the Tigers considerable momentum entering their first traditional offseason in the Sanders regime. As the Sanders family continues winning at JSU, more eyes will naturally turn to the SWAC and, by extension, HBCU football as a whole.
Sanders made it clear when he arrived at JSU he had high hopes about the program's future if they simply believed they could make incredible things happen. In hindsight, we never should have doubted Prime Time.
Like Sportscasting on Facebook. Follow us on Twitter @sportscasting19.