Deion Sanders Suggests That Julian Edelman Joins Tom Brady on the Buccaneers
Tom Brady is now a Tampa Bay Buccaneer. That's a weird thing to say, but it's true. This comes after Brady was with the New England Patriots for 20 seasons. While Brady has some weapons with the Buccaneers, former defensive back for the Dallas Cowboys and Atlanta Falcons, Deion Sanders thinks Patriot wide receiver Julian Edelman should join Brady.
Tom Brady and Julian Edelman found immense success together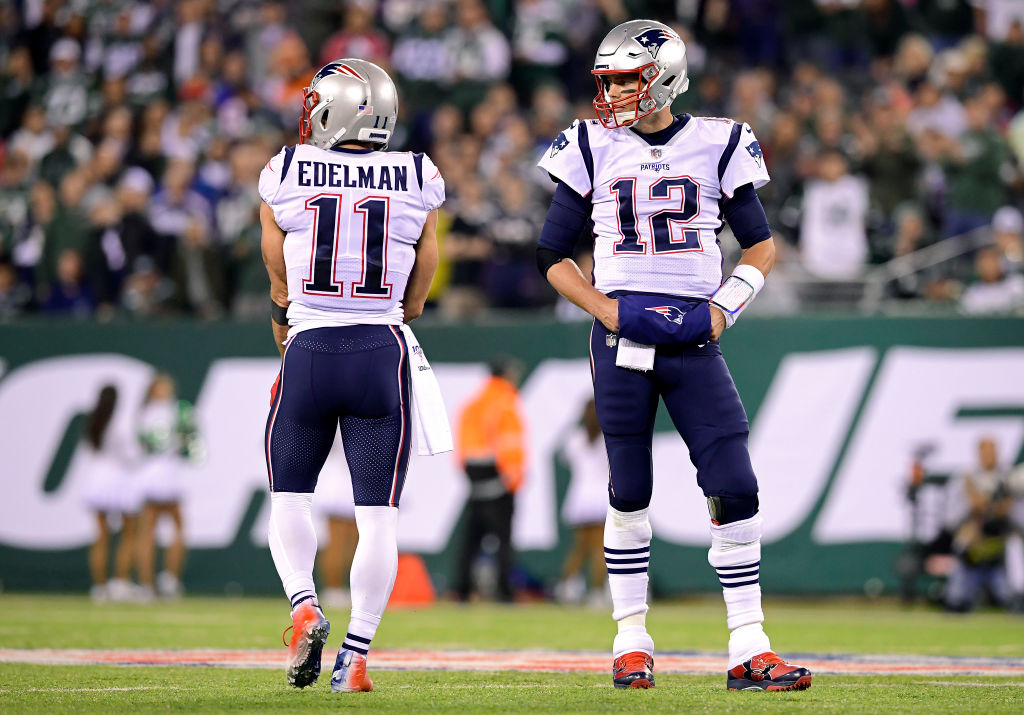 Tom Brady is the greatest quarterback of all-time. Winning six Super Bowls with the Patriots, Brady is also a 14-time Pro Bowl selection, a three-time first-team All-Pro selection, and a three-time NFL MVP. He also went to nine total Super Bowls and 13 AFC Championship Games.
In the last 10 of Tom Brady's 20 total seasons in New England, he played with wide receiver Julian Edelman. While Edelman started his career slow, only picking up 714 total receiving yards from 2009 through 2012, he has been Brady's go-to man since 2013. Edelman had 105 catches, 1,056 receiving yards, and six touchdowns in 2013. He has since not had under 850 receiving yards in a season other than the 2015 season when he only played in nine games.
Edelman had 100 catches for a career-high 1,117 receiving yards in 2019 to go with six touchdowns. Overall, he has caught 599 passes in his career for 6,507 receiving yards and 36 touchdowns. Edelman is a three-time Super Bowl champ and was the Super Bowl LII MVP as he caught 10 passes for 141 yards in a 13-3 win over the Los Angeles Rams.
Brady has weapons on the Buccaneers
A big reason Tom Brady probably went to the Tampa Bay Buccaneers is the fact that they already have weapons on their offense. The Buccaneers have three-time Pro Bowler Mike Evans who has had 1,000 or more receiving yards in each of his first six seasons. Last year, Evans had 67 catches, 1,157 yards, and eight touchdowns in 13 games.
They also have another talented young receiver in Chris Godwin. Tampa Bay selected him in the third round of the 2017 NFL draft and he has produced ever since. He only had 34 receptions for 525 yards his rookie year but stepped up big his second season. Godwin caught 59 passes for 842 yards and seven touchdowns in 2018. He then became a star in 2019. Godwin caught 86 passes for 1,333 yards and nine touchdowns last season, earning his first Pro Bowl selection.
This is one of the most talented receiving duos Brady has ever played with. 
Deion Sanders suggests that Edelman should join Brady
Deion Sanders is one of the most respected former players around. Sanders is in the Pro Football Hall of Fame as he was an eight-time Pro Bowl selection, a six-time first-team All-Pro selection, and a two-time Super Bowl champ. He also won the 1994 AP Defensive Player of the Year award. 
Sanders took to Twitter earlier this week and asked if Edelman could join Tom Brady on the Buccaneers. He said Brady without Edelman would be like Michael Jordan without Scottie Pippen. According to USA Today's For The Win, Edelman liked the tweet at one point. However, it no longer shows up under his likes on his profile.
Edelman's contract runs through the 2021 season, according to Spotrac. So, if Edelman wants to join Brady in Tampa Bay this season or next season, then the Patriots would probably have to trade him.
A trade could be hard to figure out, especially with Bill Belichick always looking to get the best possible asset out of the asset he is giving up. With the amount of success Edelman and Brady had together, though, it would not be surprising if Edelman requested a trade. However, for right now, the duo compared to Jordan and Pippen is broken up.