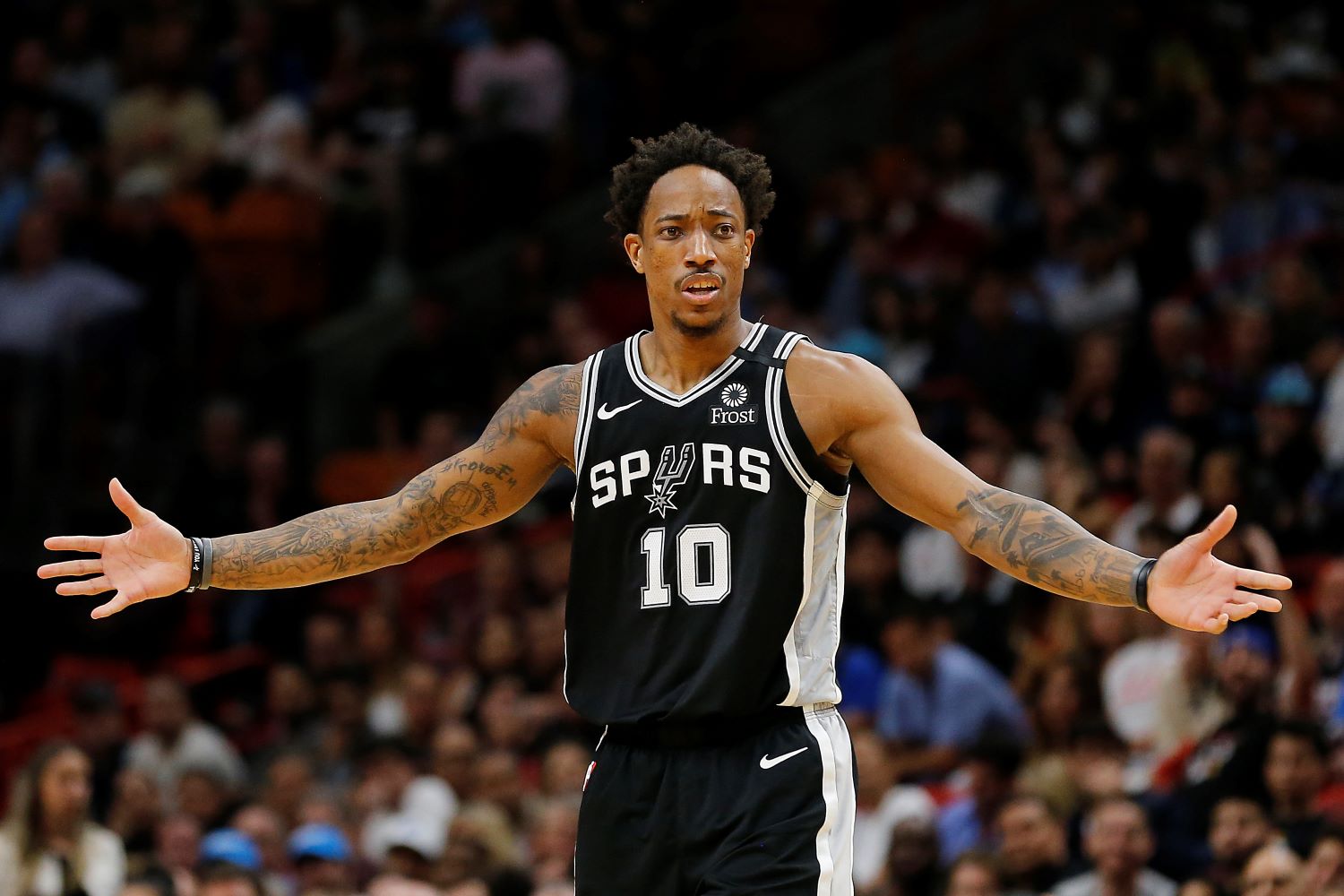 DeMar DeRozan and Kylie Jenner Are at the Center of a Bizarre Home Intruder Story
DeMar DeRozan chased off a home intruder who had his sights set on Kylie Jenner. Can he prevent the Spurs from missing the playoffs again?
DeMar DeRozan gets paid handsomely to knock down shots. But recently, the star forward for the San Antonio Spurs had to play some serious defense. In fact, the 31-year-old had to chase off a home intruder who had his sights set on Kylie Jenner.
But after preventing a potentially tragic situation from occurring in his own home, can DeRozan also prevent the Spurs from missing the playoffs for the second straight season?
DeMar DeRozan is known more for his offense than his defense
After growing up in Compton, DeMar DeRozan remained close to home by playing his college ball at the University of Southern California. The talented scorer then got selected ninth overall in the 2009 NBA draft by the Toronto Raptors.
Although it took him a few years to develop, DeRozan eventually became Toronto's most lethal offensive threat. The 6-foot-6, 220-pound wing earned his first NBA All-Star selection in his fifth year in the league after averaging 22.7 points in 79 games.
But after earning three straight All-Star selections and two All-NBA Team honors, DeRozan found himself on the move. After nine years with the organization, the Raptors traded him to the Spurs in order to acquire Kawhi Leonard in July 2018.
A change of scenery did little to change DeRozan's game. He continued to carry the scoring load. The veteran averaged 21.2 points in his first year in San Antonio.
Last season, he led the team in scoring and assists. And while nobody would describe DeRozan as an elite defender, his protection skills got put to the test recently inside his own home.
Spurs star chases off a home intruder who had his sights set on Kylie Jenner
DeMar DeRozan had a lot to be thankful for this Thanksgiving. After all, he and his family experienced quite a scary situation a week before the holiday.
On Saturday, TMZ Sports reported that a man broke into the NBA star's home on Nov. 19. The intruder went upstairs to a play area where "at least one of DeMar's kids was hanging out."
According to TMZ Sports, DeRozan heard the commotion, raced to the play area, and got "face-to-face" with the intruder before chasing him out of the house.
However, the story took a surprising turn once law enforcement got involved.
After fleeing the area, the intruder attempted to get back into DeRozan's gated community. However, security stopped him and called the police. TMZ Sports reported that the man told law enforcement that he was actually trying to get into Kylie Jenner's home.
San Antonio Express-News reporter Tom Orsborn reported via Twitter that DeRozan confirmed the story to be true during a Zoom interview on Saturday.
"Everything is good. I grew up in Compton, California," DeRozan said. "I've been through worse."
Can DeRozan prevent San Antonio from missing the playoffs again?
DeMar DeRozan recently prevented a potential disaster from happening off the court. Can he do the same thing on the court, too?
After 22 consecutive postseason berths, the Spurs had to watch the NBA playoffs from home in 2020. San Antonio posted a 32-39 record due in large part to a defense that has continued to decline without Leonard in the fold.
Opponents averaged 115.2 points per game against the Spurs in 2019-20. Two years prior, they boasted the No. 1 defense in the league.
Moving forward, it will be interesting to see if San Antonio can improve on that end of the floor. But given the state of their roster, it's tough to see the Spurs experiencing a significant turnaround this season.
LaMarcus Aldridge turned 35 in July and looks to be on the back end of his career. He could even get moved if San Antonio wants to give him a shot at competing for an NBA title.
Meanwhile, the backcourt duo of Dejounte Murray and Derrick White doesn't scare anyone. They combined to average just over 22 points per game last season. In a Western Conference loaded with star power, that won't cut it.
So unless DeMar DeRozan pulls off some sort of miracle, expect the Spurs to miss the playoffs again.
And if that happens, don't be surprised if San Antonio makes some major changes next offseason.
All statistics courtesy of Basketball-Reference.