DeMar DeRozan Has the Chicago Bulls Stampeding and Still Has Time to Throw Some Shade at Players Whining About the Refs
Few offseason acquisitions received as much scrutiny as the Chicago Bulls dropping $85 million to sign former All-Star DeMar DeRozan to a three-year contract. Chicago gave up locker room heavyweight Thaddeus Young and other parts in a sign-and-trade with the San Antonio Spurs for DeRozan, who seems like a massive bargain early on. The Bulls are off to their best start since the Michael Jordan era, and DeRozan is putting up 22.5 points, 5.8 rebounds, and 4.5 assists a night for the 4–0 club.
Chicago hasn't faced a gauntlet. Two wins over the hapless Detroit Pistons and victories over the struggling New Orleans Pelicans and rebuilding Toronto Raptors aren't cues to schedule a parade down Michigan Avenue. But after dire warnings of the potential for a bad fit between incumbent star Zach LaVine and newcomers DeRozan and Lonzo Ball, the Bulls are making it look seamless.
DeMar DeRozan isn't even shooting well yet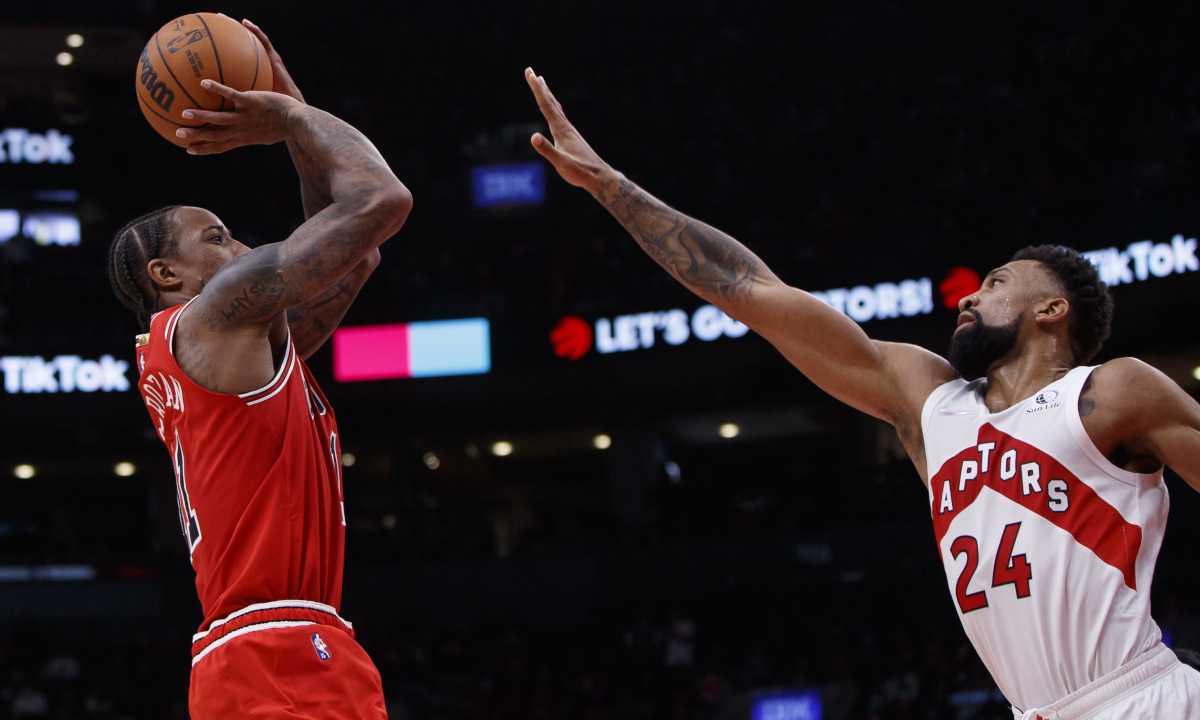 Now 32, DeMar DeRozan is mainly mimicking his last decade or more. He's scoring from mid-range, attacking the rim, and getting to the foul line.
The two-time All-NBA wing is playing as a small-ball 4 for the Chicago Bulls. While shooting only 41.9%, DeRozan has been the perfect yin to LaVine's yang. LaVine is putting up 25.5 points a night, shooting the lights out from deep, and getting as many shots as he wants.
The degree of difficulty for Chicago is about to increase dramatically. Beginning Oct. 28, the Bulls play seven straight games against playoff teams from 2021, including a home-and-home with the Philadelphia 76ers on Nov. 3 and 6. During that stretch, they also face the New York Knicks, Utah Jazz, Boston Celtics, Brooklyn Nets, and Dallas Mavericks.
DeRozan is something of an anachronism in the modern NBA. He's an old-school mid-range scorer who has averaged more than two 3-point attempts per game just twice in his career. But aside from his rookie year with the Raptors, he's also averaged no less than 16.7 points per game.
More significantly, DeRozan doesn't seem to be struggling to get to the foul line.
The Chicago Bulls are getting 7.5 free-throw attempts a game from DeMar DeRozan
The NBA is cracking down on what it terms unnatural shooting motions. Players jumping, leaning, and flopping into nearby defenders reached epidemic levels, with James Harden and Trae Young most often identified as the worst offenders.
Much has been made of Harden's struggles to get free throws this season. After averaging 10.2 attempts per game from 2012–21, Harden has taken 12 foul shots in four games this season. He's also shooting only 36.4 percent overall, 32.3% from 3-point range, and appears to have the officials living rent-free inside his skull.
But in his first season with the Chicago Bulls, DeMar DeRozan is doing what he's always done. Last season with the Spurs, DeRozan shot 7.2 free throws per game. Through four games in 2021–22, that average is 7.5. A reporter asked why DeRozan didn't see a change in his foul-line activity. His answer was both amusing and biting, per NBC Sports Chicago:
"I don't know … I don't flop."

DeMar DeRozan
He said he was encouraged to flop by a former coach but continued to play his game.
"You know what's crazy? When I was in San Antonio, (coach Gregg Popovich) pulled me to the side one year, and he told me I need to start flopping or try to flop," DeRozan said. "Because I wasn't getting calls that I should get 'cause I absorb so much of the contact. I don't know, I just … I should play football."
Without naming Harden or any other NBA player, DeRozan breathed fire with that remark.
Can the Chicago Bulls get back to the postseason in 2022?
The Chicago Bulls haven't been to the playoff since 2017. They haven't won a series since 2015, and their last NBA Finals appearance was in 1998, Jordan's final season in red-and-black.
Last season, Chicago missed the play-in tournament by two games, finishing 31–41 in their first season under coach Billy Donovan.
Defense is the Bulls' calling card thus far. They are allowing 97.7 points per 100 possessions, the fourth-best in the NBA. That's an unexpected development for a team playing DeMar DeRozan, Nikola Vučević, and LaVine, a trio not known for suffocating defense.
Critics raised many questions about whether the Chicago Bulls had made the right moves last summer. The early returns indicate Donovan and his improved squad might get the last laugh.
Statistics courtesy of Basketball Reference. Contract information courtesy of Spotrac.
RELATED: A Maligned $85 Million Acquisition Has Ignited the Undefeated Chicago Bulls During Their Best Start in 25 Years