DeMar DeRozan Contract: Bulls Star Proving Chicago Won Free Agency
After DeMar DeRozan chose to sign a three-year, $82 million deal with the Chicago Bulls as part of a three-team trade, questions quickly raised whether that was his best situation to compete for an NBA title. The star guard agreed to join a young roster that had yet to become a playoff contender.
He placed his confidence in the franchise to construct a roster that could take that next step, and so far that has proven to be the case. Beyond that, Chicago's faith in DeRozan has resulted in him already outplaying his contract.
DeMar DeRozan is a perfect fit for the Bulls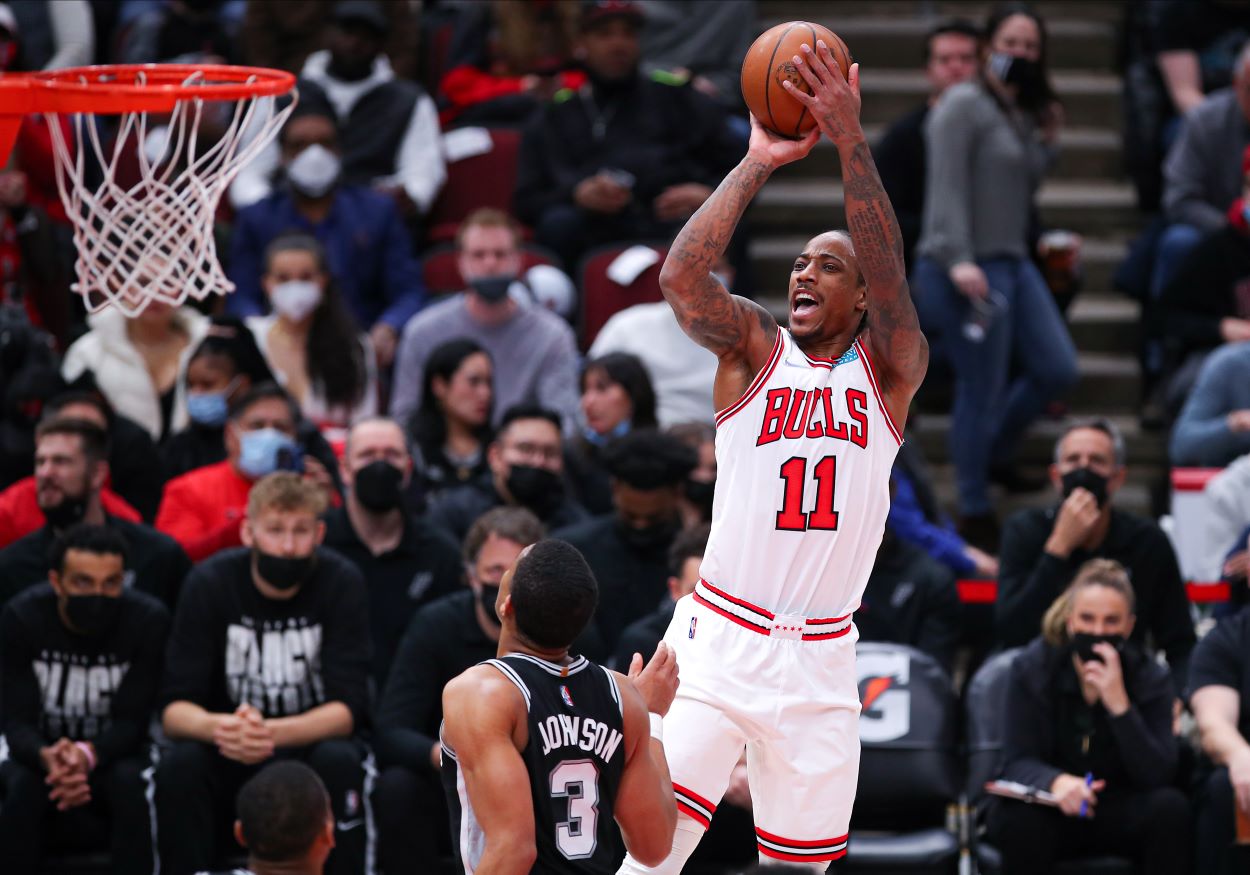 DeRozan didn't take long to find his place in Chicago, becoming a go-to scorer alongside Zach LaVine.
His stellar play earned him his fifth All-Star selection, while the Bulls' sustained success has pushed him into the MVP conversation even though Shaquille O'Neal doesn't believe he belongs there. His ejection in Sunday's loss to the Memphis Grizzlies snapped his NBA record streak of eight straight contests scoring at least 35 points and shooting 50% from the floor.
He ranks fourth in the league averaging a career-best 28.3 points on 51.7% shooting from the field and a career-high 36.5% from beyond the arc. The 32-year-old has truly excelled as a lethal late-game factor, repeatedly proving that he can provide crucial baskets in crunch time.
He showcased that on last Thursday night's win over the Atlanta Hawks, scoring 12 points in the fourth quarter, capped by five points in the final minute of regulation.
"When you're in those moments you gotta take it on," DeRozan said via Jamal Collier of ESPN. "I love the moments. I love the challenge. I love [the] opportunity. It's fun to me."
His seamless transition has not only transformed the Bulls into a powerhouse but proven that he's more than worth his contract.
DeMar DeRozan contract has proven to be a great investment for the Chicago Bulls
Last summer, DeRozan had several options in free agency, choosing to join an unproven team led by young talent.
He's found the ideal spot to excel in a prominent role while filling the void as a leader. Those factors alone have allowed him to excel at the highest level offensively.
DeRozan may only be in his contact's first year, but he's significantly impacted the culture on and off the court. The Bulls have become a team that can attract other players to help push the franchise to NBA title contention.
"He has come here for the right reasons,' Assistant coach Chris Fleming via NBC Sports Chicago. He really wants to be part of a winner. He's a winning player. He has been on good teams before. I think the way he goes about talking to his teammates and treating his teammates and treating and talking to his coaches, I think that of all the other things you see on the basketball court and his ability to put that thing in the basket, I think it starts there with him."
Chicago plays a well-rounded game offensively while being one of the league's better defensive teams. They possess pieces to be in the championship picture for the foreseeable future, especially if Zach LaVine inks an extension.
DeRozan play and presence have been pivotal to changing the landscape in Chicago.
Lakers look foolish for passing on DeMar DeRozan
What's not lost in all this is how foolish the Los Angeles Lakers look by passing on DeRozan.
Before free agency began last summer, he suggested to former NFL star Shannon Sharpe on the Club Shay Shay podcast he wanted to play for his childhood team. However, Los Angeles instead chose to trade for Russell Westbrook.
The Lakers didn't want to present DeRozan a third year in a contract offer. He poured more salt in the wound last month, stating to Bleacher Report's Taylor Rooks that he would have taken a pay cut to play for his hometown team.
"It was an option," DeRozan said. "Have the opportunity to play with one of the greatest players of all time, why not? It's hard to turn that down. Then wanting to compete for a championship in your hometown – all those elements just had lined up to allow me to consider a realistic pay cut."
Now the Lakers sit stuck with Westbrook's massive remaining contract with no clear path toward a resolution. More than anything else, DeRozan's success in Chicago is a constant reminder of the enormous mistake Los Angeles made.
Contract figures courtesy of Spotrac.
Like Sportscasting on Facebook. Follow us on Twitter @sportscasting19.
RELATED: DeMar DeRozan's Mother Provides Proof that Happiness Can Lead to NBA Success