DeMar DeRozan Declines Spotlight and Praises Absent Lonzo Ball as Part of Bulls' Championship-Level 'Big 4'
Chicago Bulls forward DeMar DeRozan keeps erasing doubts of his ability to elevate his team to the first tier of NBA title contenders. He's evoked a former Bulls legend in becoming one of the best midrange scorers and late-game closers in the league this season. However, his recent comments speak more to his humility and chemistry with his teammates.
On Monday, DeRozan scored 35 points with 10 assists in a win over the Atlanta Hawks. Rather than speak on his performance, though, the four-time All-Star talked about the totality of Chicago's core and praised absent point guard Lonzo Ball.
Lonzo Ball is in health and safety protocols
DeMar DeRozan can relate to Lonzo Ball's current plight.
Like practically the entirety of the Bulls roster, DeRozan spent time in the league's health and safety protocols. Ball now finds himself in the same predicament, just days after saying he typically just plays basketball and spends time at home.
Chicago could have shown signs of inefficiency without its starting point guard. But Ball's teammates had his back on Monday against the Hawks.
DeRozan went 14-of-20 from the field and posted his fourth-highest Game Score of the season. Zach LaVine scored 30 points once again in his second game back from health and safety protocols. Meanwhile, Nikola Vucevic had 24 points, 17 rebounds, six assists, and four blocks in arguably his best all-around performance of the season.
The Bulls' All-Star-caliber names carried the offensive load and will largely define the team's success come April and May. Only, DeRozan made sure to remind everyone how integral Ball is to the winning process.
DeMar DeRozan feels Lonzo Ball gives the Bulls a true 'Big 4'
Chicago's marquee names had the Bulls running all over Atlanta on Monday. But DeRozan feels the squad is all the more complete with Ball in the rotation.
DeRozan responded in the affirmative when asked if the win over the Hawks showcased the total upside of the Bulls' star trio. But he made sure (h/t 670 The Score) to give Ball his flowers.
"It's crazy. Because we're still missing another key part, a couple key parts to our team. But the other starter, when it comes to Lonzo, what he brings defensively and offensively to this team, you almost got to stack it up almost as a Big 4 coming out there."

–DeMar DeRozan
Unlike DeRozan, LaVine, and Vucevic, Ball has never made an All-Star team. But he deserves just as much credit for Chicago's turnaround.
Through 29 games, Ball is averaging 13.2 points, 5.4 rebounds, and 5.0 assists. He is shooting close to 42% from beyond the arc while averaging a career-high 1.8 steals and 1.0 blocks per contest. The 24-year-old ranks second on the team in defensive box plus-minus and third in total box plus-minus.
Ball seems to be flying somewhat under the radar, despite his clear two-way value. The Bulls' own social media team failed to give him a shoutout when All-Star voting opened, despite sending out tweets for the other three stars.
Nevertheless, DeRozan understands just how the Los Angeles Lakers castoff means to the franchise. Ball's fit alongside his Bulls teammate makes him a vital piece to the championship puzzle.
DeRozan and Ball feed off one another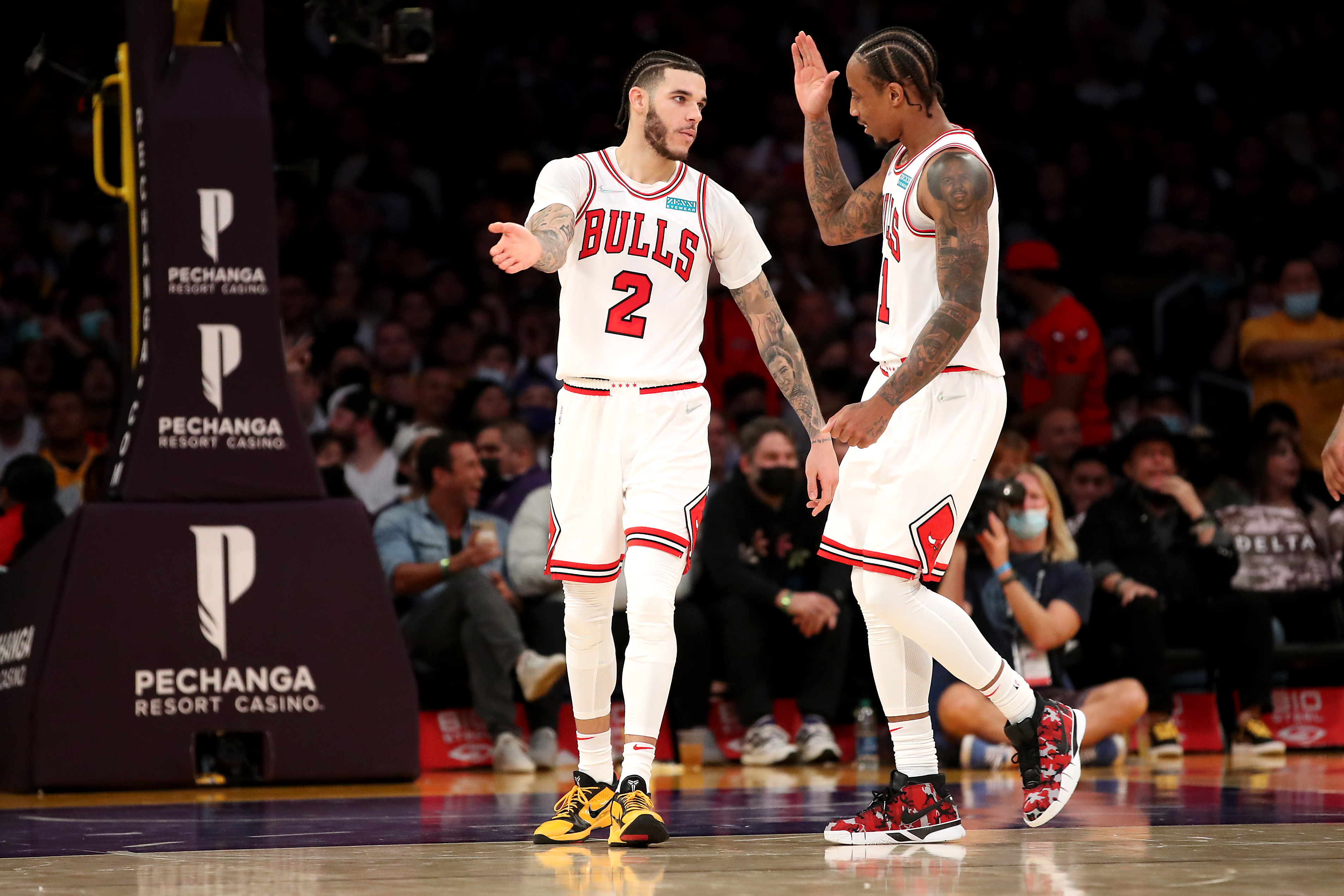 In many ways, DeRozan and Ball are the perfect complementary players.
Ball's improvements from beyond the arc make him a perfect catch-and-shoot threat. That's ideal for DeRozan, who gets to his spot in the midrange and creates for himself and others by slashing to the rim.
Additionally, Ball's pace and vision make things easier for Chicago's wing players in transition. He can throw outlet passes and start breaks, leading to easy buckets on the other end. That's reflected in the fact that the Bulls score 1.40 points per possession with LaVine — who came out of health and safety protocols looking even stronger — in transition, according to NBA.com. They score 1.24 points per possession with DeRozan in transition.
There's a lot of basketball left in the 2021-22 season. Still, the Bulls showed their upside when all three stars are clicking, with Ball making Chicago that much better on both ends of the floor.
Stats courtesy of Basketball Reference unless otherwise noted.