DeMar DeRozan Revealed a Hilarious Example of Gregg Popovich's Unorthodox Coaching Methods
The GOAT debate for NBA head coaches is a fun one. If you look at rings alone, Phil Jackson has everyone beat. If you want long, sustained excellence, look at Red Auerbach. But if you want all of the above, Gregg Popovich might be the guy.
Pop made NBA history this week by becoming the NBA's all-time leader in coaching wins. The San Antonio Spurs boss now has 1,336 regular-season victories, a record previously held by Don Nelson.
Ask any player who has played for Pop and they'll give you a million reasons why he's one of the game's all-time best coaches. One of those reasons is his willingness to go against conventional wisdom and do things differently. Just ask DeMar DeRozan, a former Spurs star who shared an unorthodox way the future Hall of Famer aimed to reach his team.
Gregg Popovich is the NBA's all-time leader in wins
The Spurs have very little to play for as a whole, currently sitting at a 26-42 record. But Friday was certainly an exception given Pop's place on the all-time wins list.
San Antonio was down by as many as 15 points in the fourth quarter before storming back to win 104-102 against the Utah Jazz. Popovich was immediately mobbed by his players after the game before retreating to the locker room to continue the celebration.
Popovich now possesses a record of 1,336-695, good for a .658 winning percentage. Along with possessing more regular-season wins than any other coach, the 73-year-old's winning percentage is eighth among all coaches with at least a year of experience.
"It's just a testament to a whole lot of people," Popovich said via ESPN after Friday's record-breaking victory. "Something like this does not belong to one individual. Basketball's a team sport. You preach to your players that they have to do it together and that's certainly been the case in my life with all the wonderful players and coaches, the staff that I've been blessed with, the support of this wonderful city. The fans support us no matter what."
Pop has been San Antonio's head coach since 1996-97, an unprecedented 26-year run with a single team. He is the fourth coach to hold the record for most regular-season victories, joining Auerbach, Lenny Wilkins, and Nelson.
DeMar DeRozan shared a great example of Popovich's unique teaching ability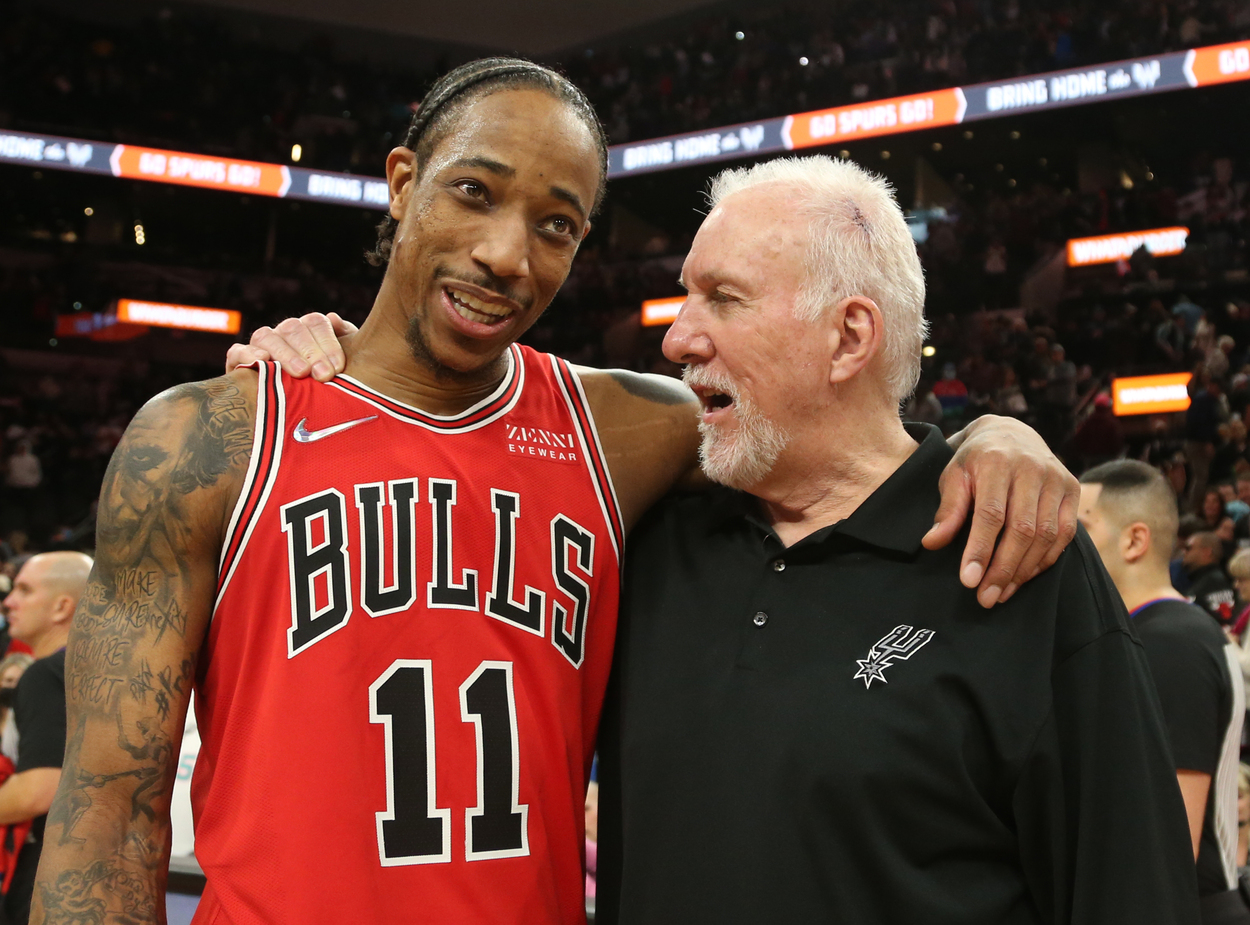 You don't win over 1,300 games in the NBA by not understanding the X's and O's of the game. But you also can't win without finding a way to relay information to your players in a way that sticks.
Before playing at an MVP level for the Chicago Bulls this season, DeRozan spent the previous three campaigns under Pop in San Antonio. In an ESPN story about the legendary coach, the 32-year-old told a story about a time Popovich taught a lesson about teamwork … without showing anything related to basketball at all.
"I remember Pop made us watch a penguin National Geographic movie. It was very interesting. It was basically learning about teamwork. How to come together as one and go after a common goal, whatever that goal was. I thought it was going to be a day where we watch film. But we watched a full penguin movie — and it was the most interesting s***.

How they migrate. How the males watch the eggs while the female goes out for X amount of months to go collect food. How they walk 60 miles to the water and 60 miles back while the males watch — it was the most craziest s***. But everybody basically playing their role. But to look at it from the perspective of penguins, that's some Pop s***."

DeMar DeRozan
It's not totally uncommon to go against the grain. The "Zen Master" Jackson would use Buddhist teachings in order to get through to players. However, only Popovich can show a penguin documentary and be taken seriously.
Gregg Popovich is a top-three coach in NBA history
At 73 years old, Pop's coaching window is coming to a close. Just before the start of the season, Jake Fischer of Bleacher Report wrote there was a "growing belief" that this year would be Popovich's last hurrah.
If that's the case, the all-time wins leader will sit pretty high up on the greatest coaches list.
With five rings, Popovich is in a three-way tie with Pat Riley and John Kundla for the third-most amongst all NBA coaches. Yet the Spurs boss boasts a higher winning percentage than both.
Realistically, Pop's main competition is Jackson and Auerbach. Both beat him in the rings and winning percentage argument, although Pop's longevity is incredibly impressive. Regardless, it's hard to make an argument for another coach making that top three.
If this is the end for Popovich, hopefully his current Spurs can enjoy one more penguin video before a new coach takes his seat.
All statistics courtesy of Basketball Reference.
RELATED: Gregg Popovich Has an Incredibly Expensive Secret to NBA Success