DeMar DeRozan Keeps Making NBA Executives and Scouts Look Utterly Foolish With Latest Act of Heroism for the Bulls
The Chicago Bulls boast a 6-1 mark to start the 2021-22 season, thanks in part to a guy whom league insiders felt received too much money this past summer. DeMar DeRozan scored 30-plus points in each of the team's last two games, including 37 in a gripping comeback win over the Boston Celtics on Monday night. His strong early play erases any doubt about his impact, despite NBA executives labeling him the worst signing of the offseason.
NBA executives and scouts voted the Bulls signing DeMar DeRozan as the worst move of the 2021 offseason
The Chicago Bulls grew aggressive this summer in an effort to build a contender and get back to the playoffs for the first time since 2016.
Chicago orchestrated a sign-and-trade to land Lonzo Ball from the New Orleans Pelicans and signed former Los Angeles Lakers guard Alex Caruso in free agency. However, the biggest splash came when the Bulls made another sign-and-trade to bring DeMar DeRozan to the Windy City on a three-year deal worth close to $82 million.
DeRozan appeared to give the Bulls another wing scorer alongside Zach LaVine. He also established himself as a viable playmaker during his three seasons with the San Antonio Spurs, averaging a career-high 6.9 assists during the 2020-21 campaign. Additionally, his ability to get to the charity stripe figured to have an immediate impact for a Chicago team that ranked last in the NBA in free-throw attempts last season.
Still, NBA insiders questioned the move.
An ESPN poll of league scouts and executives listed the DeRozan signing as the worst single move of the offseason. Most appeared to view DeRozan's contract as a sticking point. A Western Conference scout added that Chicago's willingness to part with a first-round pick also played a role in the selection.
It's easy to look at DeRozan's game in a blender. He's a midrange scorer in an era that places a premium on perimeter shooting. Is a 32-year-old with limited three-point range worth over $27 million per year in addition to a first-round pick?
So far, DeRozan is proving he's worth all that and then some.
DeRozan is Chicago's best offensive players thus far
DeMar DeRozan's shot creation and strength in the midrange have been precisely what the Bulls need early in the new season.
DeRozan brings a new element to Chicago's offense. Zach LaVine no longer has to create everything either off the dribble or pulling up off screens. Instead, the Bulls can go to DeRozan in late-clock situations with the knowledge he can get to the bucket or create separation for a jumper.
The four-time All-Star looks right at home with his new team. DeRozan is averaging 25.6 points on 49.3% shooting from the field. His insistence on getting to the free-throw line is rubbing off on his teammates, as the Bulls rank ninth in that category through seven games. Most notably, DeRozan is 7-of-17 from beyond the arc.
Those numbers are impressive, but they do not tell the whole story. DeRozan impacts winning. He scored a game-high 32 points in a win over the Utah Jazz on Oct. 30 before scoring 37 points (including 10 in the fourth quarter) to guide the Bulls to a stunning comeback win in Beantown on Monday.
It looks as though the all-knowing — said with tongue in cheek — executives scouts had this one wrong.
The Bulls look like they could be for real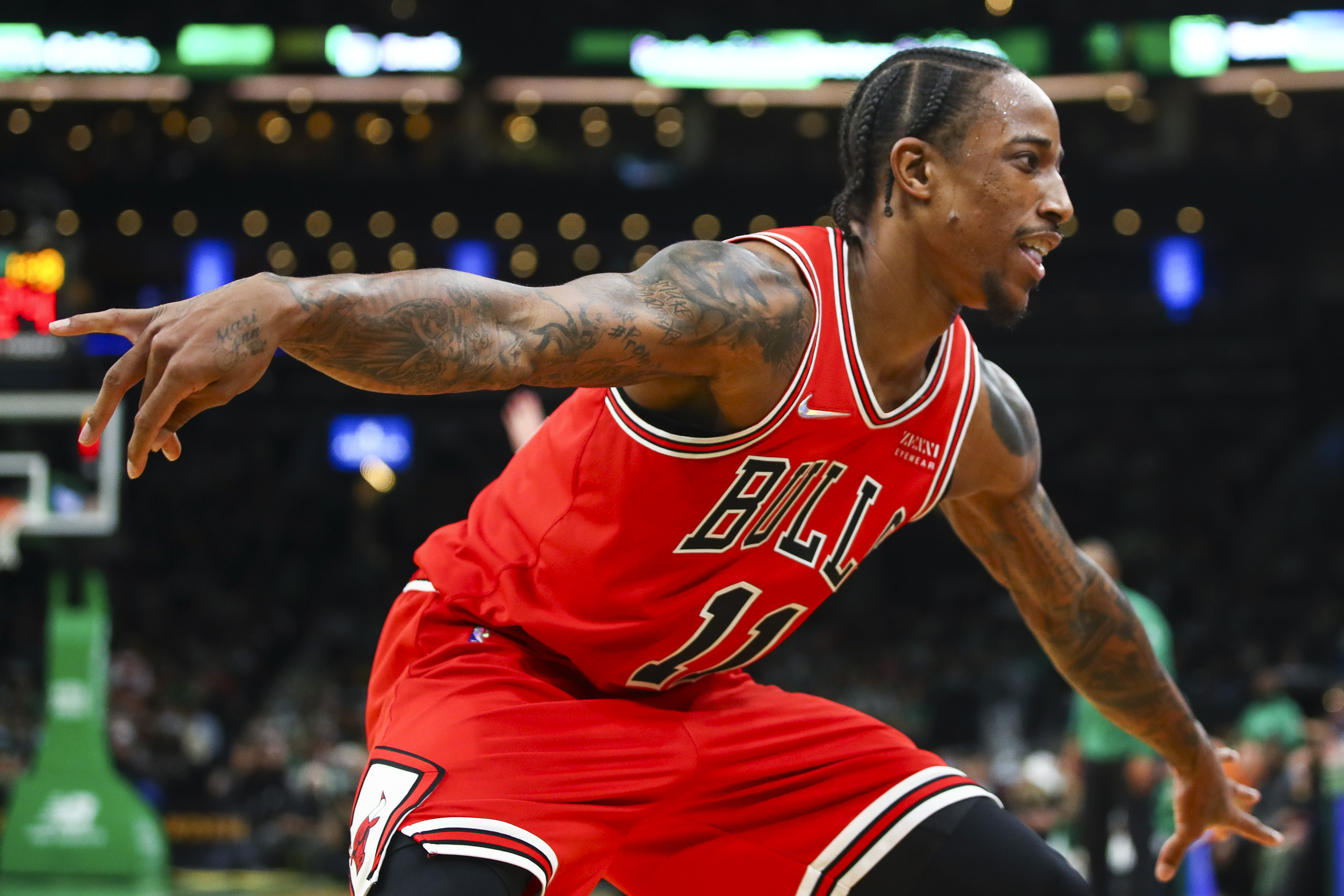 Chicago sent a message with a marquee win over the Jazz, and the Bulls' shocking victory over the Celtics on Monday only seemed to emphasize that they are a playoff-caliber team.
DeRozan gives the Bulls a premium scoring and playmaking option to complement LaVine. Nikola Vucevic's scoring efficiency leaves much to be desired, but he is doing an excellent job of spotting the open man out of the post and making plays for his teammates. Meanwhile, Lonzo Ball is shooting well from the perimeter, and LaVine is still averaging over 25 points even though his shooting numbers have experienced some regression.
The defensive numbers might be slightly deceptive. Chicago ranks fifth in defensive rating, and Caruso's instincts and communication skills help team defense tremendously. But the Bulls can be sieve-like defending pick-and-roll, with opponents especially targeting Vucevic early on.
Still, there's no doubt that Chicago is capable of making a playoff push. DeRozan's early-season stampede highlights the running of the Bulls as he continues to prove doubters wrong.
Stats courtesy of Basketball Reference. Contract information courtesy of Spotrac.
RELATED: Alex Caruso Is Already Remedying the Chicago Bulls' Biggest Weakness