DeMar DeRozan Carries a Massive Burden for the Depleted Bulls, but Denies Chicago's Need for a Trade
DeMar DeRozan has to work overtime for the Chicago Bulls, who are struggling to stay at the top of the Eastern Conference. But while injuries and extra minutes have created some bumps in the road for DeRozan and the Bulls, he does not believe Chicago needs to make an impact move before the Feb. 10 NBA trade deadline.
With Lonzo Ball and Alex Caruso both sidelined, the Bulls' team defense has looked more like a sieve, even against struggling clubs like the Portland Trail Blazers. Additionally, Zach LaVine's durability issues force DeRozan to bear extra offensive burdens on his shoulders.
Despite all of these factors, however, DeRozan refuses to panic. He sent a not-so-subtle subtle message expressing as much as the Bulls explore various avenues ahead of Thursday's deadline.
DeMar DeRozan has averaged over 41 minutes in his last three games
DeRozan's minutes average (35.4) is the highest it's been since the 2016-17 campaign. He's taken on a hefty burden as of late.
DeRozan played over 44 minutes in an overtime loss to the Toronto Raptors on Feb. 3, then logged over 38 minutes the following night against the Indiana Pacers.
One might have assumed head coach Billy Donovan would attempt to keep the veteran swingman's minutes down slightly for a Feb. 6 matchup with the Philadelphia 76ers. But with LaVine missing a second consecutive game and Coby White also out, DeRozan again assumed the brunt of the offensive responsibilities.
The 32-year-old played 41 minutes, scoring 45 points on 18-of-30 shooting while grabbing nine rebounds and dishing out seven assists. That performance came in vain, though, as Joel Embiid and the Sixers overwhelmed the Bulls with scorching-hot shooting.
DeRozan having such an efficient and prolific game isn't unexpected. He's been one of the best midrange and isolation scorers all season. Plus, Chicago's issues stem from defensive lapses more than offensive woes, though LaVine's absence places more emphasis on DeRozan to score and play-make.
Regardless, all the injuries necessitate DeRozan exerting that much more energy on both ends. The Bulls would likely prefer he not gas out before the playoffs. Thus, they could trade for another capable wing player before the NBA trade deadline to alleviate some of the stress on DDR's shoulders.
However, the Compton native appears comfortable staying the current course. He has faith in a fully-healthy Bulls squad.
DeRozan points to returning players rather when asked about Chicago's NBA trade deadline plans
The Bulls will likely try to make some kind of roster upgrade prior to Thursday's NBA trade deadline. But DeMar DeRozan vehemently denied Chicago's purported need to make an impact move to cement its contender status.
DeRozan stated (h/t NBC Sports Chicago) that much of the Bulls' success stems from the chemistry developed throughout the season. He feels the eventual returns of Ball, Caruso, and second-year forward Patrick Williams will make all the difference.
"We haven't had those guys. And we have them, and they'll be back. We don't need to worry or stress about having nobody else. Those three right there, I guarantee every team in this NBA wish they had those three guys. We're going to get those back and we'll be fine."

–DeMar DeRozan, via NBC Sports Chicago
Ball had arthroscopic knee surgery to repair a partially torn meniscus and could still miss the next several weeks. The same can be said for Caruso, who suffered a fractured wrist after a highly-scrutinized foul by Milwaukee Bucks guard Grayson Allen.
Williams is a bit of a wild card. The No. 4 overall pick in the 2020 NBA Draft underwent surgery after tearing ligaments in his left wrist in October. Still, Donovan said Sunday that it's possible the 20-year-old could return to the end of the rotation. His athleticism and defensive abilities would give the Bulls a big boost.
In any case, while Chicago figures to get at least two impact players back, the timelines are a bit unclear. They'll have to tread water in a tight Eastern Conference. Can DeRozan and the Bulls keep steady?
What will the Bulls do?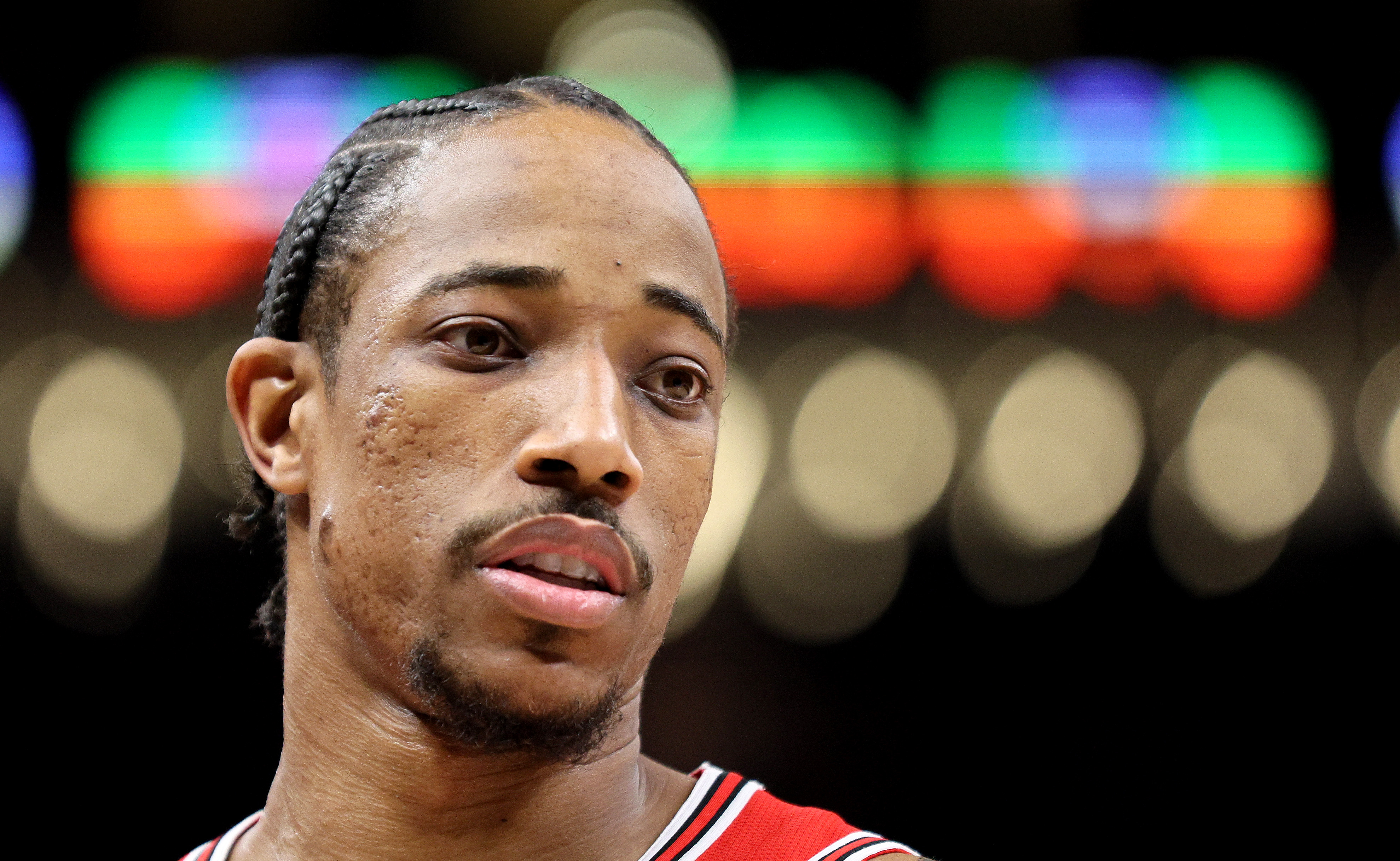 DeRozan's sentiments could have some resonance with the front office. But if the Bulls do not plan to make a big move, what is their course of action?
Without Ball and Caruso, it's feasible that Chicago could seek backcourt help or a wing capable of defending opposing guards. Then again, the Bulls' lack of size might prompt them to shore up the frontcourt. Trail Blazers big man Larry Nance Jr. would provide rebounding and versatility. At the same time, league insider Marc Stein reported (h/t Substack) that the San Antonio Spurs rejected an offer Chicago made for center Jakob Poeltl.
Team president Arturas Karnisovas is probably weighing his options and casting a wide net before the NBA trade deadline. Whatever he decides, Karnisovas can take solace in DeRozan's faith in the current group and willingness to maintain a heavy workload in the interim as the Bulls await key returning players.
Stats courtesy of Basketball Reference.
RELATED: The Bulls Can Add Vital Frontcourt Versatility and Solve a Nets Problem by Acquiring Paul Millsap