DeMar DeRozan Playing Like a Modern Michael Jordan for the Bulls as He Joins MJ in the History Books
DeMar DeRozan idolized Kobe Bryant growing up in the streets of Compton. He patterned his game after Bryant in part because he could only get Los Angeles Lakers games on his television. However, while the current Chicago Bulls swingman's scoring exploits would likely make Bean proud, DeRozan is also playing much like a Bulls star who once dominated the NBA: Michael Jordan.
DeRozan cemented his place next to Jordan in Bulls history with a prolific performance against his hometown Lakers on Nov. 15. It's fitting, really, because DeRozan's midrange-heavy, slashing style is a throwback in an era full of three-point gunners.
DeMar DeRozan became the first player in Bulls history to score 35-plus points on 65% shooting in back-to-back games since Michael Jordan
DeMar DeRozan sure finds a good deal of comfort playing on home turf.
The former USC product dominated during the Bulls' swing through LA, which began on Nov. 14 against a Clippers team previously on a seven-game winning streak. DeRozan put an end to that, pouring in 35 points on 12-of-16 from the field and going 10-of-11 from beyond the arc. He kept the momentum as the surface of the Staples Center changed colors.
DeRozan poured in a game-high 38 points on 15-of-23 shooting against the Lakers just one day later. He became the first Bulls player to score at 35-plus points and shoot at least 65% from the field since Michael Jordan in November 1991. Jordan scored 86 combined points in those contests, both of which were rare losses for the 1991-92 Bulls.
It's not the first time DeRozan found his name next to Jordan's, either. He and Zach LaVine became the second Bulls teammates to score at least 20 points each in seven consecutive games, joining MJ and Scottie Pippen.
Needless to say, DeRozan's debut season in Chicago is going quite well. He's helping the Bulls win and is playing a lot like Mike in the process.
DeRozan's offensive game is eerily similar to Jordan's
The modern era of the NBA prioritizes perimeter shooting. But DeRozan does not ascribe to today's dependence on the three-point line. Instead, like Jordan, he relies heavily on a combination of midrange jumpers and relentlessly attacking the rim.
Through 14 games, DeRozan is shooting 53.3% in the 10-16 feet area. He is making 42% of his midrange shots. That hardly seems like the strongest mark, but defining "midrange" can be tricky.
Here's the real rub, and it's this component that makes him look like Jordan. According to NBA.com, DeRozan is making a whopping 56.5% of his pull-up jumpers. Now that number is elite, and it calls to mind pictures of MJ getting to his spots off the dribble and rising over defenders.
Take a look at the embedded clip. DeRozan attacks Lakers guard Talen Horton-Tucker, who, despite a relative shortage of NBA experience, is a nightmare for ball-handlers because of his physical size and length. Alex Caruso's ball-screen proves ineffective, meaning the Bulls swingman has to go it alone. How does he create space? By getting into the lane and executing a half-spin before drilling a fadeaway. That's very Jordan-esque.
The comparison runs deeper. Similar to Jordan, DeRozan routinely goes to the rim and either finishes through contact or gets to the free-throw line. Unlike James Harden and some others, the 32-year-old hasn't seen a decrease in free-throw attempts with the implementation of the new foul rules. In fact, as of Nov. 16, he led the NBA in free throws and ranked second in free-throw attempts.
In a season when teams are averaging more three-pointers than ever, DeRozan dominates by getting to his spots and scoring efficiently off pull-up, midrange jumpers while also slashing to the rim and drawing whistles.
Establishing some qualifiers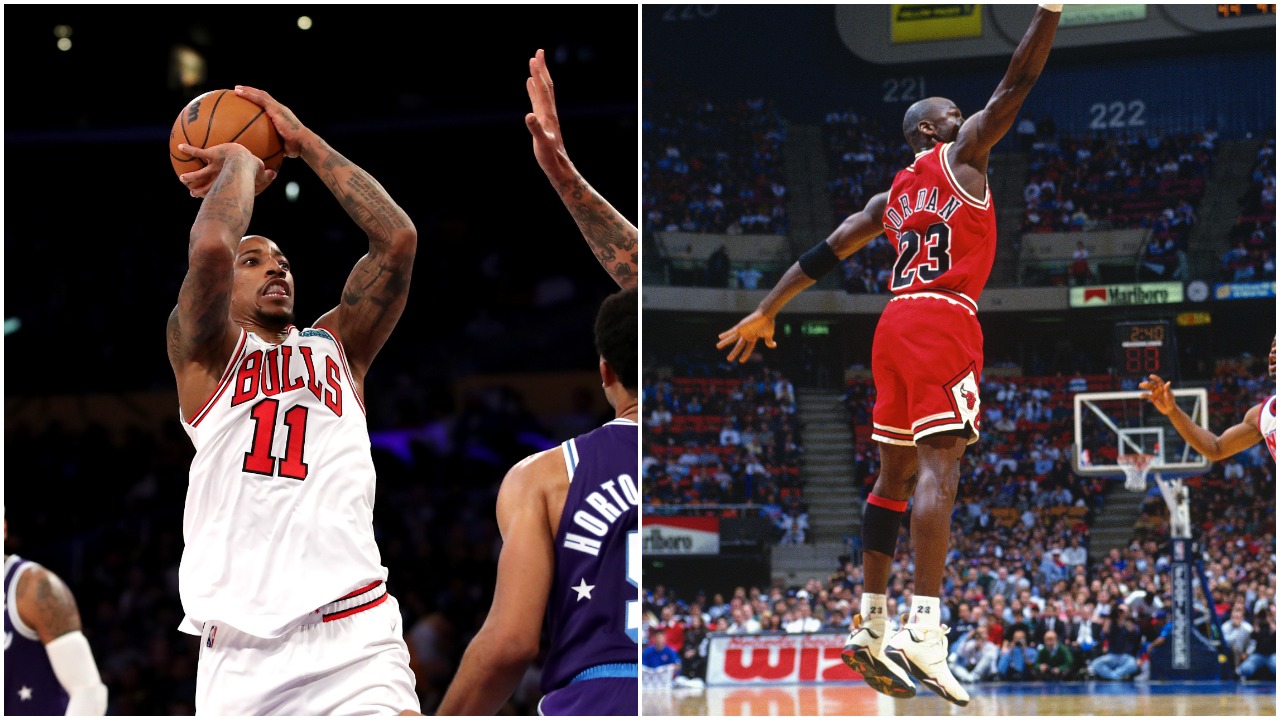 Now, it's important to assess the differences between DeRozan and his predecessor.
Michael Jordan developed a patented fadeaway game later in his Bulls career, in large part because of his effectiveness operating out of the post. DeRozan will take the ball to the block, but he's better isolating or working horizontally with the dribble, rather than having his back to the basket.
The personnel is worth highlighting as well. DeRozan has the privilege of playing with another elite scorer and shot-creator in Zach LaVine. He also has the luxury of playing with a tremendous playmaker and transition weapon in Lonzo Ball, who issued his own statement in the aforementioned Lakers game.
Jordan never played next to another pure scorer. The ball often had to be in his hands, partially explaining why he has the highest usage rate in NBA history. Chicago didn't have many playmaking guards during MJ's tenure, either, typically using Pippen as a point forward. Moreover, His Airness was a vastly superior defender compared to DeRozan.
Still, for all the differences, the similarities remain every bit as evident. If Chicago were losing, the comparison would likely be pointless. But DeMar DeRozan's throwback style and contributions to winning amplify said similarities between himself and Michael Jordan.
Stats courtesy of Basketball Reference unless otherwise noted.