DeMar DeRozan Reveals His Feelings About Recent Lakers Trade Rumors
Throughout his NBA career, DeMar DeRozan has been one of the more underappreciated players in the NBA. However, it appears that the best team in the league wants him to be a part of their squad. That team is the LA Lakers, as recent reports have revealed that LA potentially has an interest in the four-time NBA All-Star. So, what does DeRozan think about joining LeBron James, Anthony Davis, and the Lakers? He recently revealed his thoughts.
DeMar DeRozan has been a great scorer in the NBA
DeRozan went to the Toronto Raptors with the No. 9 overall pick in the 2009 NBA draft, and he ultimately became a great scorer for them. After averaging 8.6 points per game in his rookie season, DeRozan averaged 17.2 points per game in 2010-11 and 16.7 points per game in 2011-12.
He then scored 18.1 points per game in 2012-13, but has since become one of the best scorers in the entire NBA. DeRozan ultimately earned his first All-Star selection in 2013-14, as he averaged 22.7 points per game, 4.3 rebounds, and four assists. 
He then had a nice year again in 2014-15, but DeRozan and the Raptors became a dominant force in 2015-16. He ultimately averaged 23.5 points per game, 4.5 rebounds, and four assists, which helped the Raptors claim the No. 2 seed in the Eastern Conference with a 56-26 record. Toronto then ultimately went to the Eastern Conference Finals that year but lost to LeBron James and the Cleveland Cavaliers in six games.
During the 2016-17 season, DeRozan had the best season of his career. He averaged 27.3 points per game, 5.2 rebounds, and 3.9 assists. However, after averaging 23 points per game and 5.2 assists in 2017-18, the Raptors traded him to the San Antonio Spurs in the summer of 2018.
In the last two seasons with the Spurs combined, DeRozan has averaged 21.6 points per game, 5.8 rebounds, and 5.9 assists. In 2019-20, he shot a career-high 53.1% from the field.
DeMar DeRozan reveals how he feels about recent Lakers trade rumors
According to NBC Sports, Kevin O'Conner of The Ringer recently reported that the Lakers have thought about trading for DeRozan. This comes after rumors suggested that DeRozan wants out of San Antonio.
DeRozan has since been on All The Smoke with Matt Barnes and Stephen Jackson and answered a question about the Lakers trade rumors.
"You always want to be wanted," DeRozan said, according to NBC Sports. "So when you see things about teams wanting you, you can't feel a certain type of way. You'd better feel good about it because there's some motherf****** that's not wanted. You don't want to be that person."
He continued: "So to be wanted by a championship team that just came off a championship, to see that, how could you not feel some type of way? Especially me, being from LA, it's like 'damn, my hometown team want me? They just came off a championship and they want me?' It's definitely crazy to be able to see that."
DeRozan went to college at USC and is from Compton, so that alone might mean that he potentially would like to go to the Lakers.
How would he fit with the Lake Show, though?
He would be an interesting fit with LeBron James and the Lakers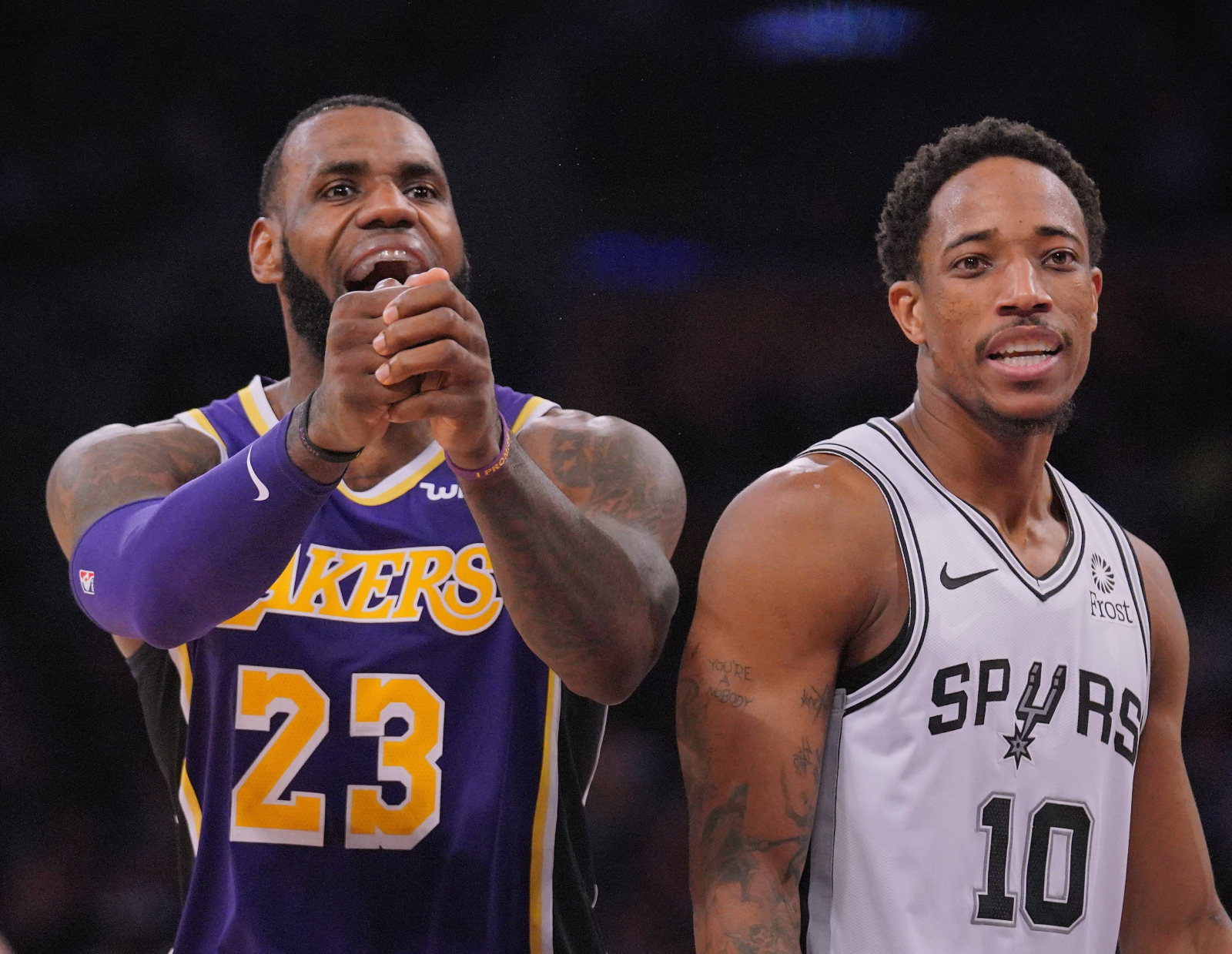 The biggest thing that DeRozan could bring to the Lakers is the fact that he can score and give them another playmaker. He is a career 20 points-per-game scorer, so he knows how to get buckets. This could be crucial for the Lakers this upcoming season, especially since they are expected to use excessive load management due to the much shorter offseason.
However, Kurt Helin of NBC Sports does bring up some good points. He pointed out that most of DeRozan's shots come from midrange. This would not help the Lakers space the floor more, which allows James and Davis to do their thing.
"DeRozan needs shooters and defenders around him to best take advantage of his skills, and while the Lakers have some of those players, DeRozan himself doesn't best complement the Lakers two stars," Helin wrote.
If the Lakers were to acquire DeRozan, though, he certainly wouldn't hurt them. We'll see if the Lakers actually bring him to LA or if this is just talk.
Stats courtesy of Basketball Reference