DeMar DeRozan's Astonishing Scoring Streak Places Him Above Michael Jordan and Magnifies His MVP Credentials
Anytime a Chicago Bulls player can say they've joined Michael Jordan in the franchise record books, it's a pretty outstanding achievement. DeMar DeRozan has done one better than MJ. In so doing, he continues to build out a more convincing NBA MVP case.
DeRozan is on the most prolific scoring tear of his career. His remarkable streak could not come at a better time for a Bulls team riddled with injuries and now without Zach LaVine through at least the All-Star break. The veteran swingman has carried Chicago on his shoulders and kept them near the top of the Eastern Conference standings.
In many ways, DeRozan's midrange- and post-heavy scoring style this season is reminiscent of Jordan. On Monday, he showed his former team, the San Antonio Spurs, the extent of his Jordan-esque scoring capabilities while making an emphatic MVP statement.
DeMar DeRozan hung 40 points on the Spurs and dominated the fourth quarter
DeRozan had the opportunity to go against his former teammates on Monday as the Bulls hosted the Spurs at the United Center. He reminded a young San Antonio squad about his capabilities and displayed the scoring ability that made him an All-Star starter.
The 32-year-old poured in 40 points on 16-of-24 shooting, also dishing out seven assists and grabbing three rebounds.
DeRozan got to his spots at will. He routinely rose up over Spurs defenders and used an assortment of pump-fakes to generate space or get to the foul line. When San Antonio sent doubles at DeRozan in the post, he found open shooters or patiently navigated his way into the restricted area. The Compton native also scored in transition and attacked the basket, including a ferocious dunk on Spurs shot-blocker Jakob Poeltl.
Most importantly, DeRozan finished strong. He nearly outscored the Spurs by himself in the fourth quarter, going for 19 points on 8-of-9 shooting. With DDR raining in jumpers from everywhere, the Bulls overcame a six-point deficit and cruised to an 11-point win. That closing ability has been on display all season. According to NBA.com, DeRozan ranks just behind Milwaukee Bucks star and two-time MVP Giannis Antetokounmpo in fourth-quarter scoring average and leads all players in total points in the final period.
Once the night had ended, the Bulls found themselves just a half-game back of the Miami Heat for the No. 1 seed in the East. As for DeRozan, he entered rarified air.
DeRozan one-ups Michael Jordan with latest scoring streak
DeMar DeRozan can say he holds Chicago Bulls bragging rights over Michael Jordan.
After torching the Spurs, DeRozan has now scored at least 35 points in each of the past six games. That's the longest streak of that type since Jordan. His Airness scored 35-plus points in 10 straight games between the end of November and the start of December in 1986. Mike had seven consecutive games of 35-plus points in February 1988.
However, Jordan didn't score as efficiently as DeRozan.
According to StatMuse, DeRozan's current streak is the longest of 35-point games on at least 50% shooting in Bulls history. In fact, DDR is shooting over 60% from the field during this stretch. That's utterly phenomenal, given his volume.
DeRozan has been on quite a run for some time now. He's averaging 35.6 points, 6.1 rebounds, and 5.8 assists on an astounding 64.7% true shooting mark in February. The five-time All-Star has also willingly taken on a bigger workload, averaging 38.6 minutes this month and denying the Bulls needed reinforcements before the trade deadline.
DeRozan has a chance to make more history on Wednesday against the Sacramento Kings. He can pass Wilt Chamberlain for the most consecutive games with 35-plus points on 50% or better shooting.
Carving out a spit in the record books is all well and good. But DeRozan's undeniable impact is keeping the injury-riddled Bulls afloat and should earn him NBA MVP recognition.
Can DDR win the NBA MVP Award?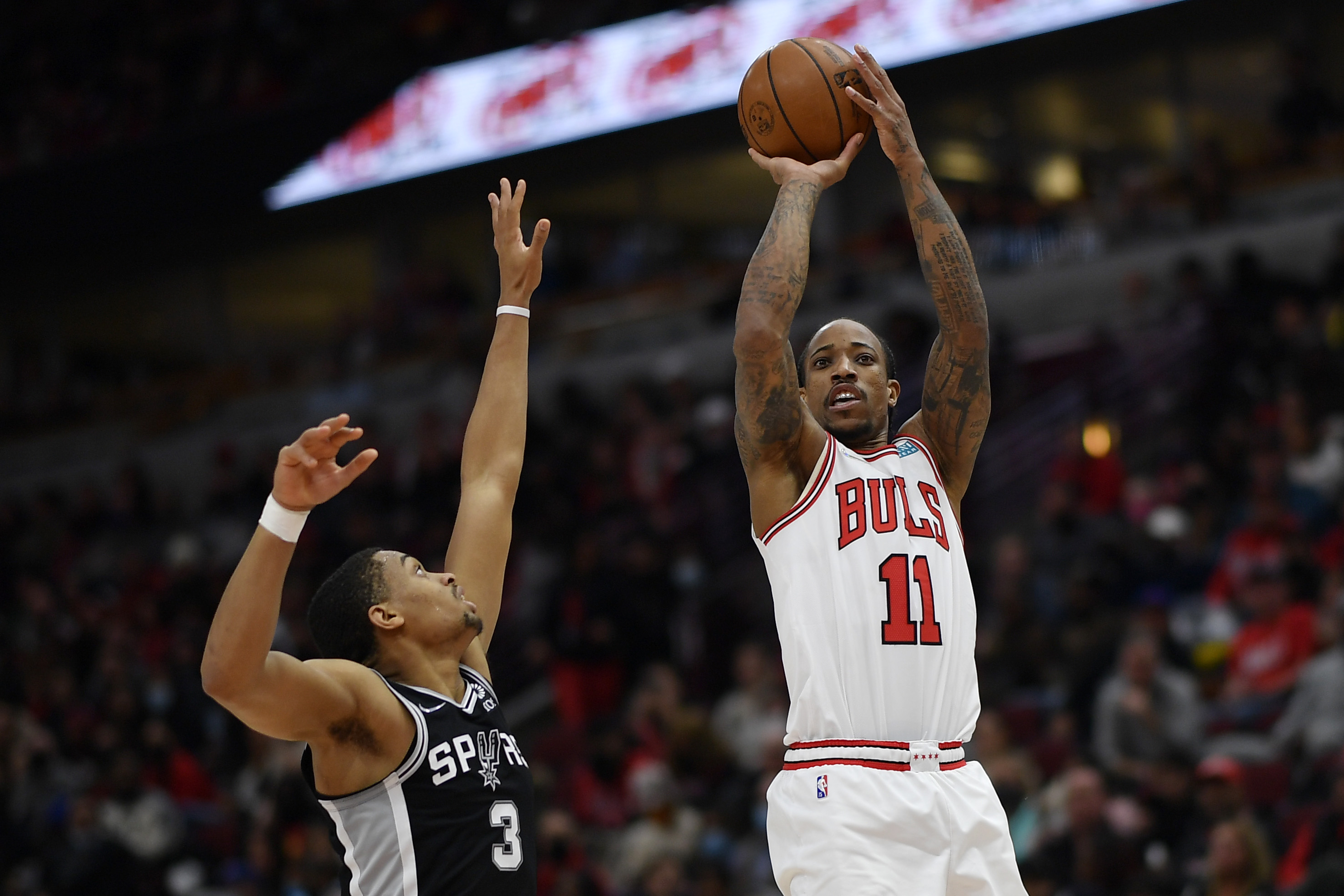 DeMar DeRozan's NBA MVP case is growing with every absurd scoring performance. He also has a narrative on his side.
DeRozan ranks third in scoring average (27.9 points). He's seventh in win shares (7.6) and ninth in player efficiency rating (24.7). But this might be the most important stat: According to Mike Beuoy of inpredictable, the Bulls star handily leads all players in win probability added (WPA). DeRozan has an 8.28 WPA mark. The next closest is Denver Nuggets center Nikola Jokic at 5.34 WPA.
Much of DeRozan's case stems from the fact that Chicago has rarely been healthy all season. The Bulls have missed all of Lonzo Ball, Alex Caruso, and Zach LaVine for chunks of the season, yet they are still one of the top squads in the East. DeRozan's scoring brilliance and offensive playmaking play a massive role in the team's success.
The MVP field is growing quite crowded. Jokic and Philadelphia 76ers star Joel Embiid headline the race, with Giannis Antetokounmpo not too far in the rearview mirror. Luka Doncic has also made his way into the conversation with an absurd stretch of his own.
Still, DeRozan keeps making his case after joining Michael Jordan in the Bulls' history books. His phenomenal campaign merits MVP consideration.
RELATED: Michael Jordan's Combative Approach at UNC Informs His Antagonism of Bulls Teammates