DeMar DeRozan and Zach LaVine Have Only Played 24 Games Together But Are Already Entering Shaquille O'Neal and Kobe Bryant Territory
Chicago Bulls stars DeMar DeRozan and Zach LaVine have needed just 24 games to assert themselves as one of the best scoring duos in the NBA. Indeed, DeRozan and LaVine just achieved a feat not seen since Shaquille O'Neal and Kobe Bryant dominated the sport as one of the most dynamic 1-2 punches in league history.
DeRozan and LaVine already etched themselves into franchise lore when they became the first Bulls teammates since Michael Jordan and Scottie Pippen to score at least 20 points each in seven straight games. Their continued scoring exploits have now resulted in a place alongside Shaq and Kobe.
DeMar DeRozan and Zach LaVine are both among the top 10 scorers in the NBA
Questions abounded about DeMar DeRozan's fit with Zach LaVine when the Bulls orchestrated a sign-and-trade to bring the veteran swingman to the Windy City. Both men have eviscerated any skepticism about their ability to coexist.
DeRozan leads the NBA in total points scored (633) through 24 games. He ranks fourth in scoring average (26.4). LaVine, meanwhile, ranks fourth in total points (615) and seventh in scoring average (25.6).
It's not as though the two are simply putting up numbers. DeRozan's 59.2% true shooting mark is the second-best of his career. LaVine's efficiency has dipped slightly from last season, but he's still above 60% true shooting for the season.
Most importantly, the duo's prolific scoring is leading to wins. The Bulls improved to 16-8 after Saturday's win over the Brooklyn Nets and are second in the Eastern Conference. LaVine led all scorers with 31 points in the Brooklyn win, while DeRozan had 29 points on 13-of-24 shooting.
There's still a long way to go in the 2021-22 season. But Chicago's superstars are cementing themselves as one of the greatest scoring tandems since Shaq and Kobe.
DeRozan and LaVine join Shaquille O'Neal and Kobe Bryant in the record books
The 2000-01 season marked the specific juncture when Shaquille O'Neal and Kobe Bryant became arguably the most lethal duo in NBA history.
Shaq had long been the eminent Los Angeles Lakers superstar, winning the NBA MVP Award during the 1999-00 season. But he shared the spotlight with Kobe in 2000-01, as Bryant averaged (at the time) a career-best 28.5 points. That season culminated with LA going 15-1 in the playoffs en route to a second straight championship.
Well, O'Neal and Bryant now have company in a specific category.
DeMar DeRozan and Zach LaVine have each scored at least 25 points in the same game 11 times this season. According to Justin Kubatko of Basketball Reference, that's the highest number through the first 24 games of a campaign since Shaq and Kobe in 2000-01.
The Bulls stars have experienced tremendous individual success. Having proven the doubters wrong, can DeRozan and LaVine lead Chicago to team success?
How far can DeRozan and LaVine take the Bulls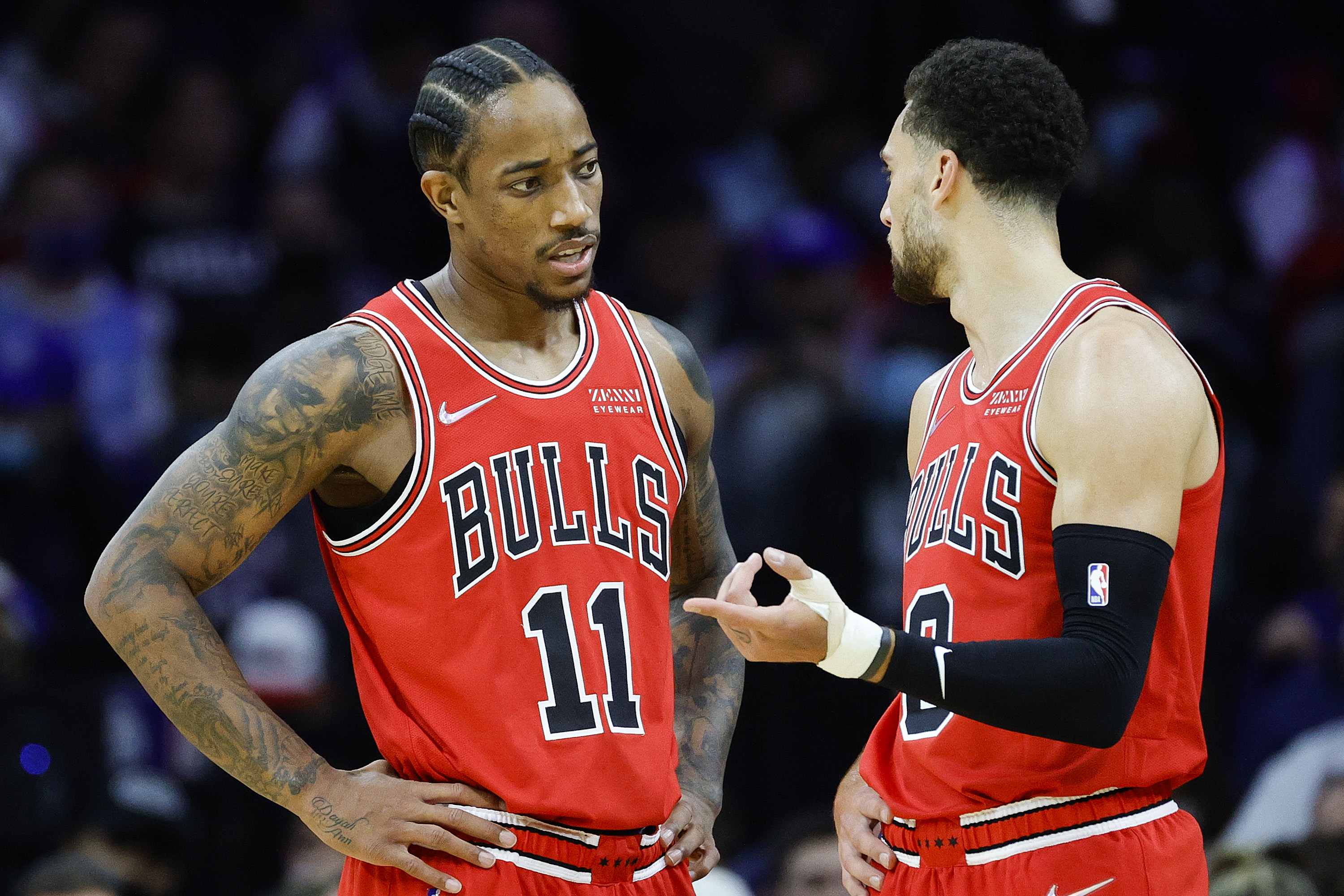 The Bulls' comeback win over the Nets showed they are a legitimate threat in the Eastern Conference. Will Chicago have sustained success?
With DeRozan and LaVine playing at a high level, the Bulls rank ninth in offensive rating. More impressively, Chicago is sixth in defensive rating, as backcourt additions Lonzo Ball and Alex Caruso have galvanized the team's perimeter defense and made it tougher for opponents to attack the Bulls in pick-and-roll.
Time will tell whether Chicago can maintain its defensive numbers. The Bulls are still fairly dependent on forcing turnovers. However, the offensive upside is real, especially with Nikola Vucevic showing signs after a breakout performance against the Charlotte Hornets on Nov. 29.
DeRozan and LaVine already made history. But it will all be for naught if the Bulls fail to sustain their current momentum and eventually look incapable of a deep playoff run.
Stats courtesy of Basketball Reference.