DeMar DeRozan's Mother Provides Proof that Happiness Can Lead to NBA Success
DeMar DeRozan has been open and vocal about his mental health. Depression and grief have been major themes throughout his childhood and adult life.
Alongside names like Kevin Love — who has penned multiple articles for The Players' Tribune on the topic of mental wellness — DeRozan has championed an important dialogue.
This year, DeRozan is triumphantly overcoming and handling some of those struggles with mental wellness while simultaneously putting up his best on-court performance yet. Averaging a career-high in points with the Chicago Bulls and sitting at fourth in the league in points per game, DeRozan's name is being floated in MVP discussions, though it will be tough to overcome the remarkable seasons Joel Embiid and Nikola Jokic are producing.
Averaging 28.1 points, 5.2 rebounds, and 5.1 assists per game while leading the Bulls to the second-best record in the Eastern Conference at the All-Star break, how is he doing it? Was a change in scenery and a partnership with Zach LaVine and Lonzo Ball all that was needed?
His mother sees a simple answer to what's propelling his best season yet.
DeMar DeRozan's mother sees how happy he is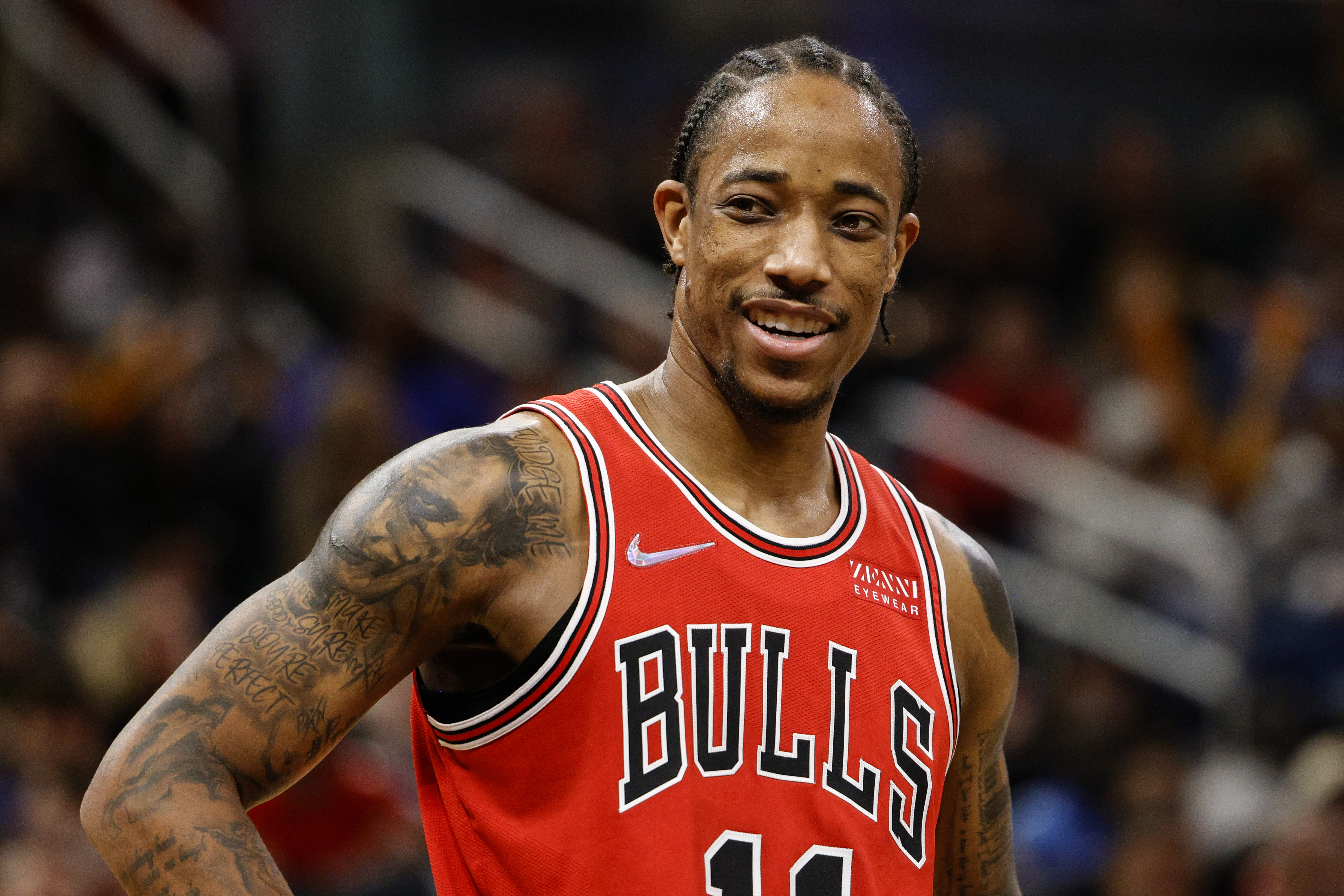 Mirin Fader recently published a profile on DeMar DeRozan that looked at his life, career thus far, and journey through mental wellness obstacles.
In the profile, DeRozan's mother pointed to her son's happiness being at peak levels right now.
"This is the happiest I've ever seen him," DeRozan's mother said.
As Fader puts it:
"She can see [his happiness] in the way her son walks onto the court. He is sure of who he is on the floor, and who he wants to become off of it. He has perspective, patience. Sometimes he even lets a smile break through in the middle of play.

– Mirin Fader, The Ringer
Chicago Bulls star has dealt with hardship and loss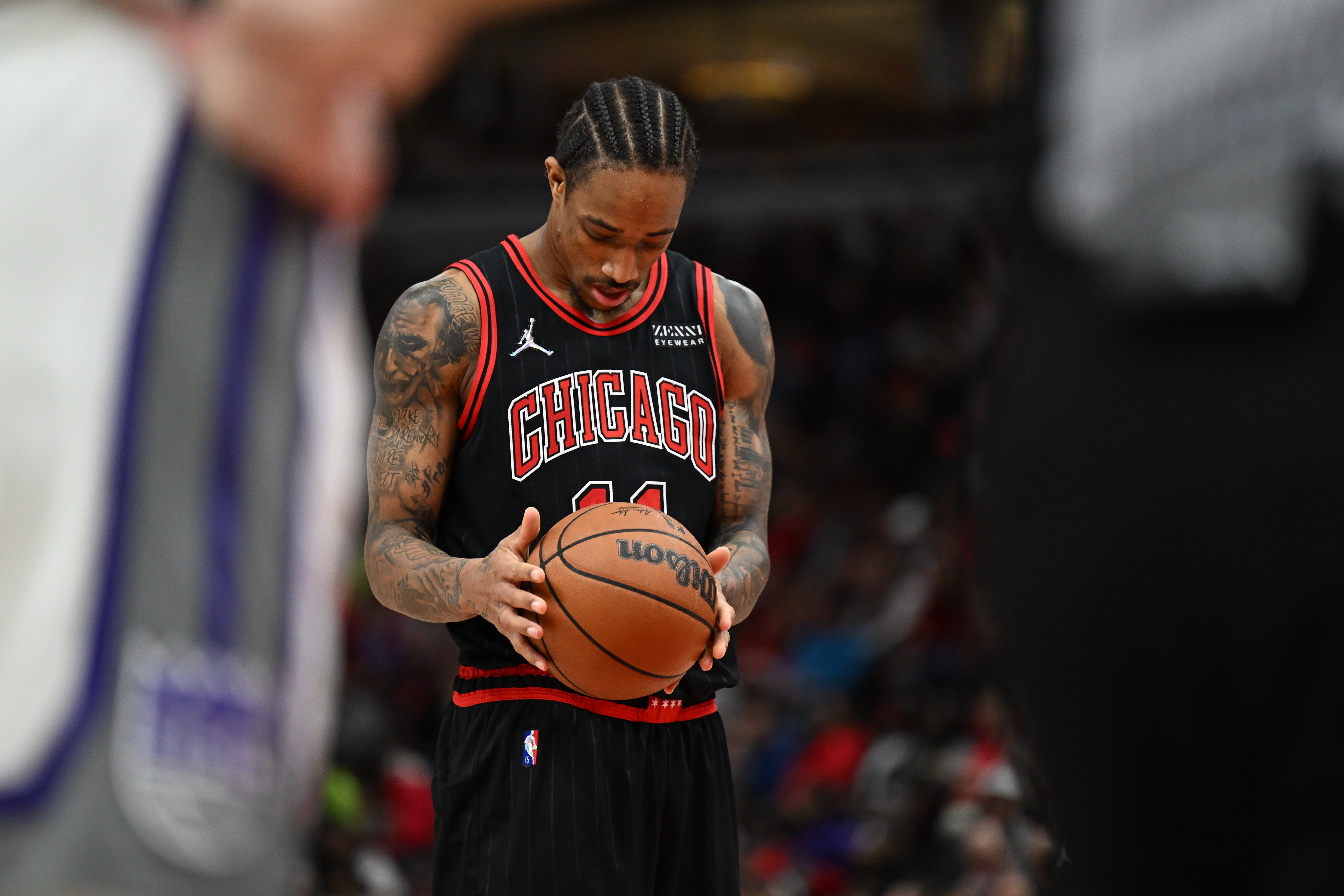 DeRozan has had to deal with plenty of hardship over the last several years, including the loss of his father on February 19, 2021. Before that, DeRozan's uncles were lost to gang violence, according to Fader. His grandparents also died within a week of each other.
Beyond the loss of life, he also lost community and sense of stability. He was traded away from the Toronto Raptors to the San Antonio Spurs, a team he poured his heart into, and his best friend and teammate, Kyle Lowry, in a deal that landed the Raptors Kawhi Leonard. His reaction was pure shock. All of this has led to feelings of loneliness and depression for DeRozan.
This season has been a "release" for him, he told Fader:
"It's kind of like driving on a bumpy road for so long that you get used to it. To where, when you finally hit the smooth pavement, you really don't realize how smooth it is because you've been riding on a bumpy road for so long."

– DeMar DeRozan
The dialogue on mental wellness in the NBA has been opened in recent years thanks to advocates like Love and DeRozan who have been honest and publicly vulnerable. But the discussion has not been straightforward. Consider Ben Simmons, for instance, who has yet to play this season citing mental health struggles rendering him unfit to play.
Following his trade to the Nets, Simmons spoke to the media and conveyed a message of hopefulness regarding his return to the court. Some fans and analysts have looked at this quick turnaround after being traded from one team to another as evidence that Simmons was disingenuous regarding his struggles simply to avoid having to play for the Philadelphia 76ers, his former team.
Yet, a change of scenery for DeRozan has helped release his tension, a situation not all that dissimilar from Simmons. The discrepancy in perception across these two situations points to a lack of consistent acceptance of the vulnerability of complicated mental health journeys that professional athletes, and humans in general, have to go through.
RELATED: DeMar DeRozan's Bold MVP Proclamation Might Remind Bulls Fans of Derrick Rose