DeMarcus Cousins Didn't Need a Single Word to Mercilessly Embarrass James Harden
James Harden and DeMarcus Cousins have been on drastically different career paths the last few seasons. Harden was part of a blockbuster trade that landed him alongside Joel Embiid with the Philadelphia 76ers, while Cousins had a series of 10-day contracts this year until latching on with Nikola Jokic and the Denver Nuggets.
But the two have a history together, and the remnants of said history may have surfaced entertainingly (for Boogie, at least) during a Nuggets-76ers game on March 15.
Boogie and The Beard were teammates in Houston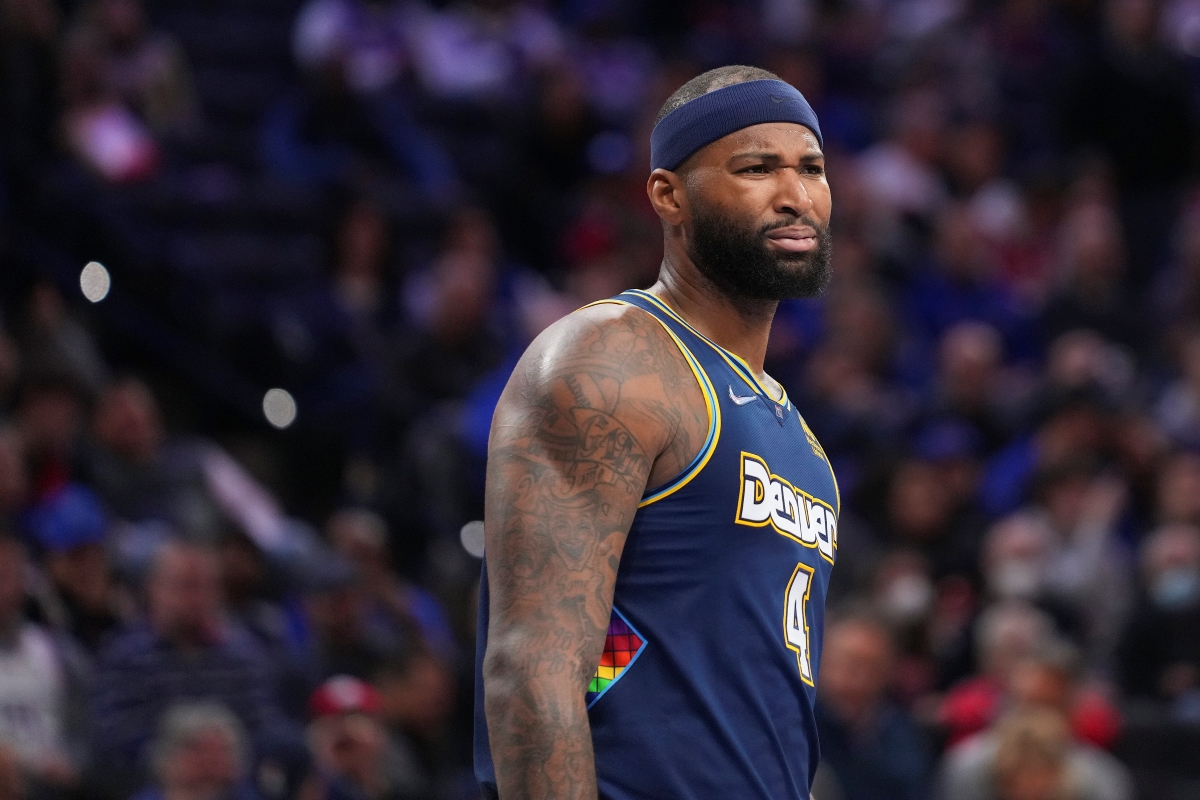 It wasn't a long-lasting or particularly happy partnership, but Cousins and Harden were ships passing in the night with the Houston Rockets last season.
Boogie eventually found his way to the Los Angeles Clippers while Harden did Harden things and tanked his way to the Brooklyn Nets.
This was before he tanked his way to Philly barely a year later.
Regardless, the two were teammates long enough for the former Sacramento Kings star to have a word or two for Harden after he quit on the Rockets.
"Obviously, it's disrespectful, but everybody has a right to their opinion," Cousins said via ESPN in January of 2021. "We feel a certain type of way about some of his actions.
"Just the approach to training camp, showing up the way he did."
Then Boogie was asked if he would ever be willing to play with Harden again, to which he responded, "I don't know. Quite honestly, don't care."
From an entertainment standpoint, it worked out well that they were opponents — not teammates — on March 15.
DeMarcus Cousins humiliated James Harden during the Denver Nuggets-Philadelphia 76ers game
It was the first time the two were on the same NBA floor together since Cousins threw his two cents in on the Harden-Rockets situation.
And it didn't disappoint.
The Nuggets won the game 114-110, but that's not the crux of the story. The crucial part came during the fourth quarter when Boogie tried to trap the 76ers' star.
He took a few swipes at the ball, which Harden took offense to. The Beard then decided it would be a good idea to get in Cousins' face. (FYI, it's a good idea not to try and pick a fight with DeMarcus Cousins.)
Harden stood stonefaced staring at the 6-foot-10, 270-pound Cousins — who laughed in his face.
Harrison Wind of DNVR_Sports tweeted out the video in which Harden started the confrontation, didn't say a word, and watched Boogie immediately laugh off The Beard's fake "tough guy" routine.
For any anti-Harden fans who are over his entitled antics like Cousins was in Houston 15 months ago, it was gold in Denver.
Either player could get the last laugh this season
Embiid and Jokic are two of a three-headed monster in the race for the NBA's MVP award, along with the Milwaukee Bucks' Giannis Antetokounmpo.
But both Cousins and Harden could find themselves in the NBA Finals come June.
Jokic has single-handedly carried the Nuggets to sixth place in the Western Conference standings, and Denver may get Jamal Murray and Michael Porter Jr. back before the postseason.
Harden, meanwhile, is part of one of the most productive duos in the league with Embiid.
Here's to hoping we get a repeat of this face-to-face confrontation in a Game 7 with an NBA Championship on the line.
Like Sportscasting on Facebook. Follow us on Twitter @sportscasting19.
RELATED: Joel Embiid Scored 34 Points but Nikola Jokic Needed Just 2 to Solidify His MVP Argument