DeMarcus Cousins Drops a Bomb About Potential Clippers Championship: 'It Would Be a Middle Finger to Everybody'
There are not many athletes in any sport who took the elevator from penthouse to basement as quickly as Los Angeles Clippers reserve DeMarcus Cousins. It was only a little more than three years ago that Cousins was in the thick of the MVP discussion as he put together the best year of his career for the New Orleans Pelicans. But that max contract he was going to get (and make no mistake, he was going to get it) in the summer of 2018 evaporated as quickly as his Achilles' tendon ruptured in a game in late January of that year.
Nicknamed "Boogie," Cousins is still in the NBA, and he's on one of the last four teams standing. Even so, his work for the Clippers in a huge Game 5 win on the road came as a surprise to some people. But while it's been a humbling three years for DeMarcus Cousins, he still believes.
DeMarcus Cousins is a case study on the fine line an athlete walks between stardom and oblivion
Coming out of Mobile, Alabama, DeMarcus Cousins was the next big thing. He was the third-ranked recruit in his high-school class in 2009 and joined a star-studded group of freshmen at the University of Kentucky that fall. Besides Cousins, the Wildcats brought in John Wall and Daniel Orton, both top-20 recruits, and a pair of top-100 guys in Eric Bledsoe and Jon Hood.
Kentucky fell short of a national championship, losing in the Elite Eight to West Virginia, and Cousins, Wall, Bledsoe, and Orton headed for the NBA.
For six full seasons and part of a seventh, Cousins was the face of the Sacramento Kings, such as it was. As talented as he was volatile, Cousins developed into an All-Star and All-NBA force. But with less than two years left on his contract, the Kings traded Cousins to the Pelicans. In his first full season in New Orleans, Cousins appeared destined to reach the playoffs for the first time.
The story, however, was not going to play out as Cousins had planned.
Cousins had to prove it to the Clippers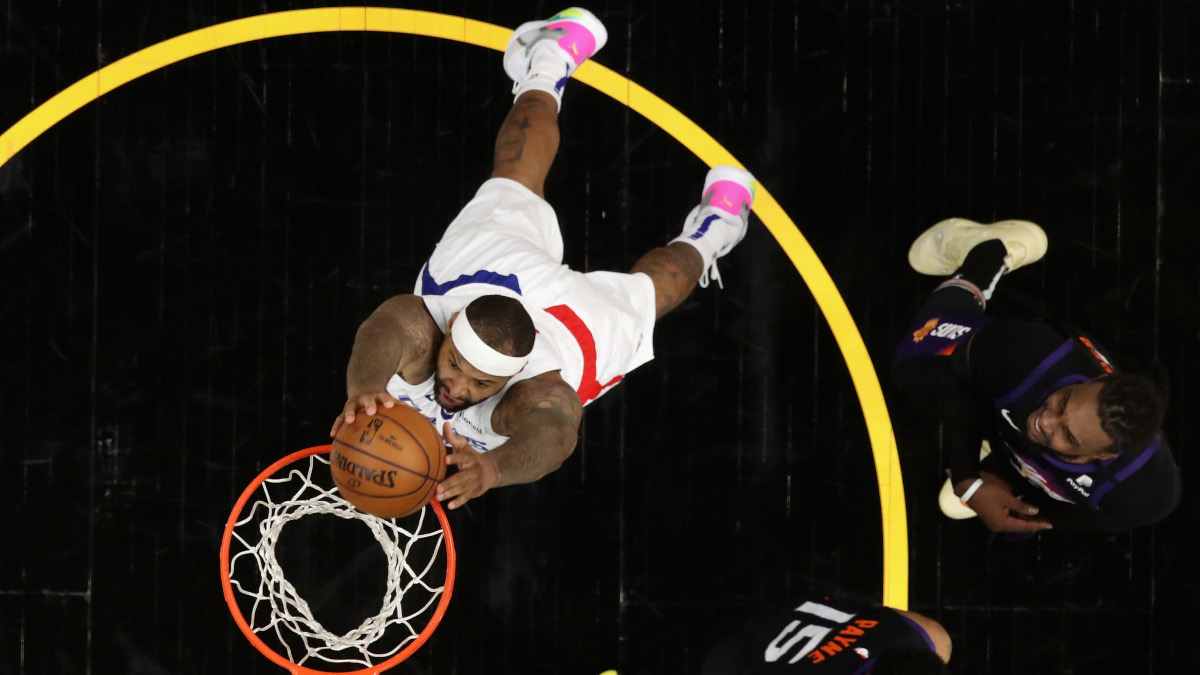 DeMarcus Cousins joined the LA Clippers in early April on a 10-day contract after a 25-game stint with the woeful Houston Rockets. From All-NBA to 10-day trial in a little more than three years. That is a high-speed elevator indeed.
The Clippers wound up signing Cousins for the remainder of the season but used him sparingly in the playoffs. It's made it hard to keep his confidence, according to The Undefeated.
"Bro, I don't even know how I'm here. I really don't. I just take sh*t one day at a time. I work every day. That's really all I can do. I really don't know how I'm here. Sometimes it really doesn't seem like a reality to me because I know I am not supposed to be here.

"My body been through hell. I work my ass off. But no motherf*cker really gave me a chance. But I just have to take advantage of it. I still can hoop my ass off. It's just the narrative, narrative, narrative. I can't beat it."

DeMarcus Cousins
In a must-win Game 5 against the Suns in the Western Conference Finals, the Clippers were without Ivica Zubac because of a knee strain. Their other big man, Serge Ibaka, was already out for the season with back trouble.
With just a sliver of a chance, DeMarcus Cousins made a difference.
DeMarcus Cousins was a big part of LA's big Game 5 victory
Against the Suns, Cousins played 13 minutes and scored 11 points in the opener. However, he got only four minutes in Game 3, didn't play at all in Game 3, and logged a whopping four seconds for the Clippers in Game 4.
LA coach Tyronn Lue opted to go small with Marcus Morris at center. But Cousins got 11 minutes and made the absolute most of it. He scored 15 points, helped the Clippers gain ground even with starters out of the game, and the Clippers got the series back to Staples Center with a 14-point win. Paul George did most of the heavy lifting, but Cousins played a significant part as well.
"They gave me an opportunity. And obviously, it wasn't in the way that I thought was best for me. But, the situation is what it is. I accepted it, and all I can do is grind from here, which I've done. And I've done this before. That is why my confidence will never waver.

"Winning a championship would be the ultimate redemption. It would be a middle finger to everybody. And you know where I am going to wear the ring."

DeMarcus Cousins
The Clippers have work to do to get that ring, including completing a comeback from a 3–1 deficit against Phoenix. But DeMarcus Cousins has faced long odds a lot the last few years.
Statistics courtesy of Basketball Reference.