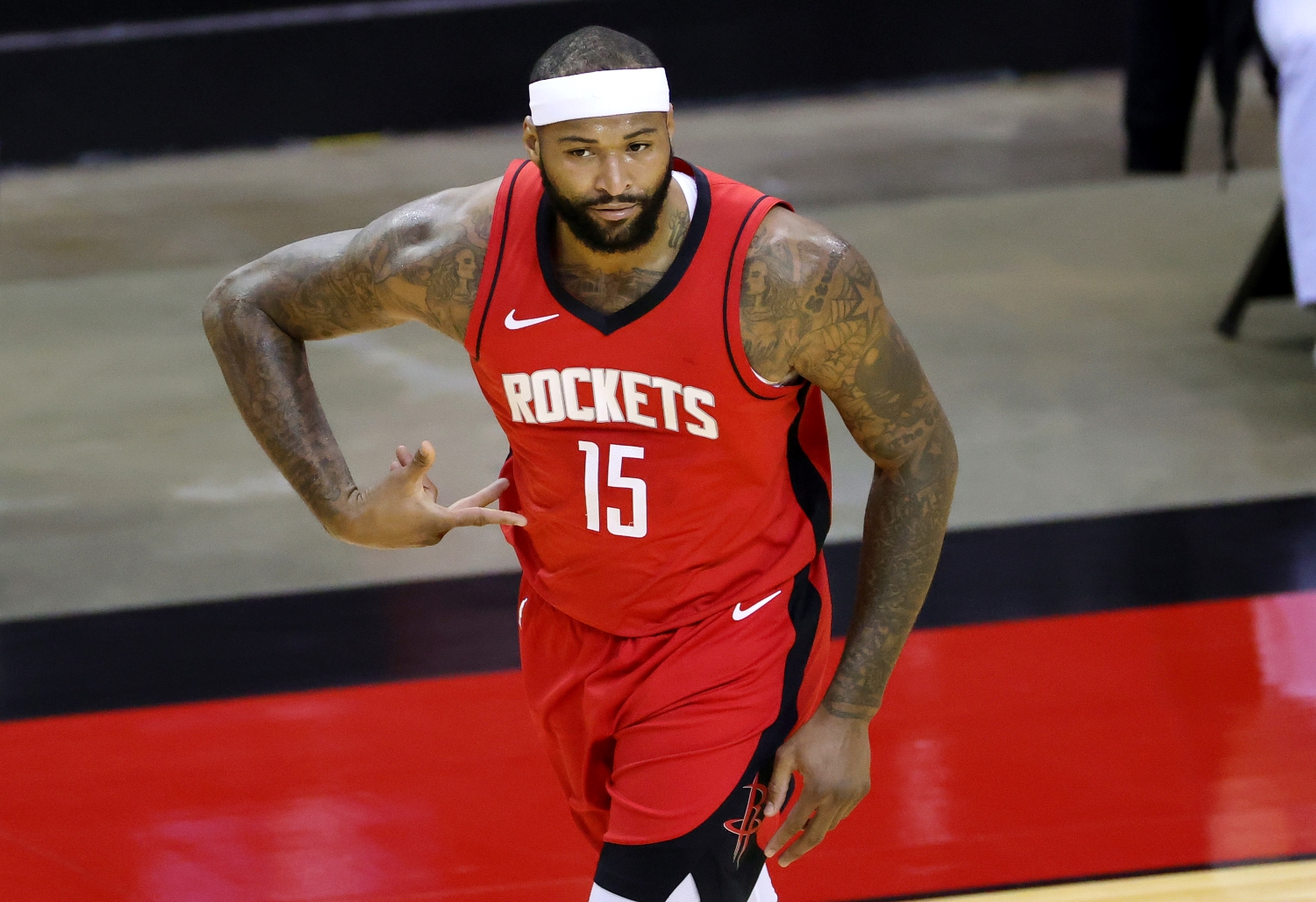 The Houston Rockets Just Took a $2.3 Million Gamble on DeMarcus Cousins' Future
DeMarcus Cousins just scored a $2.3 million gift from the Houston Rockets. The 30-year-old can make even more if he finds his old form again.
At one point in his NBA career, DeMarcus Cousins ranked as one of the league's most unstoppable big men. However, the Houston Rockets have only seen brief flashes of that version of the former Sacramento Kings superstar.
Although injuries have kept Cousins off the floor far too much in recent years, that hasn't stopped him from making a lucrative living.
And on Friday, the 30-year-old just received some good news about his future with the franchise that should also make his bank account quite happy, too.
DeMarcus Cousins has suffered several major injuries in recent years
Drafted fifth overall back in 2010, DeMarcus Cousins developed into a top-flight offensive threat in Sacramento. The 6-foot-10, 270-pound Alabama native truly broke out in 2013-14 when he averaged 22.7 points, 11.7 rebounds, and 1.3 blocks in 71 games.
The following year, Cousins earned his first of four straight All-Star selections. Of course, his individual success didn't lead to many wins for the Kings.
A trade to the New Orleans Pelicans paired the talented former University of Kentucky star with another former Wildcat: Anthony Davis.
The duo never got much of an opportunity to shine together.
Cousins tore his left Achilles in January 2018 and never played another game for the franchise.
He then suffered a torn left quadriceps in the first round of the playoffs in his first (and only) season with the Golden State Warriors.
Last season, Cousins sustained an even worse injury when he tore his ACL before he ever played an official game for the LA Lakers.
But in December, the Rockets took a flyer on a player who not long ago ranked as one of most impactful big men in the NBA.
The one-time NBA star has shown a few flashes of his vintage self in 2021
Considering the brutal run of injuries he has suffered, it's impressive that DeMarcus Cousins has managed to get back on the floor and contribute at all. While his current numbers fall well short of his career averages, the veteran center has shown brief glimpses of his old self since he arrived in Houston.
Initially, Cousins struggled to make a consistent impact. But during the last few weeks, the former Kings star has played a much more prominent role for a Rockets team desperate for some positive momentum.
On January 23, he compiled a vintage stat line of 28 points, 17 rebounds, and five assists in a convincing win against the Dallas Mavericks.
He followed up with another double-double in a 19-point win against the Washington Wizards.
In the month of February, Cousins has continued to stuff the stat sheet in a starting role. The talented center has averaged 14.3 points, 9.0 rebounds, and 2.3 assists in his last four games.
Unfortunately for Rockets fans, their favorite franchise hasn't been trending in the same direction as their new starting center.
But thanks to a risky move made by his new team, Cousins just added $2.3 million to his bank account.
The Houston Rockets just made a risky $2.3 million gamble on their starting center's future
Sitting in last place in their division, the Rockets obviously haven't had much to celebrate this season.
But for DeMarcus Cousins, he now has a reason to be even happier about his decision to sign with Houston.
On Friday, Adrian Wojnarowski of ESPN reported via Twitter that the Rockets have guaranteed Cousins' $2.3 million contract for the remainder of the season. NBA teams have until February 27 to make that decision on players with non-guaranteed deals.
Considering his arduous journey just to get back on the floor, Cousins has to feel ecstatic about having his salary secured for the rest of the year.
Then again, when you factor in his prior contracts, that $2.3 million figure doesn't look quite so sizable.
In seven seasons with the Kings, the former lottery pick earned just under $57 million. Cousins made a career-high $18 million during the 2017-18 season, which he spent in New Orleans.
However, due to durability concerns, his last few contracts haven't provided such a big payoff.
Cousins earned $5.3 million in his lone year with the Warriors. He made $3.5 million last season despite not playing a single game for the Lakers.
In total, the skilled center has earned $91.9 million during his NBA career.
And if Cousins can finally stay healthy and prove he can play at a high level on a consistent basis, don't be surprised if he scores a massive contract this summer.
On the other hand, if his persistent injury woes pop up again, the Rockets will have wasted quite a bit of money on a player who hasn't been able to stay on the floor for several years.
Apparently, though, the risk-reward ratio must have been enticing enough for Houston to guarantee Cousins' contract.
Let's see if the Rockets' faith pays off.
All statistics courtesy of Basketball Reference. All contract data courtesy of Spotrac.