DeMarcus Cousins Is the Latest Houston Rocket to Have Questions About His Future With the Team
The Houston Rockets have been out of the news and playing well since they traded James Harden was traded from the team. However, recent rumors have been swirling around their center, DeMarcus Cousins.
Cousins is still on the Rockets's roster for now. However, his future with the team is truly unknown because of conflicting reports involving the All-Star big man.
DeMarcus Cousins and the Rockets are reportedly parting ways
DeMarcus Cousins' play has been inconsistent so far for the Rockets. He is averaging 9.6 points on 37.6% shooting from the field, according to ESPN. His shooting from 3-point land isn't any better, averaging 33.3% from deep. It was reported that Cousins' first season in Houston was ending prematurely.
The Rockets and Cousins were reportedly planning to part ways, per Shams Charania. The team wanted to move toward a younger roster with smaller players. Christian Wood has become a rising star on the team averaging 22 points and 10 rebounds a game. He is currently out with an ankle injury, but the Rockets want to have their roster set when he returns.
This move also allows Cousins to find an opportunity to win elsewhere. Although the Rockets were improving, they are not one of the teams in contention for the championship. Injuries have hampered Cousins' game to some extent, but he can still provide rebounds and physicality inside to contending teams. 
According to Charania, Houston and the Cousins were expected to go their separate ways "in the coming days." On Feb. 21, more confusion was added to the situation. The reports of Cousins' impending departure could simply be rumors.
Head coach Stephen Silas shoots down DeMarcus Cousins departure rumors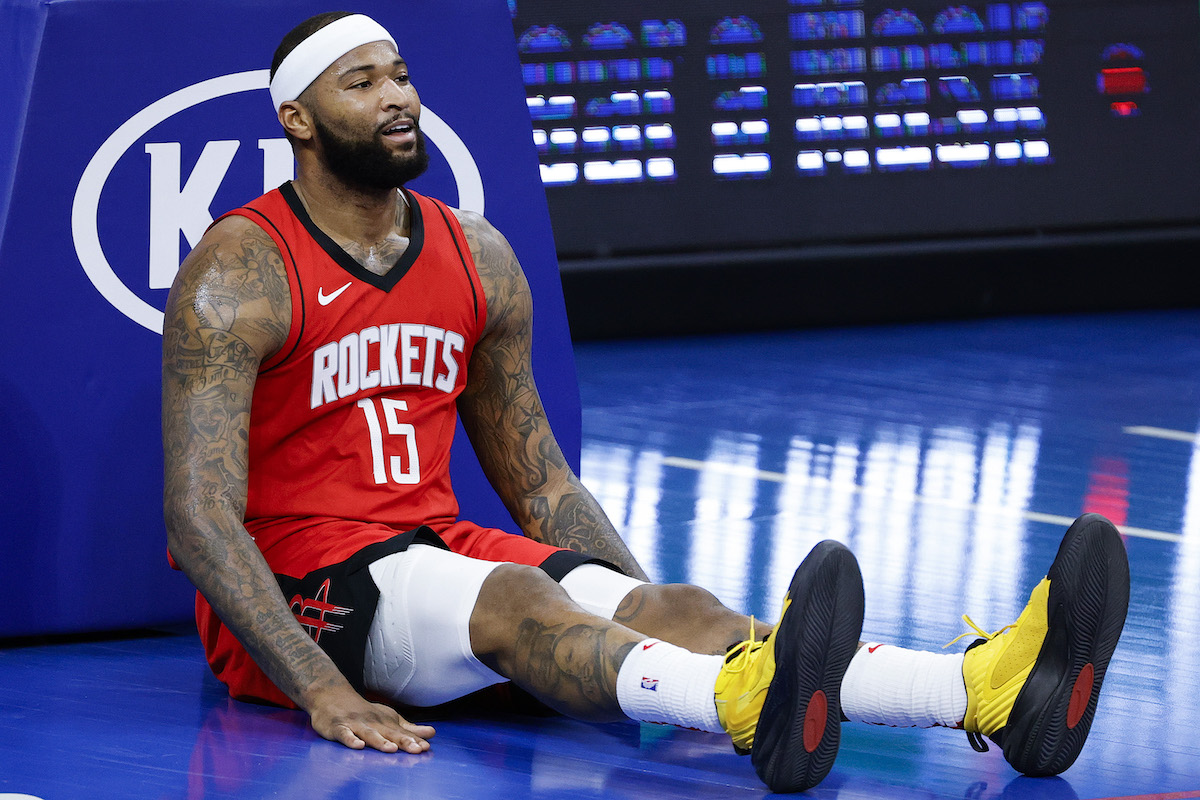 The Houston Rockets didn't have a game on Feb. 21, so head coach Stephen Silas took time to address the rumors swirling around his center's future. He didn't put much stock into the possibility of DeMarcus Cousins leaving the team.
"He's here at practice. He's here for tomorrow's game and moving forward. I know there are rumors out there as to what's kind of coming ahead, but those are just rumors at this point," said Silas per Michael Scotto. 
With the head coach seemingly shooting down the rumors, it adds confusion to the situation. Have the Rockets changed their mind about releasing Cousins? Woods is still recovering from his ankle injury, and Cousins' primary purpose was to use up his leftover minutes. Maybe Houston is deciding to keep Cousins until the center is closer to returning.
The center could join a championship contender if the Houston Rockets release him
Although DeMarcus Cousins could be released during the season, the Houston Rockets have made a classy move in the process. The team has guaranteed him his entire $2.3 million salary as a way to reward his professionalism, according to The Athletic. That paycheck probably won't stop the center from trying to join a championship contender.
The Los Angeles Lakers reportedly have an interest in Cousins. They are currently without Anthony Davis, who is dealing with a calf strain. With him out for at least a month, the Lakers could use another body down low. Cousins was with LA last year but didn't play a game because of a torn ACL. Both sides are interested in a potential reunion, according to Kevin O'Connor.
The Portland Trail Blazers are another team that has some interest. Most of their big men are injured, and Cousins' size would provide them some help down. The Toronto Raptors are also interested in Cousins, but they seem to have their sights set on Andre Drummond.
DeMarcus Cousins is on the Rockets for now, but that could change. Rumors of his release are swirling, and many teams are interested in his services. He'll have many options to chose from and could become an X-factor for a championship team.
Stats courtesy of ESPN